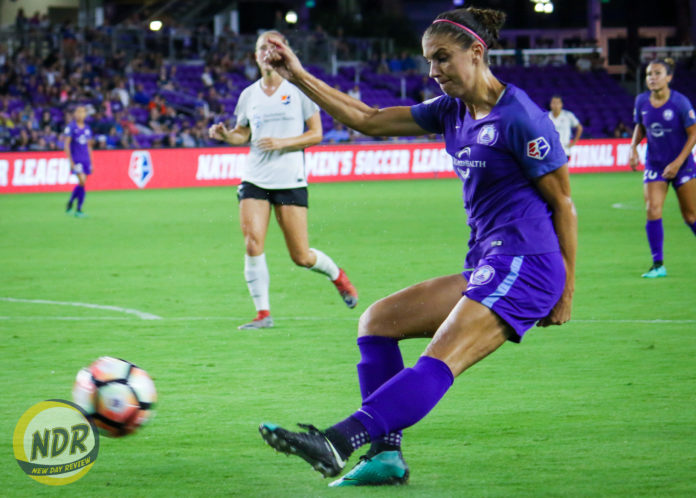 (Photo by Daniel Castrillon / New Day Review)
Match Recap
ORLANDO, Fla. – It was perhaps the Orlando Pride's biggest game all season.
Tied at 23 points with Sky Blue FC and vying for a playoff spot, Orlando hosted the New Jersey side in one of its biggest wins in its young history. The Pride (7-6-5, 26 points) defeated Sky Blue (7-9-2, 23 points) 5-0 at Orlando City Stadium in front of 5,243 people Saturday night.
Former fourth-place holders Seattle Reign FC will host the No. 1 North Carolina Courage Sunday night after losing to them 1-0 on Aug. 5.
"We talked about staying in contact, staying close, and, this week—and we've talked about the importance of this week, about must-win games," Pride head coach Tom Sermanni said after the match. "And I think—obviously, we would've liked nine out of nine points, but I think seven points and the way we played and the goals we scored will give the players a huge amount of confidence heading into the most critical part of the season."
Orlando opened the scoring with its fastest goal in team history. Forward Marta Vieira da Silva, who held the previous team record for fastest goal with a ninth-minute score against the Boston Breakers, started the effort with a deep ball from midfield to Alex Morgan. After Morgan took a touch to her left to evade a Sky Blue defender, she unloaded a shot for the fourth-minute, 1-0 lead.
"I feel like me and Marta are finding each other really well," Morgan said after the match. "I mean, I don't know the stats, but I would say that we probably pass to each other the most. I feel like I pass to her more than anyone else on the team and vice versa. So, that definitely feels good.
"I feel like I know exactly when she's making a run or when she wants me to stay, not make a run, when she wants me to be a bounce board or whatever it might be. I know which foot to play it to—obviously, usually her left foot. Me as well.
"So I feel really good with Marta, and I think you could really tell on the field. It's continuing to build, and, last game, we had a lot of good combinations, but, this game, I felt like…we were on the same page the whole time."
Just two minutes after Sky Blue goalkeeper Kailen Sheridan blocked a point-blank shot by Morgan with her face, midfielder Dani Weatherholt scored both her first professional goal and the Pride's 50th goal in club history in the 43rd minute. Camila Martins Pereira first worked the ball to the right end-line before nutmegging her defender and crossing it to Weatherholt for the close-range score and 2-0 lead.
"It's a just reward," Sermanni said. "Dani's like a workhorse in our team. She's up and down. She keeps going. She's in the mix of things. Again, a great teammate off the field as well. So she's like an unbelievable team player. So when you see players like that…scoring, it makes it that little bit more special than some of the regular scorers. So, it's good to see her on the score sheet at last."
The second half was much of the same story. After taking seven on-target shots while holding Sky Blue to just one in the first half, Orlando maintained that momentum with an early, 47th-minute goal. Forward Jasmyne Spencer cleanly slotted the ball between two defenders before finding Morgan for a left-footed strike.
"For me, there hasn't been too much change, to be fair," Pride goalkeeper Ashlyn Harris said after the match. "Even when I was playing the first few weeks, there were flying changes all over the pitch and just trying to find connections. This is a professional environment, and if people are performing in practice, they're gonna play. So no one can be complacent. You know, Tom makes that very clear, and, yeah, the defense tonight was great.
"I didn't really have to do anything. I don't let them breathe, to be fair. I am on them, barking at them, and it's probably super exhausting for them. But if I organize an do the small things in front of me, then I shouldn't have any breakdowns. I don't recall any time where they broke us down and got behind us. So that's a credit to the back-line. And they knew, you know, this is my first game back. They had a tough task, and that was to make sure that they did their job and kept the ball out of the back net. So, I was really proud of them, and I think they did a great job."
The Pride continued to pour it on, as team-leading scorer Marta recorded her brace in a five-minute span. In the 53rd minute, Spencer crossed the ball from the right. Sheridan jumped to catch the cross, but it slipped from her hands for Marta to head it in at close range. Five minutes later, Morgan launched a long ball to Marta, who found herself in a one-on-one situation with Sheridan. Marta struck it to Sheridan's right for a 5-0 lead.
In the 66th minute, Spencer drew a penalty kick. Pride players then swarmed 62nd-minute substitute Maddy Evans, pleading her to take the shot. She reluctantly agreed after Marta gave her the ball, but her shot was saved off a diving effort by Sheridan.
"So, Marta sprinted and got the ball, and I was like, 'Don't do it, Marta. Don't do it,'" Evans said after the match. "But she came running at me with the ball, and she said, 'Just don't think about it. Just take it.' But, actually, I kinda wanted Marta or Alex to take it so they could get a hat-trick. That would've been pretty cool.
"But I don't think I've missed a PK in my life, and then I just missed it right then. I thought I hit it decently, but it was an amazing save. I thought she could've done me a save and done me a solid and maybe, you know, let that one go in. But had some fun with it.
"The wall behind the goal—that was really special. I think that moment, I was just kinda looking at the ball and could hear my name being chanted, and that was like, 'Whoah, this is really special.' So I know I missed it, and it could've been cool to put that away, but I think it was neat that my teammates backed me in that moment anyway."
Woman of the Match: Alex Morgan
Morgan tallied her fourth and fifth goals and her second assist of the season in the blowout win over Sky Blue. She recorded four goals and and an assist in 15 appearances and 15 starts last season. She's surpassed those marks in just seven appearances and six starts.
The second-year Pride forward also completed 80.6 percent of her 31 passes, created three chances, took five shots (four on goal) and recorded a tackle.
What's next?
The Pride take to the road to face the Boston Breakers next week.
Highlights
A bomb from Marta. A blast form Morgan. #Legend #Boss #ORLvNY | 1-0 pic.twitter.com/p12Yaikyjj

— Orlando Pride (@ORLPride) August 13, 2017
22′ Marta lets it rip. Nearly. #ORLvNY | 1-0 pic.twitter.com/tLxWIPLttF

— Orlando Pride (@ORLPride) August 13, 2017
34′ So. Many. Chances. This half has been all Pride, but they are looking for more. #ORLvNJ | 1-0 pic.twitter.com/iI8EYySchT

— Orlando Pride (@ORLPride) August 13, 2017
41′ Props to Sheridan for putting her face in front of that Alex Morgan shot. We wouldn't want to do that. 👊 pic.twitter.com/FPhWiVA5vK

— Orlando Pride (@ORLPride) August 13, 2017
Camila with the juice. Weatherholt with the sauce. 😮#ORLvNJ | 2-0 pic.twitter.com/HsgR2LCNBr

— Orlando Pride (@ORLPride) August 13, 2017
Absolute caaaash money. 💰#ORLvNJ | 3-0 pic.twitter.com/fbSFeW41R4

— Orlando Pride (@ORLPride) August 13, 2017
Oh and #ThanksMaddy! 😘 pic.twitter.com/8agAKqFQ7M

— Orlando Pride (@ORLPride) August 13, 2017
Pick it out. No chance. 😎#ORLvNJ | 5-0 pic.twitter.com/vU9kH0fuYu

— Orlando Pride (@ORLPride) August 13, 2017
62′ | Dani for Maddy and a 🤗 to boot. #ThanksMaddy #ORLvNJ | 5-0 pic.twitter.com/cJzD3cdsBM

— Orlando Pride (@ORLPride) August 13, 2017
NDR Notes
Evans played her final match of her career against Sky Blue on Saturday.
Morgan's goal in the fourth minute is the fastest in Pride history. The previous fastest was a ninth-minute score by Marta in a 2-0 win over the Boston Breakers.
Weatherholt scored the Pride's 50th goal.
With their five-goal performance, the Pride now leads the league in goals scored. The team is also tied for best goal differential (9) with the No. 1 North Carolina Courage.
In her first game since the end of May, Harris helped the Pride to their second-straight clean sheet, third all season.
Scoring
| | | | |
| --- | --- | --- | --- |
| Time | Team | Goal-scorer | Assisted by |
| 4' | Orlando Pride | Alex Morgan | Marta Vieira da Silva |
| 43' | Orlando Pride | Dani Weatherholt | Camila Martins Pereira |
| 47' | Orlando Pride | Alex Morgan | Jasmyne Spencer |
| 53' | Orlando Pride | Marta Vieira da Silva | n/a |
| 58' | Orlando Pride | Marta Vieira da Silva | Alex Morgan |
Statistics and Starting Lineups
| | | | | | |
| --- | --- | --- | --- | --- | --- |
| | Goals | Assists | Shots | Shots on Goal | Possession % |
| Orlando Pride | 5 | 4 | 18 | 12 | 63.4% |
| Sky Blue FC | 0 | 0 | 11 | 3 | 36.6% |
Orlando Pride starting XI (4-2-3-1): Ashlyn Harris (GK/C); Steph Catley, Ali Krieger, Monica Hickmann Alves, Kristen Edmonds; Alanna Kennedy, Dani Weatherholt; Marta Vieira da Silva, Camila Martins Pereira, Jasmyne Spencer; Alex Morgan
Sky Blue FC starting XI (4-3-3): Kailen Sheridan (GK); Nikki Stanton, Christie Pearce (C), Mandy Freeman, Erica Skroski; Sarah Killion, Madison Tiernan, Raquel Rodriguez; McKenzie Meehan, Samantha Kerr, Taylor Lytle
---
Edits Log:
8/13/17, 2:30 p.m.: Fixed factual error regarding how many games Morgan has started and appeared in.
---
For more on the Pride, as they look to solidify their playoff position, follow Victor Tan on Twitter at @NDR_VictorTan.