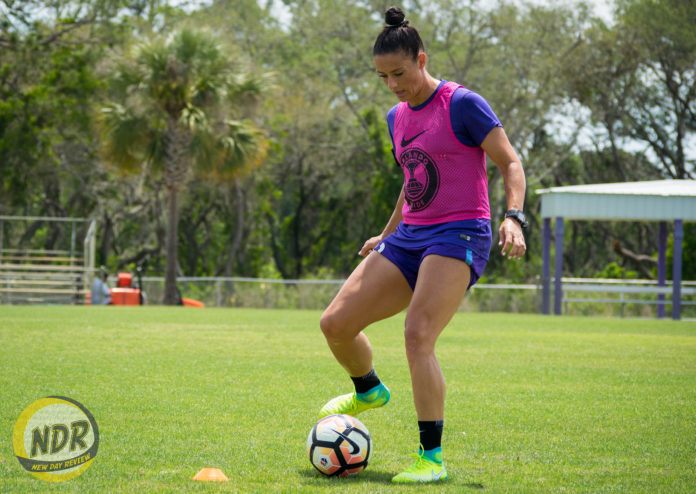 (Photo by Victor Tan / New Day Review)
July 6, 2017 at Seminole Soccer Complex
Availability: HC Tom Sermanni, DF Ali Krieger
HC Tom Sermanni
The Orlando Pride travel to face the Washington Spirit on Saturday at 3:30 p.m.
I think the key thing is we need to try and finish things off, particularly when we're on top. That's the first thing we need to do. And the second thing we need to do is keep our level of concentration at its highest when there's bits in the game where the opposition are on top so that we don't end up chasing the game again.
Washington is currently the last-place team in the National Women's Soccer League, so far boasting a 3-6-2 record with 11 points.
Well, they're bottom now, but, if you look at bottom to top, any team can beat anyone any given day. I didn't even realize they were bottom, to be honest. The problem we got, obviously. They brought in Mallory Pugh, which has given them a big boost and an injection of pace and skill up front. It's a very well-organized team. They've had a very particularly stable back-line, so they're defensively disciplined, and that's they key for us is being able to break down that sort of defensive block that they've put in there.
For Sermanni, the Washington game is another matchup that could propel the Pride toward the top of the standings.
Huge. Yeah, big time. We've spoken about it that we need to start to—we've spoken about it often this season. Keep picking up points. We need to keep in touch. And, you know, the league is so tight that a win against Washington puts us right back up in the mix with the top teams in the league. So every game—I know I might sound like a cliché—but every game is really important in this league because the league is so tight. And we just need to start turning some of our performances into wins, and that's a key. And it's gonna be a narrow margin. And, you know, we lost by a narrow margin last week, and we've gotta make sure that in those games that we know are going to be tight, which is this game at the weekend, that we need to concentrate defensively, we need to be aggressive how we go about doing our job, and we need to finish off opportunities that we get at the attacking end.
In the past four matches, Orlando has finished 2-2, winning two games on the road and losing two games at home. For Sermanni, he doesn't see an issue in the discrepancies between home and away forms.
I don't think there is an issue, to be perfectly honest. Because if you looked at all four games, they were all tight. Although we went 4-0 up against Houston, that was probably one of the games where we had the fewest shots on goal, I think, we've had this season when we just actually converted our chances in that game. So, you know, I kinda don't go, you know, home form, away form. I just look at it as game to game and going out and trying to play the same way, whether we're at home or away from home. I think where there might be a difference is when teams come to Orlando is that they perhaps set up a little bit more defensively. So they make it more difficult for us. Whereas, obviously, at home, teams really have got to come out and try and win games. So that might be the—with the team that we've got—be more advantageous to us.
Pride forward Alex Morgan made her 2017 NWSL debut in a 1-0 loss to the Chicago Red Stars. Sermanni said she's a "serious option" to start Saturday.
We'll looking very closely at that. I'll have a chat with her today, see how she feels. But certainly that's a very serious option that we're looking at, at the moment, and, you know, we'll have a chat with her, see how she feels. She's looked great at training. She looks fit and healthy, so I would say she's very much in the [conversation] to start.
On Thursday, the Pride went through an 11-on-11 drill. It wasn't a full scrimmage, but it was still an 11-on-11 experience for Morgan who hadn't played in an 11-on-11 drill with the Pride before her 2017 debut.
Wasn't even a full scrimmage today, but it's pretty much first chance she's had at training to be in a, you know, a bigger-sized game because, as I say, she was in full training last week when we weren't here. So that's the first time we've had that kind of sort of bigger session, yeah.
Communication has looked good in training, but Sermanni wants to see that translate from the training pitch to game-time action.
Well, you know, it's a continual process. I think we saw good signs today in the game, but it's a training game, so you hope that goes into the main game at the weekend. It's one of those things it might take longer, or it might just all click in a matter of one game.
For Sermanni, Krieger has lived up to the second-year Pride head coach's expectations and then some.
We knew how good she was when we made that signing, and, yeah, she has. She's lived up to expectations and, in many ways, surpassed those expectations with her performances at training, performances in game, her leadership and how she goes about demanding the best of herself, first, and then demanding the best of the players around about her. And she does it in such a way that it's done in a real positive environment. So she'll give a strong message to players when it's needed, but she still manages to do it in a really positive way. And that's, you know, where that key leadership role comes in.
Krieger, who has played right-back and center-back, has excelled at utilizing her pace so far this season for the Pride.
I always knew she was quick. Obviously, you know, as players start getting into that dreaded 30s, you never quite know how long that speed lasts for. And it varies from player to player. So, no, not surprised because she's a consummate professional and a great athlete. So, she's got those attributes. The "don't knows," in all of that, is when players start to get into the 30s and start heading to the mid-30s is you don't know when that's going to drop off. And you get different examples. Look at [Christie] Rampone. She's still being able to get forward and get back at 40, so, you know, hopefully Ali Krieger will be a carbon copy of Christie Pearce.
DF Ali Krieger
Krieger played with Washington from 2013 to 2016.
I can't wait. You know, I'm just so happy to be able to play in front of my friends and family and my hometown again because they can't always see me play here. So it's gonna be really nice to have all of them support me at the game and support our team and wear purple this time around. So that's gonna be really exciting. You know, they don't always get a chance to travel and especially come down here. So it's gonna be nice to see them again.
For Krieger, Washington's danger is in its counterattack.
You know, they have speed up top. They knock it pretty well, and they're gonna—if we allow them on transition, they can be dangerous going forward. So I feel like if we continue to, you know, give the ball away, they're gonna create chances off of that. So, as long as we keep the ball and make them work, I think they're gonna have very little opportunity. But they're very good, organized and especially going forward. And [Francisca Ordega], obviously, playing up top has been really key for them. So we're gonna have to make sure to shut her down depending on if she's starting in the game. So we're gonna have to take a look at that but more worried about ourselves because the past few games, we've given other teams opportunities just from our mistakes, and I think that if we can clean those up, then very little teams have an opportunity to counter on us or to do well on transition or, you know, take those opportunities off of our mistakes. So I think as long as we keep playing the way we're supposed to play, keep playing the way we can play, then they're gonna have very little opportunity to counter.
Krieger sees the Washington matchup as a transition game for the team, as the Pride head into the halfway point of the season.
This is a transition for us, this game. This is an opportunity for us to get ahead by three points and get into the top four or drop down. So it could go either way, and we're gonna hopefully be on the good end of that and the good side of that because we're very, very focused right now, and we need these points 'cause it's a transition for us in the season. We're a few months in now, and this is it. This is the time to take points and start climbing the table because, if not, then it's gonna be very, very difficult for us to succeed and get into the playoff. We're just trying to get in a playoff position, and we have to win in order to do that.
Krieger left training early on Tuesday because she was feeling "under the weather" then and over the weekend. She is now feeling 100 percent.
Yeah, you know, I was feeling a little bit under the weather, yes, but now I'm back full, 100 percent, and I feel really good taking a couple days off and just out of the sun, out of the heat and resting my legs a little bit. You know, playing three games in that week and 90 minutes every game and running up and down and all around, so, you know, I know all of us are 100 percent, ready to go, and being back with the team, I only, you know, was away for 24 hours, but I missed them a lot. And now we're back together. We're fully focused and prepared to get into a playoff position, and I'm feeling really good. And today, it was great to be back out here and train 100 percent, and I feel excellent right now.
For Krieger, Orlando has been the best team she's been on in the NWSL. Washington is the only other team she's played for in the league.
It's been what I expected and more. It's actually exceeded my expectations. I think that it's so, so professional. I knew that coming into it, but, now, just the caliber of players, the personnel that we have, from staff to players to even media to the club, I mean, everyone has been incredible and very professional what they do. And I've been learning a lot more and growing as a person and a player here, a little bit more than I was last year. And I know that I'm in a very, very good place. I'm bettering myself on and off the field, and I feel good with the team, and if we could just take some points and climb the table, I'd be a little bit happier, but, honestly, I'm loving this club. I'm loving the atmosphere. I'm learning something new every single day from our coaching staff, from players around me, and I'm very, very grateful I get to play with the type of players and the caliber of players that we have in this club. I could say it's the best team I've been on in the NWSL.
Krieger, who turns 33 at the end of July, said she relies on her running form for her speed as she ages.
It's been really good. You know, I focused a lot in the offseason. I have a personal trainer at home…who has really—and also Dawn Scott with our national team. Both of them have really helped me with the form of my running. As I get older, I feel like I need to have really good form in order to continue to be fast and also to keep up, and I think that as long as I practice my form and the running, then everything else comes into play and just is—you know, once I get into my stride, I feel a lot better running. You know, as I get older, I feel like I'm getting better. I'm feeling stronger. I'm feeling fitter, and I'm faster, and I think that it's kinda funny 'cause, you know, people tend to think as you get older, you get slower, and you're not as good you were when you were young. But I actually feel faster, fitter, stronger and even more intelligent than I was when I was young with all the experience. I think just the form. If people practice their form and their running—you don't understand how much that could help you. And also maybe a few little hamstring exercises that make sure, you know, keep my hamstring strength up to par.
Morgan said there was confusion in how the team was playing after the loss to Chicago and that the team could improve its communication.
You know, having Alex Morgan come back into the squad has just upped the confidence immediately within the team also within her. And I think it's just an extra power and extra magic that we have up top. Another, you know, powerhouse up top for other teams to kind of have that focus on her and Marta [Vieira da Silva], and then other players can kind of open up and play a little bit more freely. So I think that is an advantage for us. Obviously she's a goal-scorer, and that's what she's gonna do for us, which is something that I think we've been missing a little bit in the past few games. I think that, you know, with the communication aspect, I think we have very good communication. I don't necessarily think that in a game like that anyone's confused that we actually were gonna start attacking with numbers. I think at any level you should understand that if you're down, you come into a game, and you're just—doesn't matter where you are on the field. You know, we're going to a three-back, and you have numbers forward, and that's the game plan for everyone for every team. And that's just the mentality that you have to have. It's not, you know—I don't think there was any confusion from a lot of the players. Maybe just from the front because some players were kind of mixed around, but I think that—yeah, we can obviously get better at everything that we do, but I think once someone comes on and says, "Hey, we're going into a three-back," then each line needs to know—one of the players in each line—needs to know what the plan is, and then maybe that communication could be a little bit better. But I think when you're chasing a game, you are gonna have more in the attack, and that's just—you gotta just do your job, win the ball and score goals. And that's the plan going forward. So everyone should know that no matter what part of the game it is, no matter what time you come in or if you're going out. That's the game plan when you go to a three-back and you put numbers forward. You gotta win. you gotta score goals, and that's what everyone needs to understand that we try and do.
---
For more on Krieger as she returns to Washington for the first time in a different uniform, follow Victor Tan on Twitter at @NDR_VictorTan.