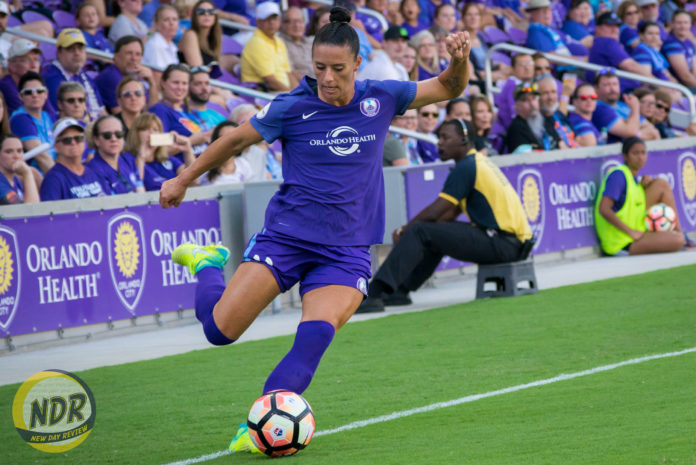 (Photo by Victor Tan / New Day Review)
ORLANDO, Fla. – When it comes to her playing career, Orlando Pride center-back Ali Krieger is on the wrong side of 30. Despite Father Time's steady encroachment, though, Krieger said she is not only smarter but also more physically fit now than when she was younger.
"You know, as I get older, I feel like I'm getting better," Krieger said after training Thursday. "I'm feeling stronger. I'm feeling fitter, and I'm faster, and I think that it's kinda funny 'cause, you know, people tend to think as you get older, you get slower, and you're not as good as you were when you were young. But I actually feel faster, fitter, stronger and even more intelligent than I was when I was young with all the experience."
Krieger attributes that to both United States women's national team strength and fitness coach Dawn Scott and her personal trainer. Both have helped the 32-year-old develop a running form that has kept her up to speed with younger competition.
"You know, I focused a lot in the offseason [on my running form]," said Krieger, who turns 33 on July 28. "I have a personal trainer at home…who has really—and also Dawn Scott with our national team. Both of them have really helped me with the form of my running.
"As I get older, I feel like I need to have really good form in order to continue to be fast and also to keep up, and I think that as long as I practice my form and the running, then everything else comes into play."
For second-year Pride head coach Tom Sermanni, he hopes Krieger can extend that fitness late into her career just like Sky Blue FC defender and former USWNT team captain Christie Pearce. Going back to last season, the 42-year-old Pearce has started 31 games, logging 2,790 minutes. As for Krieger, she has so far started all 12 matches and played every minute this season, recording 1,080 minutes.
"I always knew [Krieger] was quick. Obviously, you know, as players start getting into that dreaded 30s, you never quite know how long that speed lasts for," Sermanni said. "And it varies from player to player. So, no, not surprised because she's a consummate professional and a great athlete… The 'don't knows,' in all of that, is when players start to get into the 30s and start heading to the mid-30s is you don't know when that's going to drop off.
"And you get different examples. Look at [Pearce]. She's still being able to get forward and get back at 40, so, you know, hopefully Ali Krieger will be a carbon copy of Christie Pearce."
Krieger and the Pride travel to face the Washington Spirit on this week's "NWSL Game of the Week on Lifetime" on Saturday at 3:30 p.m. This will be the first time Krieger will return to Washington in a different uniform after being traded in early November.
"I can't wait. You know, I'm just so happy to be able to play in front of my friends and family and my hometown again because they can't always see me play here," Krieger said. "So it's gonna be really nice to have all of them support me at the game and support our team and wear purple this time around."
---
For more on Krieger and the Pride as they face the former Spirit's former team, follow Victor Tan on Twitter at @NDR_VictorTan.