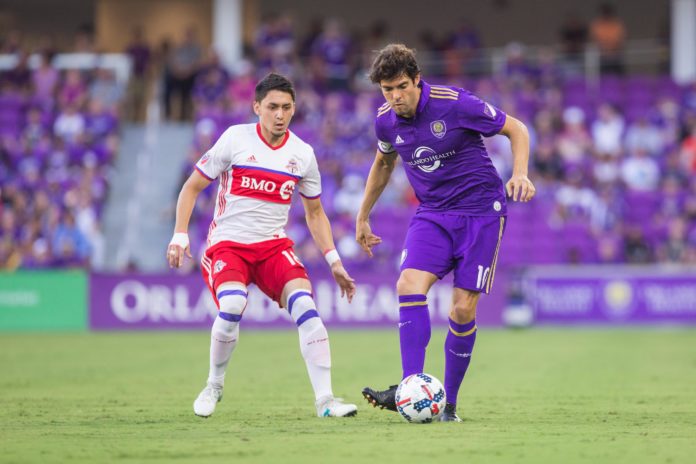 (Photo by Orlando City SC)
Match Recap
ORLANDO, Fla. – Toronto FC's Sebastian Giovinco has proven himself to be one of Major League Soccer's premier players. In Orlando City SC's home match against the Canadian side, Giovinco recorded a brace to lead TFC (11-3-5, 38 points) 3-1 over Orlando City (8-7-5, 29 points) at Orlando City Stadium in front of 25,029 fans.
"Disappointed to go into a long break now to have to feel the suffering of losing three points now for the next two weeks," City head coach Jason Kreis said after the loss. "But it doesn't change the fact that we know there's some particular areas that we need to be really focused in on improving in the next couple of weeks, and we're gonna take the opportunity with extended period of time to train, to really get after those things and get back to some of the things, I think, brought us a lot of success the beginning of the season as well as the fact that we're a team that needs energy. And when we don't have enough energy, we suffer results I think like we did tonight."
Toronto's Jozy Altidore opened the scoring for the visiting team. In the 18th minute, Giovinco attracted a host of Orlando City defenders on his penetration move down the right-middle flank before he slotted it to an open Altidore for a one-on-one situation with City goalkeeper Joe Bendik. Despite his body-to-ground effort, Bendik was unable to maintain the early scoreless tie.
"For me, it was a little bit about stepping at the wrong time and stepping late," Kreis said. "We were a little bit caught and also how close we were to the players that were playing the balls through for him. We weren't close enough. We didn't have enough pressure to those balls, and when you give a player like Giovinco time to slot those kind of passes, he's gonna take full advantage of it."
Almost six minutes later, Toronto threatened to double its lead. Center-back Jonathan Spector committed a foul on Altidore about 15 yards outside the top of City's box, giving Giovinco his first free-kick chance of the night. His nonchalant shot sped past an outstretched Bendik and ricocheted off the bottom of the crossbar.
TFC eventually did find their second goal very early in the second half, though. This time, it was Giovinco's turn to score and Altidore's chance for an assist. Altidore found himself in a one-on-one situation with Bendik again, faking a shot to force the City keeper to the ground. He then laid it off gently to a trailing Giovinco, who struck it home for a 2-0 lead.
"I think the [defensive] solutions are in the squad. I really do," Kreis said. "I think there's just some small things that we're not quite doing the same we were doing in the beginning of the season. The first goal, in particular, to me, was a play where, you know, Giovinco is floating in the space between our back four and our midfielders and is just given too much time and space there.
"And I feel that that's something that we've been trying to tactically get our team to sort out. Getting our back four higher and tighter with guys that are floating in that space, and I think we're just not quite getting it done at the moment."
After halftime substitute Carlos Rivas scored his fourth goal of the season of a Ricardo Kaká assist in the 62nd minute to make it 2-1, Giovinco completed his brace three minutes later. A drawn foul from the top of City's box set up Giovinco for another free-kick chance. This time, he struck it past Bendik and under the crossbar for a 3-1 lead.
Man of the Match: Sebastian Giovinco
Giovinco guided Toronto's offense to three goals, assisting on the first and scoring the final two. His third and final goal in the 65th minute effectively put the game out of reach for Orlando City, as Giovinco struck a 30-yard free kick just three minutes after Rivas slashed TFC's lead in half three minutes earlier.
The 30-year-old Italian finished with seven shots (three on goal), two goals, an assist and created one chance. He also completed 81.3 percent of his 32 passes and drew a match-high three fouls.
What's next?
Orlando City now has a 16-day break before a home-and-home matchup against Atlanta United FC. First, the Lions will host Atlanta on July 21 and then travel to Atlanta on July 29.
Orlando City Won't Dwell on Loss for Too Long During 16-day Break
Orlando City now heads into a 16-day break. While, of course, a win would've been more ideal heading into this break, the Lions won't dwell for too long on the loss to the now-No. 1 team in the Eastern Conference.
"Yeah, it's frustrating," left-back Donny Toia said after the match. "Obviously, you're gonna dwell on it a little bit, but, luckily, it is a break. So you get to relax and try not to think about it as much and move on from it. It's all you can do. It's over with. Like I said, there's more games in the season, and we gotta worry about the next one."
Said Kaká on the team's approach heading into the break: "Of course, it's better when you have a break after a win, but we lost tonight, unfortunately. But we have the same period to rest and to get ready for the game. So it's time to rest. Time to take advantage of the couple of days off and be back here, training hard and be ready for the game against Atlanta."
Highlights
10′ | Quality and alert defensive work from José to stop a Giovinco threat. #ORLvTOR | 0-0 pic.twitter.com/6b4VrTqwxZ

— Orlando City SC (@OrlandoCitySC) July 5, 2017
We've seen this connection a time or two before. #ORLvTOR pic.twitter.com/7QQq8Hyn6I

— Major League Soccer (@MLS) July 6, 2017
36′ | WILD MAN WILL!!! Takes a rip with no regard for the balls safety! #ORLvTOR | 0-1 pic.twitter.com/a36YNisQby

— Orlando City SC (@OrlandoCitySC) July 6, 2017
Just @KAKA doing @KAKA things. #OCSC pic.twitter.com/Iwdc87fKH3

— Major League Soccer (@MLS) July 6, 2017
HT: Crossbar! Giovinco was inches away from doubling the lead for @torontofc. #ORLvTOR https://t.co/htYKhokWMQ

— Major League Soccer (@MLS) July 6, 2017
A little role reversal this time around. @JozyAltidore plays provider and Seba finishes with the delicate chip 💥🐜#TFCLive | #ORLvTOR pic.twitter.com/NjIVBUvmLy

— Toronto FC (@torontofc) July 6, 2017
Carlos Rivas has City on the board with his fourth of the season. #VamosOrlando pic.twitter.com/fPucODYnr4

— Orlando City SC (@OrlandoCitySC) July 6, 2017
How do you make a 30-yard free kick look like as simple as a tap in? Don't ask, just enjoy Seba doin' Seba things.#TFCLive | #ORLvTOR pic.twitter.com/SSt51nHY1B

— Toronto FC (@torontofc) July 6, 2017
NDR Notes
Midfielder Servando Carrasco is making his sixth start in 11 appearances so far this season. He played all of the first half against Toronto.
Attacking midfielder Richie Laryea made his third appearance of the season, his third MLS appearance.
Right-back Rafael Ramos made his second MLS appearance of the season. He started and played 26 minutes in a 0-0 draw with the Chicago Fire on June 4.
Orlando City's loss to Toronto on Wednesday was their second loss at home this season. A 3-0 loss to New York City FC on May 21 was the first loss at home.
Scoring
| | | | |
| --- | --- | --- | --- |
| Time | Team | Goal-scorer | Assisted by |
| 18' | Toronto FC | Jozy Altidore | Sebastian Giovinco |
| 46' | Toronto FC | Sebastian Giovinco | Jozy Altidore |
| 62' | Orlando City SC | Carlos Rivas | Ricardo Kaká |
| 65' | Toronto FC | Sebastian Giovinco | n/a |
Statistics and Starting Lineups
| | | | | | |
| --- | --- | --- | --- | --- | --- |
| | Goals | Assists | Shots | Shots on Goal | Possession % |
| Orlando City SC | 1 | 1 | 14 | 3 | 61.5% |
| Toronto FC | 3 | 2 | 11 | 6 | 38.5% |
Orlando City SC starting XI (4-4-2): Joe Bendik (GK); Donny Toia, Jonathan Spector, José Aja, Scott Sutter; Ricardo Kaká (C), Antonio Nocerino, Servando Carrasco, Will Johnson; Cyle Larin, Giles Barnes
Toronto FC starting XI (3-5-2): Alexander Bono (GK); Jason Hernandez, Ashtone Morgan, Eriq Zavaleta; Benoit Cheyrou, Victor Vázquez, Michael Bradley (C), Marco Delgado, Oyvind Alseth; Sebastian Giovinco, Jozy Altidore
---
For more on Orlando City as they head into a 16-day break, follow Victor Tan on Twitter at @NDR_VictorTan.