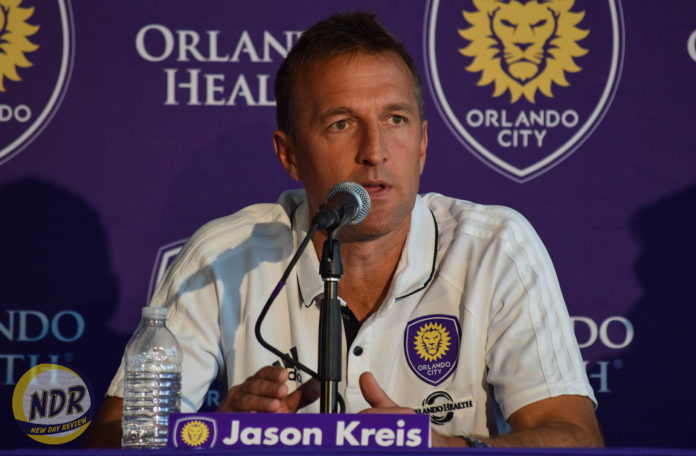 (Photo by Victor Tan / New Day Review)
ORLANDO, Fla. – After the a 3-1 loss to Toronto FC at home, Orlando City SC head coach Jason Kreis took it upon himself to address the way referees have been calling home games in Orlando City Stadium. Shortly before the post-game press conference concluded, Kreis prompted his own response for the media.
"I'd like to just say one more thing here. It hasn't been asked by anybody, and I've spent the entire season keeping my mouth closed about it," Kreis said. "But tonight I need to say that it's beginning to feel like, in this stadium—and I know this from prior experience—but it's beginning to feel like, in this stadium, we have referees that will not make critical calls for us for whatever reason.
"It appears to me that the referees are bending over backwards to show that they're not gonna show any bias. Perhaps it's due to us having a raucous crowd or whatever it is, but I'm tired of it. I'm absolutely tired of it, and I have to say here tonight that I don't think that we, as a club, as a fan group, as a coaching staff, as anybody else that we should continue to stand for that.
"We go away, and we feel like the away team by the referees' decision on the 50-50 calls, and we come at home, and we still feel like the away team, and I think it's unacceptable."
For Kreis, he's unsure of a concrete answer.
"I don't know. Like I said, the only thing I can come up with is one or two reasons," the second-year City coach said. "Reason No. 1, maybe that because our crowd is so raucous and so vocal that the referees feel that they're a little bit intimidated, or the second reason is that they don't respect our team because we haven't been a team that's made the playoffs because we don't have, I don't know, the big enough players.
"Whatever it is. For me, it has to stop. I just want things to be level and equal."
Kreis highlighted situations where City forward Cyle Larin wouldn't get the same calls TFC forward Jozy Altidore would in the Lions' most recent loss to Toronto.
"Absolutely. The number of times that we've had defenders draped all over Cyle Larin in the box, and he goes down, and we don't get penalty kicks for that," Kreis said. "The number of times that we've had inadvertent hand balls in the penalty box that we don't get calls for, but, yet, [Ricardo Kaká] sticks his arm up a few games ago and gets a penalty kick called against him.
"It's so many occasions, now, that I just can't bear it anymore. The decision for the foul that Giovinco scores…to make the third goal, for me, was absolutely ridiculous. There's no chance that our player gets that same foul called, and we saw it time and again tonight where our players were in that exact same positions, fell over and did not get that same call."
For left-back Donny Toia, he was hesitant to give his input on Kreis' statement. Though, he doesn't mind it when his head coach has his back.
"Yeah, I don't have too many thoughts on that one, to be honest," Toia said after the loss. "I leave that for somebody else to talk about. I just try to go out and play the game the way it's supposed to be play and be committed. If I'm fouling somebody, I'm fouling somebody. If I'm not, then great… Unfortunately, sometimes you're gonna get the wrong calls, and you gotta deal with it.
"Yeah, obviously, that's what you want from a coach, as well, is having your back as a coach and protecting your players. But, at the same time, it's unfortunate you can't talk about stuff like that because fines happen and everything else. But it's part of the game. You gotta deal with it, and you gotta move on. It's gonna be there every year, and you just gotta play the game that you know how to play it."
As for Kaká, he simply doesn't like to talk about referees.
"As you guys know, I don't like to talk about referees," the Brazilian said after the loss to Toronto. "And now, probably the next month…I hope the situation help us to get better or more calls or more fair calls for both teams."
Orlando City will enjoy a 16-day break before playing Atlanta United FC in a home-and-home matchup, beginning with a match in Orlando City Stadium on July 21.
---
For more on how Orlando City is being treated at home, follow Victor Tan on Twitter at @NDR_VictorTan.