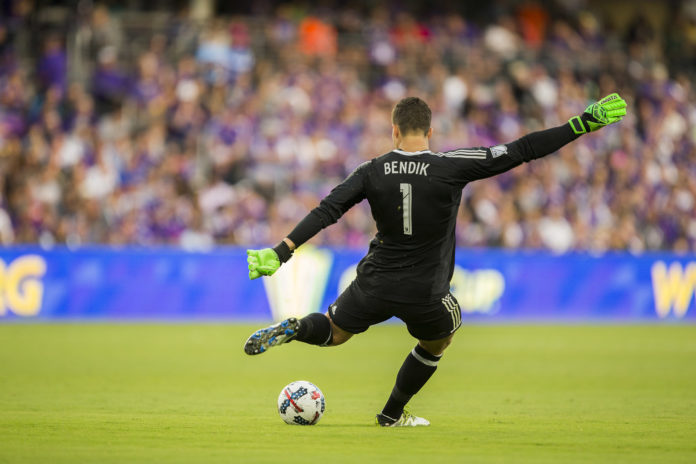 FINAL: @torontofc 3, @OrlandoCitySC 1. Giovinco records another brace vs. City this season. Rivas had the Lions' lone goal.#ORLvTOR #MLS

— New Day Review (@NewDayReview) July 6, 2017
4 minutes of added time.#ORLvTOR #MLS

— New Day Review (@NewDayReview) July 6, 2017
90′: Corner from the right by Rivas after the penetration by Kaka.#ORLvTOR #MLS

— New Day Review (@NewDayReview) July 6, 2017
88′: GREAT save by Bendik. Ashtone sends in a low cross for Hamilton, but it meets Bendik. TFC still leads 3-1.#ORLvTOR #MLS

— New Day Review (@NewDayReview) July 6, 2017
Tonight's attendance: 25,029.#ORLvTOR #MLS

— New Day Review (@NewDayReview) July 6, 2017
78′: SUBSTITUTION. Richie Laryea comes on for Nocerino.#ORLvTOR #MLS

— New Day Review (@NewDayReview) July 6, 2017
78′: Rivas slots it to Larin, and he one-times it WAY over the net. Good buildup for City there.#ORLvTOR #MLS

— New Day Review (@NewDayReview) July 6, 2017
72′: Looks like Laryea is about to come on.#ORLvTOR #MLS

— New Day Review (@NewDayReview) July 6, 2017
72′: SUBSTITUTION. Jordan Hamilton comes on for Jozy Altidore. He's escorted off with boos.#ORLvTOR #MLS

— New Day Review (@NewDayReview) July 6, 2017
72′: Ramos to Rivas down the right, who slides it into a cutting Barnes. Corner from right coming after deflection.#ORLvTOR #MLS

— New Day Review (@NewDayReview) July 6, 2017
How do you make a 30-yard free kick look like as simple as a tap in? Don't ask, just enjoy Seba doin' Seba things.#TFCLive | #ORLvTOR pic.twitter.com/SSt51nHY1B

— Toronto FC (@torontofc) July 6, 2017
65′: GOAL. Giovinco does it by himself, curls it JUST to the right of Bendik on a free kick from ~10 yards outside the box.#ORLvTOR #MLS

— New Day Review (@NewDayReview) July 6, 2017
Carlos Rivas has City on the board with his fourth of the season. #VamosOrlando pic.twitter.com/fPucODYnr4

— Orlando City SC (@OrlandoCitySC) July 6, 2017
62′: GOAL. @KAKA slots the ball into Rivas, and he strikes it with the outside part of his right foot off the far post.#ORLvTOR #MLS

— New Day Review (@NewDayReview) July 6, 2017
61′: Throw-in for TFC after the ball by Vasquez on his way to Alseth is deflected out by Toia. Good defense.#ORLvTOR #MLS

— New Day Review (@NewDayReview) July 6, 2017
61′: SUBSTITUTION. Rafael Ramos comes on for Scott Sutter.#ORLvTOR #MLS

— New Day Review (@NewDayReview) July 6, 2017
58′: Giovinco found his way deep into City's box, but Bendik drops to the ground to grab the ball.#ORLvTOR #MLS

— New Day Review (@NewDayReview) July 6, 2017
58′: Larin back-heels it to Kaka near the left end-line, and the captain penetrates, but he's dispossessed.#ORLvTOR #MLS

— New Day Review (@NewDayReview) July 6, 2017
54′: From the top-right part of the box, Barnes tries for goal with the front of his foot, but it goes wide left.#ORLvTOR #MLS

— New Day Review (@NewDayReview) July 6, 2017
52′: Rivas took the last corner from the right, but it's cleared.#ORLvTOR #MLS

— New Day Review (@NewDayReview) July 6, 2017
51′: Rivas sends 1 in from the left to Larin in the middle of the box. It hits his feet, but he goes down. No call.#ORLvTOR #MLS

— New Day Review (@NewDayReview) July 6, 2017
50′: Giovinco tries to be a little cheeky and almost chips one over Bendik from the top of the box.#ORLvTOR #MLS

— New Day Review (@NewDayReview) July 6, 2017
A little role reversal this time around. @JozyAltidore plays provider and Seba finishes with the delicate chip 💥🐜#TFCLive | #ORLvTOR pic.twitter.com/NjIVBUvmLy

— Toronto FC (@torontofc) July 6, 2017
46′: GOAL. That was quick. Altidore is 1-on-1 w/ Bendik before he slips it behind him to Giovinco for a 2-0 TFC lead.#ORLvTOR #MLS

— New Day Review (@NewDayReview) July 6, 2017
46′: SUBSTITUTION. Before 2nd-half action, Rivas comes on for Carrasco.#ORLvTOR #MLS

— New Day Review (@NewDayReview) July 6, 2017
Halftime stats (ORL-TOR):

Shots (on goal): 5-7 (2-3)
Corners: 2-0
Passing accuracy: 87.9%-82.6%
Possession: 60.7%-39.3%#ORLvTOR #MLS

— New Day Review (@NewDayReview) July 6, 2017
HALFTIME: @torontofc 1, @OrlandoCitySC 0. Giovinco assisted on Altidore's lone goal of the match in the 18′.#ORLvTOR #MLS

— New Day Review (@NewDayReview) July 6, 2017
Nocerino was down that entire sequence before the Johnson corner kick. Bendik ran to check on him. Seems fine.#ORLvTOR #MLS

— New Day Review (@NewDayReview) July 6, 2017
45'+: Corner from the left for Johnson. Kaka almost gets a head on it. Toia shoots it. Deflected for corner. Half over.#ORLvTOR #MLS

— New Day Review (@NewDayReview) July 6, 2017
45'+: Vasquez, Giovinco very dangerous on the counterattack. Nearly get a goal.#ORLvTOR #MLS

— New Day Review (@NewDayReview) July 6, 2017
45'+: From near the left end-line, Kaka will take a free kick after drawing the foul.#ORLvTOR #MLS

— New Day Review (@NewDayReview) July 6, 2017
45'+: @CyleLarin took it from midfield, all the way down right flank into TFC's box. He slotted it well, but no one there.#ORLvTOR #MLS

— New Day Review (@NewDayReview) July 6, 2017
45′: YELLOW. Jose Aja gets booked for a foul on Giovinco in City territory.#ORLvTOR #MLS

— New Day Review (@NewDayReview) July 6, 2017
43′: Johnson finds space at the top of TFC's box and unloads a shot that goes high into the stands.#ORLvTOR #MLS

— New Day Review (@NewDayReview) July 6, 2017
42′: Kaka, this time, attacks from the right and gets a weak shot on Bono. He gathers it easily.#ORLvTOR #MLS

— New Day Review (@NewDayReview) July 6, 2017
42′: A lone Benoit Cheyrou slots it toward Bendik's goal, but no one's there, and Bendik gets it cleanly.#ORLvTOR #MLS

— New Day Review (@NewDayReview) July 6, 2017
39′: Alseth from right to a lonely Giovinco on the left, who tries to half-volley it. It goes wide left of the near post.#ORLvTOR #MLS

— New Day Review (@NewDayReview) July 6, 2017
36′ | WILD MAN WILL!!! Takes a rip with no regard for the balls safety! #ORLvTOR | 0-1 pic.twitter.com/a36YNisQby

— Orlando City SC (@OrlandoCitySC) July 6, 2017
35′: Johnson gets a shot off on goal, but it goes right to Bono. Not a bad effort.#ORLvTOR #MLS

— New Day Review (@NewDayReview) July 6, 2017
35′: Ball in by Carrasco from the right almost lingers for too long, but it's cleared away.#ORLvTOR #MLS

— New Day Review (@NewDayReview) July 6, 2017
35′: Kaka curls it in low, and Bradley heads it away.#ORLvTOR #MLS

— New Day Review (@NewDayReview) July 6, 2017
34′: Back-heel pass by Kaka to Barnes on the 2-man game. Free kick from outside the right part of the box after foul.#ORLvTOR #MLS

— New Day Review (@NewDayReview) July 6, 2017
32′: Play resumes. Toia tries to cross it from left; Alseth deflects for a corner. Kaka will take it.#ORLvTOR #MLS

— New Day Review (@NewDayReview) July 6, 2017
30′: Water break underway now. Johnson, Kaka talking strategy on the side.#ORLvTOR #MLS

— New Day Review (@NewDayReview) July 6, 2017
30′: Kaka doing Kaka things down the left side. Penetrates past Alseth and slides it in; it's cleared for a City throw-in.#ORLvTOR #MLS

— New Day Review (@NewDayReview) July 6, 2017
29′: Toia's cross hits Alseth for a throw-in. He's slow to recover.#ORLvTOR #MLS

— New Day Review (@NewDayReview) July 6, 2017
28′: into Larin again by Sutter. But Bono handles it easily.#ORLvTOR #MLS

— New Day Review (@NewDayReview) July 6, 2017
26′: Good effort by City that time. Kaka nearly penetrated the left part of TFC's box, but it's eventually a TO by Carrasco.#ORLvTOR #MLS

— New Day Review (@NewDayReview) July 6, 2017
HT: Crossbar! Giovinco was inches away from doubling the lead for @torontofc. #ORLvTOR https://t.co/htYKhokWMQ

— Major League Soccer (@MLS) July 6, 2017
24′: Giovinco went to his left (Bendik's right), and it goes off the underside of the crossbar. Aja clears.#ORLvTOR #MLS

— New Day Review (@NewDayReview) July 6, 2017
23′: YELLOW. Spector is booked after Altidore goes down about 10 yards outside the box.#ORLvTOR #MLS

— New Day Review (@NewDayReview) July 6, 2017
22′: Orlando City keeps trying to get it into the box to Larin.#ORLvTOR #MLS

— New Day Review (@NewDayReview) July 6, 2017
20′: Cross into the box by Barnes from the right nearly curls to meet Larin.#ORLvTOR #MLS

— New Day Review (@NewDayReview) July 5, 2017
We've seen this connection a time or two before. #ORLvTOR pic.twitter.com/7QQq8Hyn6I

— Major League Soccer (@MLS) July 6, 2017
18′: GOAL. @JozyAltidore scores easily on the assist by Giovinco.#ORLvTOR #MLS

— New Day Review (@NewDayReview) July 5, 2017
16′: Larin had a nice run in the counter, but he's taken down cleanly much to the displeasure of the crowd.#ORLvTOR #MLS

— New Day Review (@NewDayReview) July 5, 2017
13′: YELLOW. Oyvind Alseth is booked for a foul on Will Johnson near midfield, the first card of the game.#ORLvTOR #MLS

— New Day Review (@NewDayReview) July 5, 2017
10′ | Quality and alert defensive work from José to stop a Giovinco threat. #ORLvTOR | 0-0 pic.twitter.com/6b4VrTqwxZ

— Orlando City SC (@OrlandoCitySC) July 5, 2017
10′: Aja from inside the box makes a strong defensive stop on Giovinco.#ORLvTOR #MLS

— New Day Review (@NewDayReview) July 5, 2017
8′: Sutter goes in for the sliding challenge and gets called for a foul, City's 4th (?) so far.#ORLvTOR #MLS

— New Day Review (@NewDayReview) July 5, 2017
7′: Toia sends one down the left flank to Larin, but it's just too far and rolls out for a goal kick.#ORLvTOR #MLS

— New Day Review (@NewDayReview) July 5, 2017
3′: Just got to the stadium. Took me 1.5 hours to get here from UCF. #Metallica concert…#ORLvTOR #MLS

— New Day Review (@NewDayReview) July 5, 2017
2:50 p.m.
Alright, well, I'll get back to everyone when I get to the stadium and when starting lineups come out. If you have any questions, you can comment below, or you can tweet at us at @NewDayReview.
Hopefully it doesn't rain…
2:44 p.m.
Small nugget on forward Carlos Rivas. Kreis said he trained fully on Monday, would probably do the same on Tuesday and be available for selection on Wednesday. Rivas suffered an ankle injury in the win over RSL.
2:42 p.m.
After TFC, Orlando City begins their 16-day break. Here are Kreis', goalkeeper Joe Bendik's and right-back Scott Sutter's thoughts on the break.
Kreis:
It's a mixture of both [work and time off]. We'll all get a well-needed, I think, three or four days off after as much travel and as many games as we've had in the last two months. As we've said, I think it's important that everybody takes a physical as well as mental break from the game and from each other. And then we'll come back, and the good news is we'll have another 10 days past that or 12 days, whatever it is, to train. Because I do think there's some areas in our game where we feel we need to really improve for the second half of the season and get back to winning ways.
Bendik:
Yeah, it's great. I think it's the first time all year that, you know, you can turn and say, "Oh, I'll be here for a month." So, yeah, I'm excited for that.
Sutter:
July looks pretty good. I looked a bit further forward, and I think in September, I think we've got another. We've got a stretch, I think, of five road trips on the bounce. So, it was tough. It was a long three weeks. A lot of traveling. It takes a bit out of you, but, you know, we've got one game before our nice little break, so it's kind of a good opportunity to give everything we've got one more time, knowing that Toronto played a day after us, got a little day less of regeneration than us is definitely to our advantage. And we need to make sure that we see that from minute one.
You can read the full transcript from training on Monday in the link below.
2:36 p.m.
A big part of how well Orlando City does depends on Larin. He leads the team in goals with eight despite missing three of the last four games. Orlando City suffers in the goals-scored category, scoring just 21 goals so far this season. That's the lowest among all currently playoff-eligible teams right now. The next-lowest is 30 by the Columbus Crew. Orlando City and Columbus are the only two currently playoff-eligible teams with negative goal differentials.
2:31 p.m.
Speaking of Larin, this will be his second game back since returning from his suspension for a DUI charge that placed him in Major League Soccer's Substance Abuse and Behavioral Health program in South Carolina. He made his first appearance in a full, 90-minute start in a 1-0 win over Real Salt Lake on June 30. The Canadian recorded two shots (zero on goal) in that match.
Larin also addressed the media yesterday morning, discussing his DUI charge and how he is reintegrating with his team. You can read the full transcript in the link below.
Notes & Quotes: Orlando City SC (7/4)
2:23 p.m.
So, let's talk about the last time these two teams met. City traveled to meet Toronto on May 3, losing 2-1. Sebastian Giovinco tallied his brace by the 38th minute, scoring his first in the ninth. Lions captain Ricardo Kaká scored City's only goal right before halftime.
The disappointing part for City is that this game could have easily been a win. Cyle Larin had two point-blank range shots that were essentially cleared off the line. Go to 2:05 for the first chance and 2:42 for the other.
Here's what head coach Jason Kreis said would be the difference for his team to get a win in tonight's match:
The difference would be scoring our goals. When you look back at that game, Cyle had two point-blank chances that Cyle never misses. Unfortunately he didn't take 'em in that game, but maybe he was saving 'em for this one.
2:14 p.m.
Going off that note about Atlanta, Orlando City will play the 2017 expansion side in a home-and-home after their upcoming 16-day break. In fact, Atlanta United also has a similar break, as they started a 17-day break today after defeating the San Jose Earthquakes 4-2 last night.
So, Orlando City will first host Atlanta on July 21 (broadcast on ESPN), and then Atlanta will host the Lions on July 29 (broadcast on FOX).
Orlando City currently holds an 8-6-5 record (before the Toronto game) with 29 points. Atlanta is 9-7-3 with 30 points.
2:04 p.m.
Tonight's match against Toronto FC has some significant implications in the Eastern Conference table. An Orlando City SC win over Toronto would propel the Lions to fourth place over Atlanta United FC, who is currently one point ahead of City in the standings. A loss for TFC would also open up an opportunity for New York City FC to take sole possession of second place with a win of its own.