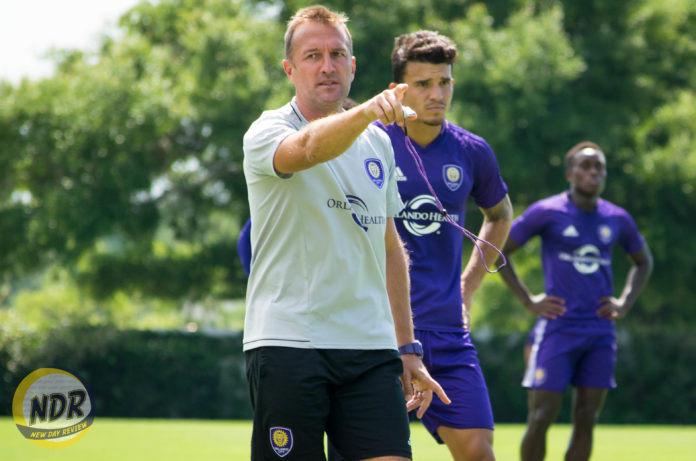 (Photo by Victor Tan / New Day Review)
July 3, 2017 at Sylvan Lake Park
HC Jason Kreis
After facing Toronto FC on Wednesday, Orlando City SC will have a 16-day break.
Yeah, it's crazy. Lot of traveling lately. Lot of busy, busy months the past couple months. So, we go into this last game and, I think, with a renewed sense of excitement and vigor. We got three points—four points in our pocket over three road games and three points in our very last one, so hopefully we come into this with a bit of confidence.
For Kreis, the Toronto match will be one where he feels he doesn't need to motivate his players.
It's very good opponent. And it's one of those games where you don't feel like you're gonna have to motivate your players at all because they know this is extremely big challenge in front of us. Top team in our conference that's been playing very well, and so, for me, it's a—I think it's a massive opportunity for us to make a statement right now.
TFC's Jozy Altidore and Sebastian Giovinco are 21st and 22nd, respectively, in goals scored so far this season with seven each.
Yeah, I mean, with those two players up front and with some of the creative minds they have in the midfield as well as Michael Bradley pulling the strings, you know that it's gonna be a team that can hurt you at any given moment. We've gotta be very well organized. We've gotta be communicating very well to pass players on and to always have an eye for Altidore and Giovinco. Even when we have the ball, it's gonna be important that we have those guys sorted out.
Despite giving up early first-half goals to TFC in a 2-1 loss on May 3, Kreis thinks his Lions played "really well" after scoring their goal in stoppage time in the first half.
No, absolutely we need to look at the last game because I think we can draw some confidence from that. Didn't start the game well but really came into the game at the end of the first half. Got our goal and then played really, really well in the second half. I mean, you could argue pretty easily that we should've scored a goal, if not two goals, in the second half to level that thing at the very least. So, I think that we should take the positives out of that and hopefully apply those on Wednesday night.
Forward Cyle Larin couldn't capitalize on two point-blank range shots in the loss to TFC earlier this season. Both of his attempts were cleared off the line.
The difference would be scoring our goals. When you look back at that game, Cyle had two point-blank chances that Cyle never misses. Unfortunately he didn't take 'em in that game, but maybe he was saving 'em for this one.
During the upcoming break after the TFC game, Kreis said there'll be a combination of work and relaxation.
It's a mixture of both [work and time off]. We'll all get a well-needed, I think, three or four days off after as much travel and as many games as we've had in the last two months. As we've said, I think it's important that everybody takes a physical as well as mental break from the game and from each other. And then we'll come back, and the good news is we'll have another 10 days past that or 12 days, whatever it is, to train. Because I do think there's some areas in our game where we feel we need to really improve for the second half of the season and get back to winning ways.
Forward Carlos Rivas injured his ankle in the win over Real Salt Lake on June 30. Kreis said he should be available for selection on Wednesday.
Yeah, he trained fully today. Should train fully tomorrow, and I think he'll be available.
GK Joe Bendik
For Bendik, playing his former team on Wednesday is not so much about TFC being his former club but more so that it's one of the best sides in Major League Soccer.
Not so much as my former club, though, more as one of the best teams in the league, in my opinion. It's always a good challenge.
Toronto's unorthodox formation provides Bendik and his side a unique challenge.
Yeah, they play a little bit of a different formation than everybody else, and they have a lot of quality players, and they have that kind of confidence around them, which is hard to contain.
TFC is coming off a 3-1 loss to FC Dallas on July 1. Dallas is the No. 2 team in the Western Conference with a 7-3-7 record and 28 points.
You know, we'll obviously look at it tomorrow and little bit today to see what kind of weak points they have and try to exploit them.
Considering the tolling trip the Lions just had, Bendik only sees a positive from the win over RSL.
I mean, we were away from home. We're playing in attitude. There's a lot of fatigue. So, I only see a positive out of a 1-0 result there. We knew we weren't going to keep a whole lot of the ball, so that obviously didn't happen. I mean, we still won 1-0. As we go towards being at home now, it shifts a little bit, and we have to use our home stadium and our crowd to kind of a lot of momentum.
Bendik is "excited" for the upcoming break.
Yeah, it's great. I think it's the first time all year that, you know, you can turn and say, "Oh, I'll be here for a month." So, yeah, I'm excited for that.
For Bendik, avoiding conceding early goals will be a key determining factor in how the match concludes.
Can't give up an early goal. The last time we were in Toronto, we gave up two early goals and chased the entire game, and, you know, they just sat in. It's very, very hard to beat a team like that when they have the lead. So, that's always our goal in every game. Don't give up an early goal and be the first one to score.
Bendik saw Larin was "fired up" for his return against RSL.
Yeah, I mean, he was very understanding. You know, we—he's part of our family, and I think every single guy sent him a text message hoping that he'd get back as quick as possible, and he did that, and I know that he was in the gym a lot while he was away. So, he was able to just come back in seamlessly, and he was—I mean, he was fired up for it, and we were all happy to have him back.
DF Scott Sutter
For Sutter, there was "a lot" riding on the game against RSL.
Yeah, very big. You know, there's a lot riding on the last game. We knew that if we got a result there, then it would be four points from three road [trips], which is—before the three, we would've been happy with, especially coming off the back of the defeat in Chicago. It was good to get back on the right track.
Sutter sees TFC as "a team to beat this year."
They're a good team, and they've definitely got certain amounts of momentum. Okay, the last game they lost, but they've been very good, and they've been a team to beat this year. So, it should be a good game. You know, we're all looking forward to it, and it's a chance for us, and, you know, we know they're off the back of a defeat, like you say, and, also, they're missing a few players through international duty. So it's definitely there for the taking, and, you know, we just need to play our game at home and give everything we've got.
Having had the experience against TFC earlier this season gives Sutter and his side familiarity with Toronto's unusual system.
Yeah, there's some things [from last game]. For one, they play in pretty much the same system as they did then, and I thought it was one of the defeats that we had that was very, very unlucky. We had a lot of big chances in the second half to pull it back and didn't do that, so it still hurts. So, you know, we know that they can be vulnerable if we play well, if we play quick and direct, and that's what we plan to do. Like I said, we're always good. So, we just need to make sure we keep that going.
Sutter is happy that Larin is back with the Lions.
We were all very happy to have him back. I mean, he's a very important of this team, so he worked extremely hard. And I was surprised, actually, at how fit he was. I thought that maybe—well, he didn't train at all too much with the team but was right back in there like no time had passed. So, that's kind of what we hoped from him, and we're all glad that he's back.
For Sutter, starting better than his team did in the loss to Toronto is key to winning on Wednesday.
I mean, we started slowly there. You know, we went two goals behind, and it was kind of an uphill battle from there. So, we definitely look to get off to a better start and put the pressure on them, and, like I said, it's a home game. It's completely different. We got our fans backing us, and that gives us extra motivation that we need. So, it should be a good one. It's gonna be a tough game, but, again, I think we're all very confident going into it.
The upcoming break is a welcome sight for Sutter.
July looks pretty good. I looked a bit further forward, and I think in September, I think we've got another. We've got a stretch, I think, of five road trips on the bounce. So, it was tough. It was a long three weeks. A lot of traveling. It takes a bit out of you, but, you know, we've got one game before our nice little break, so it's kind of a good opportunity to give everything we've got one more time, knowing that Toronto played a day after us, got a little day less of regeneration than us is definitely to our advantage. And we need to make sure that we see that from minute one.
DF José Aja
 (translated from Spanish)
For Aja, a win against Toronto is paramount to concluding the Lions' recent three-game road trp.
I thought it was very important for us to get four points on the road. We lost some points at home, so we needed to do that. And we're happy that we did it. Now, the most important thing is to focus [on] getting the victory on Wednesday because, if not, the win on the road didn't do anything for us.
After TFC and the 16-day break, Orlando City will host Atalnta United FC on July 21.
We're very happy to come back home. Obviously playing at home is a big plus for us. And as I said, the most important thing for us right now is to play at home, get the victory and three points here in front of our fans that have been great to us.
Aja believes the focus should be on his team's play and not on the opponent.
We're obviously facing a very confident Toronto team that's very strong in all the lines, but I think that we should focus more, not on their skills, but on our strengths—the way that we're playing, the excellent team that we have to be able to get the points.
Aja said Larin apologized to the team upon returning.
When he came back, he apologized to the group, and we were with him. We were with him since the beginning, and we were with him through this. For us, we're very happy to have him back. He's obviously a very important piece to the team, and we're excited to have him here with us now.
---
For more on Orlando City and their matchup against TFC, follow Victor Tan on Twitter at @NDR_VictorTan.