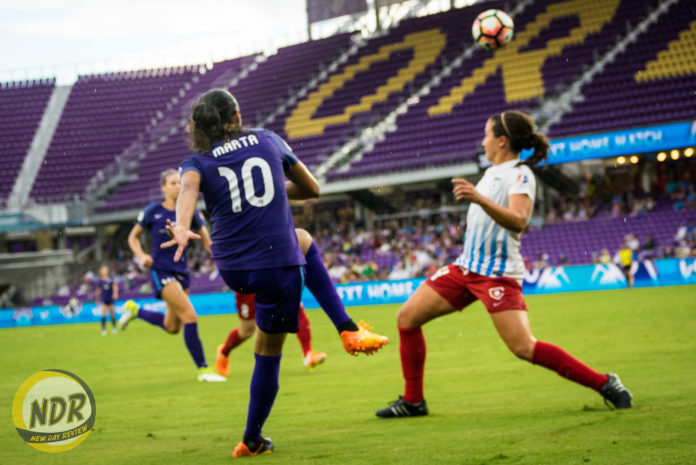 (Photo by Tommy Cardinal / New Day Review)
Match Recap
ORLANDO, Fla. – Orlando Pride head coach Tom Sermanni was celebrating his birthday on Saturday. Unfortunately for him and his Orlando Pride (4-5-3, 15 points), the Chicago Red Stars (7-3-2, 23 points) shut out Orlando 1-0 at Orlando City Stadium in front of 5,476 people.
"We knew it was going to be a tight game, and we talked at halftime about it being tight, and there wasn't going to be much in it," Sermanni said after the match. "I think we had enough possession to win the game. Whether we created enough with that possession, I'm not too sure. Obviously we've hit the woodwork twice, and, you know, we've done what we seem to be—the frustrating bit is what we've done what we've done in several occasions this year [where] we have momentum, that we've just literally hit the post and almost scored and then giving the goal away at the other end 10 seconds later."
It was a relatively tame game for both teams until the 67th minute when both teams had their best chances. Unfortunately for the Pride, only Chicago capitalized on its respective chance. Pride forward Jasmyne Spencer first took a strike from the top of Chicago's box and hit the right post.
The Red Stars immediately countered on their very next possession, sending a ball into the box to 66th-minute substitute Casey Short. Center-back Toni Pressley then attempted a sliding challenge from behind, granting Chicago a penalty kick. Red Stars forward Christen Press struck it to Pride goalkeeper Aubrey Bledsoe's right as she dove left for a 1-0 lead in the 68th minute.
"We just talked about trying to get tight with them," Sermanni said. "We said two things. When we can get tight and make sure [Press] doesn't beat us, so keep her in front of us. So I thought most of the time we did that. She's always going to be dangerous… Players like that are going to get free at some stage during the game. And particularly when it's a team that plays on the break because that's her attribute."
Bledsoe nearly equalized for the Pride in stoppage time off a corner kick from the left. The second-year Pride keeper stationed herself near the back-post and headed the ball toward goal. Chicago midfielder Danielle Colaprico countered with a headed clear to maintain the Red Stars' lead.
"I look over at [goalkeeper coach Lloyd Yaxley], and he gave me the go-ahead. So, you know, every keeper—you're excited for that moment, but obviously you don't want it to happen because it means you're down," Bledsoe said after the match. "But I just kinda snuck to the back-post where I was wide open, and I saw the ball coming, like, right to me, and I thought, 'This is my moment. I'm gonna score.' And their player flicked her head. It actually hit me right in the face, but I saw the replay back. It was still a decent effort. But, yeah, I did not mean for that to hit my face. I thought I was going to volley it."
Midfielder Camila Martins Pereira, who was coming off the bench for the first time in 2017 after starting all previous 11 games, provided some of the Pride's best chances in the second half. In the 73rd and 87th minutes, Camila unloaded shots on-target shots that went straight to Chicago goalkeeper Alyssa Naeher.
"As I said, we played three games in week, and Camila played two 90 minutes, so we felt it would be better for her coming off the bench when the tempo of the game had dropped a little bit and she could add some pace to the game as well as her skills," Sermanni said. "I think she showed that tonight and looked dangerous. Unfortunately, the couple of shots she had were just off-target, but she brings that extra dimension to us from an attacking perspective.
"That's why it's frustrating for me when, you know, you look at the attackers that we've got on the field that we come away with two home games and no goals. I mean, that's kind of little bit frustrating."
Woman of the Match: Christen Press
The United States women's national-team star unleashed a flurry of shots and had several first-half solo runs against Orlando's defense. She finished with nine shots (four on goal), completed 73.1 percent of her 26 passes, recorded two tackles and drew one foul. Press also scored the lone goal of the game on a penalty kick.
What's next?
The Pride travel to face the Washington Spirit on Saturday at 3:30 p.m.
Alex Morgan 'Confused' in 2017 NWSL Debut
Morgan made her 2017 NWSL debut in the loss to Chicago Saturday. For the USWNT forward, there was confusion with where she was supposed to play and where others were playing. Before the loss, Morgan had not participated in an 11-v-11 scrimmage in training with the Pride.
"I think initially, you know, Tom wanted the three forwards to rotate a little bit, so I found myself, like, drifting to the left side a lot. And then me and Marta would switch. So, I think it was fine," Morgan said after the match. "But I think when maybe [Chioma Ubogagu] came in, I didn't know what we were playing, who was playing what position 'cause Camila was the 10, and then I'm not sure where she was, and then I wasn't sure where Chi was. So, there was a little bit of confusion.
"I wish the communication was just better. I think we can work on that a lot more. And, for me, I was a little nervous coming into this game because, like you said, I hadn't played an 11-v-11. I hadn't really played to goal because this week was a tough week with a road game, so I didn't get that opportunity. So as I came in, I obviously feel 100 percent, but I wanted to kind of get my bearings and get that confidence as the game wore on, and I feel like I did, and I feel like next game I'll feel even better."
For Sermanni, he was simply happy to see Morgan playing again. The second-year Pride head coach also acknowledged the difficulties in making her debut with the way the momentum swung immediately after she was inserted into the match.
"It was good. But it's difficult to come on when you come on with that kind of momentum, and then you cough up a goal," Sermanni said. "That makes it doubly hard. And then you fiddle about with things and change things, so you lose a little bit of your rhythm. I was pleased to see her back. She looked fit. She looked healthy. She looked dangerous. So I think it was a good first step back for her."
Morgan finished the match with one shot (zero on goal), one chance created and completed six of her 10 passes in 25 minutes of play.
Highlights
27′ | Emergency work from @AubreyBledsoe in wet conditions! Big save!

0-0 | #ORLvCHI pic.twitter.com/kspRRXhBfP

— Orlando Pride (@ORLPride) July 1, 2017
30′ | Marta aims far post and curls one on target but saved. Closest chance of the match so far!

0-0 | #ORLvCHI pic.twitter.com/GsG2sXfO3y

— Orlando Pride (@ORLPride) July 1, 2017
37′ | Foot skillz. Typical Marta.

0-0 | #ORLvCHI pic.twitter.com/QFJyWR8wxk

— Orlando Pride (@ORLPride) July 1, 2017
She's coming 👀 pic.twitter.com/VGUQl4NKBM

— Orlando Pride (@ORLPride) July 1, 2017
62′ | Chicago have a go and Aubrey saves even with a big deflection.

0-0 | #ORLvCHI pic.twitter.com/pHnQsSBgoH

— Orlando Pride (@ORLPride) July 1, 2017
65′ | Here is the moment we've been waiting for! @alexmorgan13 makes her return!

0-0 | #ORLvCHI pic.twitter.com/x5emRiwxUi

— Orlando Pride (@ORLPride) July 1, 2017
75′ | Cross from Marta headed on by Alex and Alanna follows up but just, and we mean JUST, over the bar.

0-1 | #ORLvCHI pic.twitter.com/FCZPgXnFZJ

— Orlando Pride (@ORLPride) July 1, 2017
NDR Notes
Maddy Evans made her second start of the season. She has played in eight games so far in 2017.
Camila did not start in Saturday's loss. Until Saturday, she started all of the Pride's previous 11 games.
Chicago owns the all-time record against the Pride, winning all three matches 1-0.
The Pride have now been shut out in consecutive home matches. Orlando lost to the Houston Dash last weekend 2-0.
Scoring
| | | | |
| --- | --- | --- | --- |
| Time | Team | Goal-scorer | Assisted by |
| 68' | Chicago Red Stars | Christen Press | PENALTY |
Statistics and Starting Lineups
| | | | | | |
| --- | --- | --- | --- | --- | --- |
| | Goals | Assists | Shots | Shots on Goal | Possession % |
| Orlando Pride | 0 | 0 | 20 | 4 | 62.1% |
| Chicago Red Stars | 1 | 0 | 16 | 6 | 37.9% |
Orlando Pride starting XI (4-3-3): Aubrey Bledsoe (GK); Steph Catley, Toni Pressley, Ali Krieger (C), Kristen Edmonds; Alanna Kennedy, Monica Hickmann Alves, Maddy Evans; Jasmyne Spencer, Marta Vieira da Silva, Rachel Hill
Chicago Red Stars starting XI (4-3-1-2): Alyssa Naeher (GK); Alyssa Mautz, Samantha Johnson, Katie Naughton, Sarah Gorden; Danielle Colaprico, Julie Ertz, Sofia Huerta; Vanessa DiBernardo; Taylor Comeau, Christen Press (C)
---
For more on the Pride and their journey to the top of the NWSL standings, follow Victor Tan on Twitter at @NDR_VictorTan.