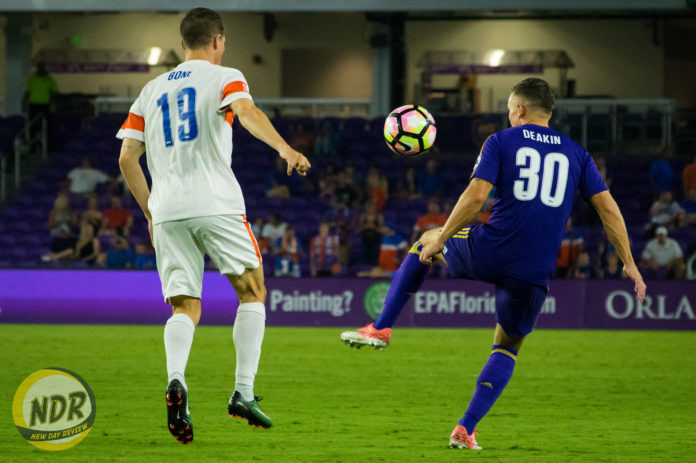 (Photo by Victor Tan / New Day Review)
Match Recap
Both Orlando City B and FC Cincinnati were coming off wins, entering Saturday's match between the two teams. But perhaps Cincinnati had the more significant win, beating Major League Soccer side Chicago Fire SC 3-1 in penalty kicks after battling for 120 scoreless minutes in a U.S. Open Cup Round of 16 matchup.
But that midweek game didn't fatigue the team enough for OCB (5-6-5, 20 points), as the United Soccer League Lions drew with Cincinnati (5-5-6, 21 points) 1-1 at Orlando City Stadium in front of 980 supporters.
Despite not getting three points at home, OCB head coach Anthony Pulis first gave credit to the Ohio side for its effort this week.
"First and foremost, I wanna start by giving Cincinnati huge credit because for them to perform like that two days after them playing 120 minutes against Chicago in the Open Cup is fantastic," Pulis said after the match. "So, well done to [Cincinnati head coach] Alan [Koch] and his side because they came and really performed well."
OCB started the match quickly with a combination play involving two midfielders. Jordan Schweitzer led Austin Martz down the right side of the pitch, who then sent in a low cross right back to the feet of Schweitzer. Pulis attributed his team's only goal of the match to a play they had rehearsed in training.
"The most pleasing thing about the goal was it was something we worked on two days ago… It was really good to see that that goal came from something we worked on the training field," the second-year OCB head coach said. "We tweaked our system slightly tonight, but the guys bought into it really well."
A mistake by goalkeeper Earl Edwards Jr. almost allowed a Cincinnati equalizer in the 13th minute. Edwards Jr., after collecting the ball in the box, sent a ball right to the feet of Cincinnati forward Djiby Fall, who took a dribble before firing a shot. Edwards made a diving save to keep OCB ahead.
Fall soon got his score, though, when Andrew Wiedeman escaped down the right side of the field, bringing Edwards Jr. out of position. A well-placed through ball to Fall allowed him to slot it home on the first touch as Edwards Jr. scrambled to get back in goal.
Cincinnati goalkeeper Mitch Hildebrandt tallied his only save of the match in the 67th minute when he dove to his left to deflect an Albert Dikwa on-goal header.
Man of the Match: Jordan Schweitzer
Schweitzer played a full 90 minutes, scoring two minutes in off a well-rehearsed play from training on one shot (one on goal). Schweitzer also completed 77.5 percent of his 40 passes and drew two fouls.
What's next?
OCB continue their stretch at home against the Pittsburgh Riverhounds on Saturday at 7:30 p.m.
Earl Edwards Jr. Given Captain's Armband for Consecutive Games
Edwards Jr. has been a force in between the posts this year and has become a leader for OCB since joining the USL side at the beginning of the season. In a 1-1 draw with the Rochester Rhinos on June 23, Edwards Jr. was given the captain's armband, and he wore it again in the Cincinnati draw. The 35-year-old Lewis Neal, who logged 21 minutes off the bench against Cincinnati, has usually been the one sporting the armband.
"I think he's blossomed. I think he's grown immensely, and he's really kind of been one of our outstanding performers over the first half of the season," Pulis said. "On the pitch, he's performed really well, and then off the pitch, in and around the locker room with the guys, he's been fantastic. He deserves the armband. Obviously Lew's been out injured for a few games, and we gave [Edwards Jr.] the armband at Rochester 'cause he deserved it. Like I said again tonight, I thought he performed really well."
Edwards Jr. had a productive night, making eight saves to preserve a point for OCB. He currently sits at fifth in the league in this category, notching 40 on the year.
Highlights
3′ | GOOOAAALLL!! @Papaschweitz23 nails one home to put #OCB up early!

1-0 | #ORLvCIN pic.twitter.com/ZyCuUA24HD

— Orlando City B (@OrlandoCityB) July 2, 2017
13′ | HUUUUGE SAVE AND BLOCK!

1-0 | #ORLvCIN pic.twitter.com/ZO7osQkAGz

— Orlando City B (@OrlandoCityB) July 2, 2017
36′ | Earl Edwards up to his usual madness in goal with a class kick save.

1-1 | #ORLvCIN pic.twitter.com/pi0xv2bS5H

— Orlando City B (@OrlandoCityB) July 2, 2017
66′ | Close chance from Dikwa! Defender rattled him a bit…

1-1 | #ORLvCIN pic.twitter.com/Jxpt4DOACc

— Orlando City B (@OrlandoCityB) July 2, 2017
84′ | Dangerous work from Pierre. Just needed a head on the final ball.

1-1 | #ORLvCIN pic.twitter.com/BYXxmeIf4l

— Orlando City B (@OrlandoCityB) July 2, 2017
NDR Notes
Schweitzer netted his first goal of the season.
Cincinnati outshot OCB 16-4 (9-2 on goal).
OCB midfielder Pierre da Silva will be suspended for the Pittsburgh match because of a straight red card he received in the 87th minute.
Scoring
| | | | |
| --- | --- | --- | --- |
| Time | Team | Goal-scorer | Assisted by |
| 2' | Orlando City B | Jordan Schweitzer | Austin Martz |
| 16' | FC Cincinnati | Djiby Fall | Andrew Wiedeman |
Statistics and Starting Lineups
| | | | | | |
| --- | --- | --- | --- | --- | --- |
| | Goals | Assists | Shots | Shots on Goal | Possession % |
| Orlando City B | 1 | 1 | 4 | 2 | 44.6% |
| FC Cincinnati | 1 | 1 | 16 | 9 | 55.4% |
Orlando City B starting XI (4-2-3-1): Earl Edwards Jr. (GK/C); Fernando Timbó, Conor Donovan, Seb Hines, Zachary Ellis-Hayden; Austin Martz, Jordan Schweitzer; Pierre da Silva, Danny Deakin, Paul Clowes; Albert Dikwa
FC Cincinnati starting XI (3-4-3): Mitch Hildebrandt (GK); Austin Berry (C), Paul Nicholson, Harrison Delbridge; Matt Bahner, Kenney Walker, Corben Bone, Tyler Polak; Jimmy McLaughlin, Djiby Fall, Andrew Wiedeman
---
For more on OCB as they continue their home stretch, follow Tommy Cardinal on Twitter at @NDR_TomCardinal.