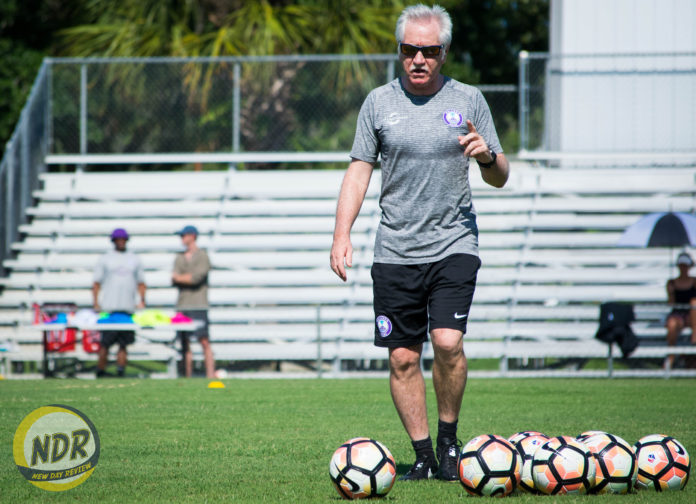 (Photo by Victor Tan / New Day Review)
July 4, 2017 at Seminole Soccer Complex
Availability: HC Tom Sermanni, DF Steph Catley
HC Tom Sermanni
Center-back Laura Alleway was waived by the Pride on Monday.
We want to give Laura a chance to get somewhere—you know, she's at the stage with her experience and her pedigree and her international background that she needs to be playing soccer, and, at the moment, that's kinda not happening here. Right? Just something that happens at the club. She's been a great servant for the club. Turns up fantastic every day. But I think it was in—you know, we had a chat about it, and, you know, we feel—and she certainly feels—it's in her best interest, you know, for us to have waived her to give her that opportunity to be free, to go wherever something crops up.
Yeah. Look, we've done the best. I've contacted [National Women's Soccer League] clubs. We've put out feelers in overseas clubs and things like that. And so we're trying our best to get her an outcome that's in Laura's—you know, that's beneficial to Laura.
She's more than welcome [to train with us]. When you're part of the club, you're part of the club. You know? And as I say, sometimes we have to make decisions that are difficult, decisions that are tough on players, but, at the same time, it's important that we say whether you're a current player or a former player that you're still part of our team.
With the likes of Alex Morgan returning and goalkeeper Ashlyn Harris in the process of recovering from an injury, Sermanni has seen the team's communication and chemistry improve since the start of the season.
You know, it's kinda been one of those seasons where it has, and it's kinda gone off the boil a little bit. So, it's getting better. You know, I think if you look at from where—and sometimes when you're in the mix of stuff, you don't appreciate kinda where you've been and where you've got to. So I think if I look at where we are now compared to where we were at the start of the season, then, yeah, I think we have made significant progress. The thing that disrupts it is results because that changes the dynamic of performance at times, you know. And I think what's happened—I know I don't like throwing an old cliché in there, but there's no time to give up goals. But I think one of the things that's hampered us a little bit this season is that we've given up goals when we've had momentum. And that's kind of—so, in a round about way, I think that's answering your question. That impacts the cohesion just a little bit because it means that we then need to look at ways to try and change things, to come back in the game. The players need to sort of pick up again. So, I think there's been probably too many games this season where we've had to be chasing games, which then, by the nature of that, often disrupts the fluency.
After a 1-0 loss to the Chicago Red Stars on June 30, Morgan said there was confusion with how the team was playing in her 2017 NWSL debut.
We haven't had a chance because we've just had the game, but, again, that was more down to—it was clear message when she went on and what we were doing. Then we went a goal down within a heartbeat, and that's why I say that's what changes the cohesion at times and the communication going on the field. You know, we sent—and this happens often, particularly in our sport, because there's no direct stoppages is that the messages [that] were sent on sometimes get a little bit derailed. And I think there was probably some of that at the weekend, and that's—I think there's two things to that: We need to firstly make it clearer to players going on if we want changes, and we secondly have to—you know, you sometimes make an assumption. We need to make sure the message goes on clearly, and we need to make sure that—also the other thing that you've got to make sure you don't take for granted—and I should know this after all the years—is that you can't suddenly change a formation and hope it's gonna work straight away, particularly in the heat of a game and particularly when you're chasing a game. So, all those things need to happen, but often—and this season, they've been a result of what has happened directly in the game at a particularly time when we feel we've had stuff settled, when we've had momentum, we've had control of the game. So, there's been a few factors that kind of impacted the point of the question that was asked, if that makes sense.
Even though Alleway was cut, Sermanni still welcomes the Australian defender to be around the team.
Well, I think it depends on the environment you want to create around your team and your club. And this team and this club is part of the community. And if you're part of a community, you can't be part of a community and not practice those values. And part of those values, for me, are that you still want to look after players who have done the right thing, performed well for you, but things maybe not working out doesn't mean that you just brush 'em aside and don't look after 'em.
Sermanni was expecting Harris to be in full training this week, but she still hasn't reached that point yet. This week marks Week 7 in her recovery.
Getting close. Not quite there yet but very close. She did quite a lot this morning. So, as you can see, she's getting close. Probably not up to kicking full out yet but, outside of that, doing everything else.
Pride defender Ali Krieger left training early on Tuesday, the first training session of the week. It's nothing serious.
She was under the weather at the weekend. A little bit of the flu or… And we just wanted to make sure she just rest. So she has nothing serious.
DF Steph Catley
For Catley, Alleway getting waived was a long time coming.
Well it wasn't sort of out of nowhere. It was sort of a long process and a long buildup, and, you know, [Alleway] is such a quality player, and she's been working so hard in these past couple of weeks just to, you know, stay fit. We got national team and stuff coming up. It's just with the squad that we have at the moment, that's just the way it goes. It doesn't take away any of her quality and anything that she's capable of. She's still such a valuable player in any team. Wherever she goes next, I'm sure she's going to do amazing. You know, she's one of my favorite players to play with in the back-line, so I'm definitely going to miss her and as a housemate, too, but, as I said, wherever she goes, she's going to do amazing.
Catley and Alleway are housemates.
She's such a huge personality. Such a loud, happy, bubbly voice around the training ground. So, it'll definitely be different, but having her around still training, it just adds another quality player into training. So it just makes everyone around her better. So, yeah, it'll be a bit of an adjustment, especially with off the field because obviously she lives with me. But, yeah, it's just something we sorta gotta get used to, I suppose. It's football. It's life sometimes.
Like Sermanni, Catley attributed Morgan's confusion to going down so quickly after she subbed into the game.
I think the confusion probably came from the fact that we went down, and we were trying to win. So, they pushed—we went to a three back. So, that probably created a little bit of confusion 'cause there was more numbers in some places, and then people were swapping and changing, and that was part of trying to win, I suppose, so that sometimes creates a bit of confusion. And obviously this is the first time she's played with this team, so she was probably feeling a lot and probably a lot of emotions and stuff. But I thought she came in and did such a great job. You can see her quality straight away, and I actually really missed playing with her, so I can't wait to do it again this weekend.
---
For more on Morgan, Harris, Krieger and the Pride, follow Victor Tan on Twitter at @NDR_VictorTan.