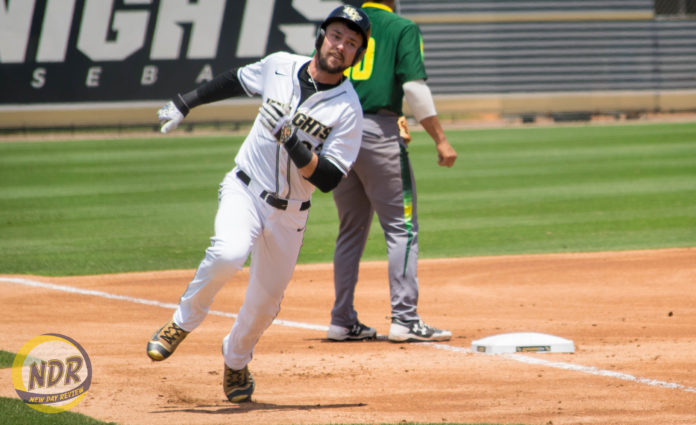 Game Recap
Coming off the high of winning its first conference regular-season title, the University of Central Florida hit one of its season-lows. In the first round of the American Athletic Conference Tournament, the No. 1-seeded Knights (38-19, 15-9 in AAC) lost to the No. 8 East Carolina Pirates (30-27) at Spectrum Field Tuesday.
UCF starter Trent Thompson (0-2) got the loss on the mound, going 2.2 innings with four strikeouts and allowing four runs (four earned) on three hits and two walks. For the Pirates, Evan Kruczynski (4-2) got the win after 6.0 innings of work with three strikeouts, allowing two runs (one earned) on eight hits and no walks.
An RBI double by left fielder Kyle Marsh in the first and an error in the second gave the Knights runs early. That was it, though, for the Knights. UCF wouldn't score again until a late, folly run in the eighth.
Four runs in the third jumpstarted ECU. Second baseman Charlie Yorgen smashed a three-run home run over the right-field wall. First baseman Spencer Brickhouse then singled down the left-field line to drive in catcher Travis Watkins to cap the fourth's scoring.
After six runs in the fifth, sixth and seventh innings, ECU closed the door on any hope of a Knights comeback with four runs in the ninth. Singles by Dwanya Williams-Sutton, Drew Henrickson and Brady Lloyd drove in three Pirates for the first three runs of the ninth. Hendrickson scored on a fielder's choice to close out the game.
Player of the Game: Charlie Yorgen
Yorgen's bomb in the third helped the Pirates get the jump on UCF. His three RBIs were a game-high. He finished 2-for-4 with two runs, a home run and a walk.
What's next?
The Knights will play the Tulane Green Wave on Thursday at 11 a.m. A loss to Tulane would end the Knights' season.
Highlights
Marsh is clutch with 2 outs!! Rips his 19th double & 49th RBI of the season! We lead 1-0. #ChargeOn pic.twitter.com/P3ch3tQTbN

— UCF Baseball (@UCF_Baseball) May 24, 2017
No. 4️⃣ for Thompson. 👊🏻 pic.twitter.com/qMRXVJgPxr

— UCF Baseball (@UCF_Baseball) May 24, 2017
Scoring
| | | |
| --- | --- | --- |
| | University of Central Florida | East Carolina University |
| Runs | 3 | 14 |
| Hits | 11 | 15 |
| Errors | 3 | 1 |
| Left on Base | 9 | 8 |
| | | | |
| --- | --- | --- | --- |
| Inning | Team | Play | Score |
| B1 | University of Central Florida | Kyle Marsh doubled down right-field line, RBI; Luke Hamblin scored | 1-0, UCF |
| B2 | University of Central Florida | Anthony George singled, advanced to second on an error by left fielder; Ryan Crile advanced to third, scored on error by left fielder, unearned | 2-0, UCF |
| T3 | East Carolina University | Charlie Yorgen home run to right field, 3 RBIs; Brady Lloyd scored; Andrew Henrickson scored | 3-2, ECU |
| T3 | East Carolina University | Spencer Brickhouse singled down left-field line, RBI; Travis Watkins scored | 4-2, ECU |
| T5 | East Carolina University | Turner Brown doubled, advanced to third on error by center fielder, scored, 2 RBIs; Spencer Brickhouse scored; Travis Watkins scored, unearned | 7-2, ECU |
| T6 | East Carolina University | Travis Watkins doubled to right-center field, 2 RBIs; Charlie Yorgen scored; Dusty Baker scored | 9-2, ECU |
| T7 | East Carolina University | Dusty Baker grounded out to shortstop, RBI; Turner Brown scored | 10-2, ECU |
| B8 | University of Central Florida | Rylan Thomas singled to center field, RBI; Kyle Marsh scored | 10-3, ECU |
| T9 | East Carolina University | Dwanya Williams-Sutton singled to center field, RBI; Turner Brown advanced to third; Eric Tyler scored | 11-3, ECU |
| T9 | East Carolina University | Andrew Henrickson singled to right field, RBI; Dwanya Williams-Sutton advanced to second; Turner Brown scored | 12-3, ECU |
| T9 | East Carolina University | Brady Lloyd singled down right-field line, RBI; Andrew Henrickson advanced to third; Dwanya Williams-Suttong scored | 13-3, ECU |
| T9 | East Carolina University | Nick Barber reached on fielder's choice, RBI; Brady Lloyd out at second, shortstop to second; Andrew Henrickson scored | 14-3, ECU |
Statistics and Starting Lineups
Pitching
| | | | | | | | |
| --- | --- | --- | --- | --- | --- | --- | --- |
| Player | Team | IP | R | ER | H | BB | SO |
| Evan Kruczynski (4-2) | East Carolina University | 6.0 | 2 | 1 | 8 | 0 | 3 |
| Tyler Smith | East Carolina University | 2.0 | 1 | 1 | 2 | 0 | 3 |
| Trent Thompson | University of Central Florida | 2.2 | 4 | 4 | 3 | 2 | 4 |
| Thaddeus Ward | University of Central Florida | 2.0 | 5 | 4 | 4 | 1 | 2 |
| Juan Pimentel | University of Central Florida | 2.0 | 4 | 4 | 5 | 2 | 0 |
Hitting
| | | | | | | | | | |
| --- | --- | --- | --- | --- | --- | --- | --- | --- | --- |
| Player | Team | AB | H | R | HR | RBI | SB | BB | SO |
| Charlie Yorgen | East Carolina University | 4 | 2 | 2 | 1 | 3 | 0 | 1 | 0 |
| Travis Watkins | East Carolina University | 5 | 3 | 2 | 0 | 2 | 0 | 1 | 1 |
| Turner Brown | East Carolina University | 3 | 1 | 3 | 0 | 2 | 0 | 2 | 1 |
| Kyle Marsh | University of Central Florida | 4 | 2 | 1 | 0 | 1 | 0 | 0 | 0 |
| Rylan Thomas | University of Central Florida | 4 | 2 | 0 | 0 | 1 | 0 | 0 | 1 |
UCF starting lineup: 1. Luke Hamblin (8) 2. Eli Putnam (9) 3. Brennan Bozeman (6) 4. Kyle Marsh (7) 5. Rylan Thomas (3) 6. Matthew Mika (4) 7. Kam Gellinger (5) 8. Ryan Crile (DH) 9. Anthony George (2)
UCF starting pitcher: Trent Thompson (0-1)
ECU starting lineup: 1. Brady Lloyd (DH) 2. Charlie Yorgen (4) 3. Travis Watkins (2) 4. Spencer Brickhouse (3) 5. Eric Tyler (5) 6. Turner Brown (6) 7. Dwanya Williams-Sutton (7) 8. Drew Henrickson (9) 9. Dusty Baker (8)
ECU starting pitcher: Evan Kruczynski (3-2)