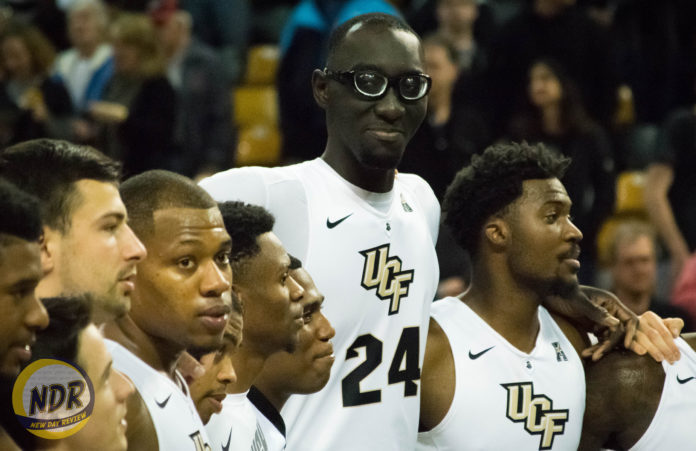 (Photo by Adrian J. Hernandez / New Day Review)
ORLANDO, Fla. – Tacko Fall declared for the 2017 NBA Draft on April 5 and had until the end of May to decide whether or not he'd remain eligible for the draft. On Wednesday, the 7-foot-6 University of Central Florida center decided to remain a Knight for a third year.
"First off, I want to thank God for putting me in the position that I'm in, but also I want to thank the NBA teams for the opportunity to showcase my skills for them during this process," Fall said, according to a school press release. "After getting all of the feedback I needed, I have made the decision to return to UCF and play in front of Knight Nation next season. I look forward to improving my game next year with the ultimate goal of playing in the NBA."
Fall worked out with the Los Angeles Lakers, the Boston Celtics, the Orlando Magic, the Utah Jazz and the Houston Rockets, according to UCF. The Dakar, Senegal, native averaged career-highs in points per game (10.9), rebounds per game (9.5), blocks pregame (2.6) and minutes per game (26.3) while leading the American Athletic Conference in field-goal percentage with 71.5 percent in the 2016-17 season. Fall was also named the AAC Defensive Player of the Year last season.
"Tacko has always made great decisions," first-year Knights head coach Johnny Dawkins said, per the school. "It shows a lot that Tacko went through this process, received a lot of positive feedback from the NBA and wanted to return to be with his teammates. He knows that he is capable of playing in the NBA, but he wants to continue to grow and develop here, not just as a basketball player but as a student as well."
In addition to helping the Knights to their best season in the AAC to date, Fall also led the Knights to being No. 1 in the nation in opponent field-goal percentage. UCF held teams to an average of 36.5 percent field-goal percentage last season.
Fall will be available to speak with media on Thursday.