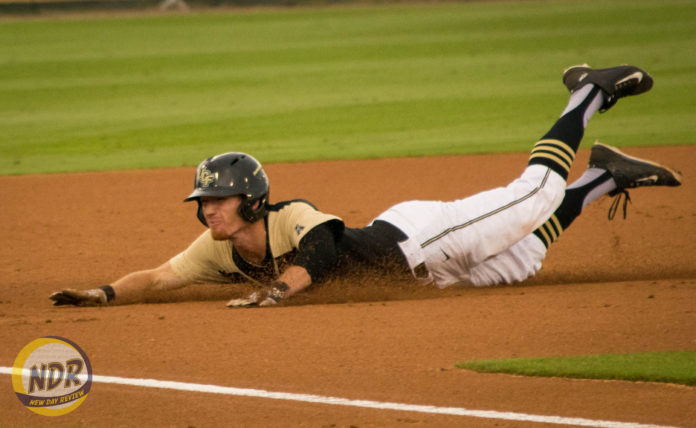 (Photo by Victor Tan / New Day Review)
Game Recap
ORLANDO, Fla. – The University of Central Florida evened the playing field in Game 2 of what might be its most important series of the season. On Friday, the Knights (37-18 13-9 in American Athletic Conference) tallied 17 hits en route to their first win of the season over the University of South Florida, a 9-1 victory at Jay Bergman Field. If UCF wins the finale on Saturday, the Knights will win their first regular-season conference title since 2004.
"Nothing cooler than playing for a championship," UCF head coach Greg Lovelady said after the game. "We got an opportunity tomorrow. These guys have worked really, really hard. And they deserve to play in this game. We deserve to win it, but I know that this is baseball, and who deserves to win it isn't who's gonna win the game. Those guys over there in the dugout deserve to win it, too. They've had a great year."
Bulls starter Ryan Valdes (9-1) earned the loss, allowing six runs (six earned) on seven hits in 3.0 innings. For UCF, redshirt sophomore Chris Williams (4-3) earned the win with a six-strikeout performance, allowing just three hits and no runs in 7.0 innings of work.
"I knew we needed a win. Knew we needed a good start here," Williams said after the game. "So I just wanted to be attacking the zone, get ahead, use my defense behind me, and that's really what we did."
Said Lovelady on Williams and his progression this season: "A guy not with a lot of experience. But he's been able to draw. We threw him on the weekdays for a reason, and we thought that he had an opportunity to beat teams like Florida and Florida State, and he pitched extremely well against those guys… I just think he's been able to draw on that and understand that he's able to pitch a certain way. And just learning, again. He's really getting his cutter down. The breaking ball, which has been some issues; the curve ball, he's been able to throw that a lot better."
The Knights poured it on in the third inning with a six-run outing. Shortstop Brennan Bozeman loaded the bases with a single to left field before left fielder Kyle Marsh's single to left field drove in fellow outfielders Eli Putnam and Luke Hamblin. First baseman Rylan Thomas and third baseman Kam Gellinger followed that up with RBIs of their own. Second baseman Matthew Mika capped the scoring with a two-RBI double down the left-field line for a 6-0 Knights lead.
"Just being able to get good pitches and do the damage when you get 'em," Lovelady said. "You can't miss pitches. When guys throw the ball over the middle of the plate, you gotta be able to get 'em. And gotta have good at-bats. I felt like maybe we were trying to do a little too much in that first inning, trying to get that lead instead of just relaxing, waiting for them to make a mistake and being able to hammer it, which we did a much better job in the third."
After Hamblin drew a bases-loaded walk in the fifth to give UCF a 7-0 lead, Thomas added to that lead with a two-run bomb over the left-center field wall. That was his team-leading 13th bomb of the season. Putnam has the second-most with seven.
USF got its lone run in the eighth inning with a solo bomb over the left-field wall by right fielder Camer Montgomery.
Player of the Game: Chris Williams
After balking in the first inning and surrendering two of his three hits in the first two innings, Williams went on to pitch a one-hit game with six strikeouts. The sophomore finishes the regular season with a winning record.
What's next?
The Knights host the Bulls in the series-finale on Saturday at 1 p.m.
Seniors Help Lead Greg Lovelady's 1st-year Team to Success
First-year success has been a hallmark of UCF Athletics in the 2016-17 academic year. For starters, the football team improved by six wins while both the men's and women's basketball teams had unprecedented runs into the postseason. Now the Knights have an opportunity to play for a regular-season title in Lovelady's first season.
For the first-year head coach, that's due largely in part to the seniors on his first Knights squad.
"To be honest with you, we're not here if it's not for the 12 guys that we're honoring tomorrow," Lovelady said. "When you have a new head coach that comes in, it's the seniors and the upperclassmen that are the leaders of buying in. And if they say, 'You know what? I'm not doing this. I'm just gonna put it in coast mode and finish my year off and go party and do all that kind of stuff. And I don't want to change all the things that I've learned the last three years,' it doesn't work.
"And these guys have been unbelievable. Bought in from the minute I got here. Have really been great leaders, and they're the reason why we're here today."
Williams singled out fellow pitcher Robby Howell as someone who's given him advice throughout his first two years at UCF.
"Robby Howell, he's been on just really been a big help behind me, talking about getting ahead and everything," Williams said. "Just the mental game. Coach Love's been real big on the mental game, and, whatever happens, wipe the slate and go get the next pitch."
Highlights
T2 – 👀 OUT!!! Strike 'em out throw 'em out double play!! #ChargeOn pic.twitter.com/e3YGxMQEZb

— UCF Baseball (@UCF_Baseball) May 19, 2017
Marsh comes up big, puts the ball in play on an 0-2 count and two runs score!!#ChargeOn pic.twitter.com/g4QtMIHZZY

— UCF Baseball (@UCF_Baseball) May 19, 2017
RT follows with an RBI single!!#ChargeOn pic.twitter.com/MRzRS5Kyts

— UCF Baseball (@UCF_Baseball) May 19, 2017
B3: Gellinger gets in on the action, our 5th-straight single!!#UCFierce pic.twitter.com/r75qTNzl0h

— UCF Baseball (@UCF_Baseball) May 19, 2017
GONE! Rylan Thomas destroys his 13th long ball of the season! Anyone at North Gate see that one!?#ChargeOn pic.twitter.com/GdIkziIkJf

— UCF Baseball (@UCF_Baseball) May 20, 2017
Scoring
| | | |
| --- | --- | --- |
| | University of Central Florida | University of South Florida |
| Runs | 9 | 1 |
| Hits | 17 | 5 |
| Errors | 1 | 0 |
| Left on Base | 14 | 5 |
| | | | |
| --- | --- | --- | --- |
| Inning | Team | Play | Score |
| B3 | University of Central Florida | Kyle Marsh singled to second base, 2 RBIs; Brennan Bozeman advanced to second; Eli Putnam scored; Luke Hamblin scored | 2-0, UCF |
| B3 | University of Central Florida | Rylan Thomas singled through left side, RBI; Kyle Marsh advanced to second; Brennan Bozeman scored | 3-0, UCF |
| B3 | University of Central Florida | Kam Gellinger singled through right side, RBI; Rylan Thomas advanced to third; Kyle Marsh scored | 4-0, UCF |
| B3 | University of Central Florida | Matthew Mika doubled down left-field line, 2 RBIs; Kam Gellinger scored; Rylan Thomas scored | 6-0, UCF |
| B5 | University of Central Florida | Luke Hamblin walked, RBI; Anthony George advanced to second; Ryan Crile advanced to third; Matthew Mika scored | 7-0, UCF |
| B6 | University of Central Florida | Rylan Thomas home run to left-center field, 2 RBIs; Kyle Marsh scored | 9-0, UCF |
| T8 | University of South Florida | Camer Montgomery home run to left field, RBI | 9-1, UCF |
Statistics and Starting Lineups
Pitching
| | | | | | | | |
| --- | --- | --- | --- | --- | --- | --- | --- |
| Player | Team | IP | R | ER | H | BB | SO |
| Chris Williams (4-3) | University of Central Florida | 7.0 | 0 | 0 | 3 | 1 | 6 |
| Ryan Valdes (9-1) | University of South Florida | 3.0 | 6 | 6 | 7 | 2 | 3 |
| Noah Yager | University of South Florida | 1.2 | 1 | 1 | 3 | 1 | 2 |
Hitting
| | | | | | | | | | |
| --- | --- | --- | --- | --- | --- | --- | --- | --- | --- |
| Player | Team | AB | H | R | HR | RBI | SB | BB | SO |
| Rylan Thomas | University of Central Florida | 5 | 3 | 2 | 1 | 3 | 0 | 0 | 2 |
| Kyle Marsh | University of Central Florida | 4 | 2 | 2 | 0 | 2 | 0 | 1 | 0 |
| Eli Putnam | University of Central Florida | 5 | 3 | 1 | 0 | 0 | 0 | 0 | 1 |
| David Villar | University of South Florida | 3 | 3 | 0 | 0 | 0 | 0 | 1 | 0 |
| Camer Montgomery | University of South Florida | 3 | 1 | 1 | 0 | 1 | 0 | 0 | 2 |
UCF starting lineup: 1. Luke Hamblin (8) 2. Eli Putnam (9) 3. Brennan Bozeman (6) 4. Kyle Marsh (7) 5. Rylan Thomas (3) 6. Kam Gellinger (5) 7. Matthew Mika (4) 8. Ryan Crile (DH) 9. Anthony George (2)
UCF starting pitcher: Chris Williams (3-3)
USF starting lineup: 1. Kevin Merrell (6) 2. Duke Stunkel (7) 3. Luke Borders (DH) 4. Joe Genord (3) 5. David Villar (5) 6. Tyler Dietrich (2) 7. Coco Montes (4) 8. Camer Montgomery (9) 9. Garrett Zech (8)
USF starting pitcher: Ryan Valdes (9-0)