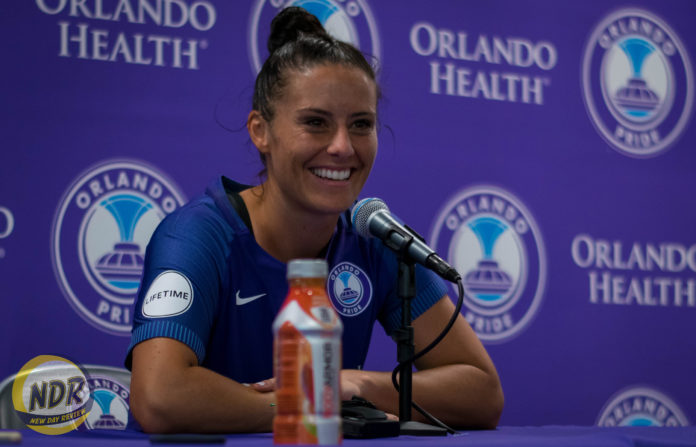 ORLANDO, Fla. – With the Orlando Pride's first victory of the 2017 season in hand, there's a sense of relief for the team. After starting the season 0-2-2, the Pride defeated the No. 1 North Carolina Courage 3-1 on May 14. That alleviation of stress centered around second-year Pride head coach Tom Sermanni, as he made it a personal objective to keep stress away from his players.
"The mood around the players was great. I felt the stress," Sermanni said after Orlando's win. "It was important as a coach that you gotta keep the stress away from players as much as you can. And, to be honest, the environment in the squad, all week, building up to this game, has been fantastic, and it was great today."
For right-back Ali Krieger, that sense of stress was overshadowed by what she believes to be a necessity for winning: belief. While perhaps cliché, that belief helped the Pride turn around what was a 3-1 loss in Cary, North Carolina, into a 3-1 win in Orlando.
"I think that we did feel a little bit of the pressure, but, you know, we have to stay relaxed, and we have to stay focused because you just have to believe that you can win," Krieger said after the win. "And I think that we went out there today with that confidence. Obviously, you do feel pressure when you haven't won a game in the first four games of the season. That's very difficult. You don't want to start getting in a hole where you can't then get out of. So, we understand that, but we know we're good. We know we're a good team."
Now, with a tally in the win column, the season will change. That's what Krieger told her teammates, at least.
"I was talking to the team, and we discuss this often that once we get the win, the season will change," Krieger said. "And now we have that confidence, and we can build off of that and continue to grow together in a positive direction, which is where we're going."
Said Sermanni on the difference the first win makes: "I think just getting that first win takes the pressure off. But it's even more magnified by the fact that we beat, at the moment, the top team in the league. So that further helps our confidence. The key thing now is to make sure that we then continue to play and continue to improve. It's just one game. It's one win, and we now sort of start to solidify and get on a little bit of a run."
That run begins with another tough bout against the No. 2 Seattle Reign. Orlando travels to face Seattle on Sunday at 9:30 p.m.
"I've had a look at [how] Seattle plays," Sermanni said. "So it's a question of going in there with a definitive game plan. So I've got a couple thoughts in my head, at the moment, as to how we should play against them—whether we go and press them, or whether we set off and try and hit them in the break because they've got a team of very, very good footballers.
"So, next week's challenge is the opposite challenge to this week. This week was a real physical challenge against the physically strongest team in the league. Next week's a real football challenge against a team of very intelligent players. So we just need to make sure we get a defensive structure set up and sorted properly… And if we can get our tactics right, I think we've got the players who can exploit the lack of mobility that Seattle has."