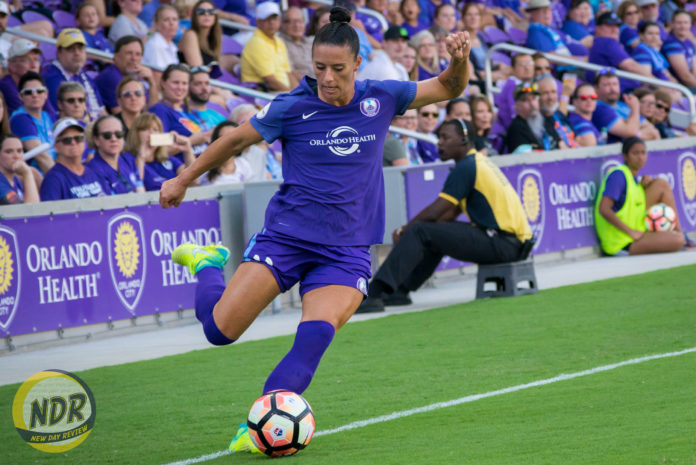 (Photo by Victor Tan / New Day Review)
Match Recap
ORLANDO, Fla. – The elusive first win finally came for the Orlando Pride. On Sunday, the Pride (1-2-2, 5 points) defeated the North Carolina Courage (4-1-0, 12 points) at Orlando City Stadium in front of 5,260 people.
A scoreless first half prefaced what might have been a low-scoring finish. But the Pride had other ideas, as they scored back-to-back goals in the 49th and 50th minutes.
Right-back Ali Krieger tracked the ball down the right flank and gathered it near the corner. She then sent a low, grounded cross in front of Courage goalkeeper Sabrina D'Angelo's net where it eventually found Chioma Ubogagu for her first Pride score and Orlando's first goal of the match.
"Krieger, she's a great player, and I think one of her best assets are her services," Ubogagu said after the match. "And she played a great ball. I don't think missed much. I just think it was a hard ball to deal with. And I just wanted to make sure I was helping offensively and getting in the box, and it fell towards me, and I just wanted to put it on frame."
Said Krieger on her service into Ubogagu after the match: "I just wanted to keep it low and slide it across the frame of the goal… We had planned that, too. [Pride head coach Tom Sermanni] said, 'Look, if anyone's on the ball, and they're on the outside, and they're looking to play it across, someone's gotta get on the end of it, and let's make that a priority this weekend.' And I think that that was the intention; that was the idea, and I think that is what motivated a lot of our forwards in the attack to do so."
The Pride's second goal came off the foot of Camila Pereira, who was led into the Courage's box by Jamia Fields in a three-on-three breakaway. D'Angelo came off her line, but it was to no avail, as Pereira slid the ball out of reach.
Fields has played as both a right-back and a striker this season. On Sunday, she started in the latter role.
"It's partly because of they're such a physical team and that we really needed a physical presence up there," Sermanni said about starting Fields up top after the match. "And Jamia, from a striking point of view—wherever Jamia plays, she's one of those utility players—she gives you a physical presence. She's not the kind of player that you want to be playing against.
"So, we felt that we needed that in the game to make sure that we kept the ball a bit and stayed competitive."
No more than a minute after the Pride's second goal did the Courage respond with one of their own.
North Carolina's Lynn Williams drew three Pride defenders as she paced herself down the left flank. She then centered the ball to Debinha de Oliveira, who took a touch before rocketing the ball past the outstretched left arm of Orlando goalkeeper Ashlyn Harris.
"[It was a] little hectic, but that's what's most important. After you score a goal, the next five minutes is the most important," Krieger said. "You gotta stay organized, you gotta stay smart and kinda calm the game down a little bit, but you can't just start kicking the ball forward. You have to continue to play, but you have to be smart.
"And you don't want to just sit back. You want to go and score another one because you have the momentum, and that is, I think, the attitude that we had."
Forward Jasmyne Spencer entered the game in the 62nd minute and capped the match's scoring in the 82nd. Pride forward Marta Vieira da Silva navigated the ball near the top of North Carolina's box before sliding a ball into Spencer for the third score for the Pride.
Woman of the Match: Camila Pereira
Pereira's effort on both sides of the ball helped the Pride to their first win of the season. She finished with a goal, one shot (one on goal), created one chance and tallied five tackles. She also completed 82.1 percent of her 28 passes and drew two fouls.
What's next?
The Pride take to the road to face the Seattle Reign on May 21 at 9:30 p.m.
For Tom Sermanni, Jasmyne Spencer Can Start or Come Off the Bench
Spencer entered the match and made an immediate impact with fresh legs. In just 28 minutes of action, she drew a game-high three fouls and scored her first goal of the season. So far this season, she has started in three of her five appearances.
Sermanni sees the bench as an integral part of being successful in U.S. soccer.
"This is one of the difficulties when you're building up a new team with the U.S. system is that one of the key parts of being a successful team is having a bench where can people can come on and make impact," Sermanni said. "And Jas is one of them… So, as a coach, you want to be able to look along your bench and see two or three players that you think, 'These players can come in and change the game for you.'"
For Sermanni, she's a player that can be either a starter or a burst of energy off the bench.
"But in saying that, Jas, as well, can start on the team," he said. "So I don't see her as just the perennial substitute. She's fine to get a starting place on this team, and I think she will be a starter when that's appropriate."
Highlights
39′ | The @NWSL website stream is now available in the U.S.

Watch Live: https://t.co/l56Ep2GFoV

0-0 | #ORLvNC pic.twitter.com/FKyZwoLNNq

— Orlando Pride (@ORLPride) May 14, 2017
42′ | Steph picks a pass across the face of goal to Marta. Just out of reach.

0-0 | #ORLvNC pic.twitter.com/qEniTuvhjY

— Orlando Pride (@ORLPride) May 14, 2017
45′ | Swatted.

0-0 | #ORLvNC pic.twitter.com/wbxkA49zJA

— Orlando Pride (@ORLPride) May 14, 2017
48′ | GOOOAAAAALLLL!!!! Kreigs to Chi. Megs the keep! Go on Pride!

1-0 | #ORLvNC pic.twitter.com/04FYdh7s75

— Orlando Pride (@ORLPride) May 14, 2017
50′ | GOOAAALLL!!! Camila on the break and buries a second!

2-0 | #ORLvNC pic.twitter.com/1i75NlkCPF

— Orlando Pride (@ORLPride) May 14, 2017
We. In. This. #ORLvNC pic.twitter.com/bojAeWlY2U

— NC Courage (@TheNCCourage) May 14, 2017
82′ | GOOOAAAALLL!! Spencer buries a chance and The Pride are cruising!

3-1 | #ORLvNC pic.twitter.com/lDC10WI32P

— Orlando Pride (@ORLPride) May 14, 2017
NDR Notes
Ubogagu scored her first goal for the Pride.
Pereira tallies her second goal of the season. She scored her first goal against the Courage in a 3-1 loss on April 29.
Spencer scored her first goal of the season. She had four last year.
North Carolina's loss on Sunday was its first non-win of the season.
Scoring
| | | | |
| --- | --- | --- | --- |
| Time | Team | Goal-scorer | Assisted by |
| 49' | Orlando Pride | Chioma Ubogagu | Ali Krieger |
| 50' | Orlando Pride | Camila Pereira | Jamia Fields |
| 51' | North Carolina Courage | Debinha de Oliveira | Lynn Williams |
| 82' | Orlando Pride | Jasmyne Spencer | Marta Vieira da Silva |
Statistics and Starting Lineups
| | | | | | |
| --- | --- | --- | --- | --- | --- |
| | Goals | Assists | Shots | Shots on Goal | Possession % |
| Orlando Pride | 3 | 3 | 9 | 5 | 52.0% |
| North Carolina Courage | 1 | 1 | 16 | 4 | 48.0% |
Orlando Pride starting XI (4-3-3): Ashlyn Harris (GK/C); Steph Catley, Toni Pressley, Alanna Kennedy, Ali Krieger; Camila Pereira, Dani Weatherholt, Kristen Edmonds; Marta Vieira da Silva, Jamia Fields, Chioma Ubogagu
North Carolina Courage starting XI (3-1-4-2): Sabrina D'Angelo (GK); Yuri Kawamura, Abby Erceg (C), Abby Dahlkemper; Samantha Mewis; Samantha Witteman, Debina de Oliveira, McCall Zerboni, Makenzy Doniak; Lynn Williams, Jessica McDonald