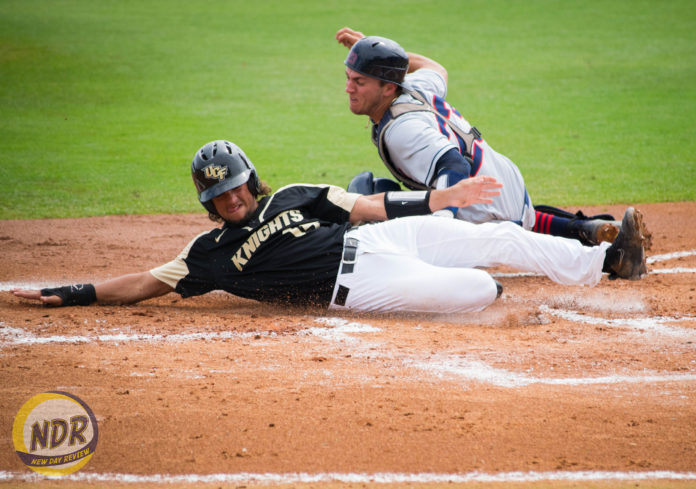 Game Recap
Florida Atlantic University's early offense was too much for the University of Central Florida to overcome. In the first three innings, the Owls (30-18-1) outscored the Knights 7-2 and finished with a four-run third inning, leading to a 9-4 defeat of the Knights (36-17) at FAU Baseball Stadium Tuesday night.
Owls pitcher Marc Stewart (2-1) got the win on the mound, allowing two hits, two runs (one earned) and two walks with three strikeouts in 3.0 innings. For UCF, starter Juan Pimentel (6-5) got the loss in 2.1 innings of work, allowing seven hits, seven runs (seven earned) and three walks with two strikeouts.
The Owls built off their 3-2 lead in the third inning with a four spot. That was due largely in part to pitching miscues by Pimentel. After striking out his first batter, Pimentel surrendered a double and consecutive walks on his next three batters. After a passed ball, Pimentel hit a batter, allowed a single, threw a wild pitch and hit another batter before being pulled.
Two more runs in the sixth helped negate the Knights' run in the seventh and a final, folly one in the ninth. A one-out double by first baseman Rylan Thomas set up third baseman Kam Gellinger for a double of his own to drive in Thomas for UCF's first run of the game in the second. Center fielder Luke Hamblin scored from third on a pick-off attempt in the third.
Player of the Game: Austin Langham
First baseman Austin Langham finished the game 2-for-4 with a run and two RBIs. He drove in the Owls' third run of the game with a single to left field on a 3-2 count. Langham has started all 47 of FAU's games so far this season, hitting .323 with 33 RBIs entering Tuesday's game.
What's next?
UCF returns to Jay Bergman Field on Thursday for its final series of the regular season. The Knights host the University of South Florida in a battle for the best record in the American Athletic Conference. Both teams and the University of Houston are 13-8 in the conference.
Highlights
RT delivers a 1-out double down the line!! #ChargeOn pic.twitter.com/wy8jBjK3iI

— UCF Baseball (@UCF_Baseball) May 16, 2017
Kam rips a double to tie the game!! ⚡️🔛 pic.twitter.com/1NF90cqu60

— UCF Baseball (@UCF_Baseball) May 16, 2017
T3 – Hamblin singles and then scores on pick off attempt gone bad. We cut the lead to 1.

UCF 2 FAU 3#ChargeOn pic.twitter.com/NVkLDle4lU

— UCF Baseball (@UCF_Baseball) May 16, 2017
Heiser drives in a run with 2 outs in 7th, trying to chip away at the lead!#ChargeOn pic.twitter.com/Wty4yEzMv0

— UCF Baseball (@UCF_Baseball) May 17, 2017
Putnam extends the game with a two-out RBI single! pic.twitter.com/0f9TmaJ70j

— UCF Baseball (@UCF_Baseball) May 17, 2017
Scoring
| | | |
| --- | --- | --- |
| | Florida Atlantic University | University of Central Florida |
| Runs | 9 | 4 |
| Hits | 10 | 9 |
| Errors | 2 | 0 |
| Left on Base | n/a | n/a |
| | | | |
| --- | --- | --- | --- |
| Inning | Team | Play | Score |
| B1 | Florida Atlantic University | David Miranda singled to center field, RBI; Jared Shouppe scored | 1-0, FAU |
| T2 | University of Central Florida | Kam Gellinger doubled down left-field line, RBI; Rylan Thomas scored | 1-1, T |
| B2 | Florida Atlantic University | Kevin Abraham singled through left side, RBI; Eric Rivera advanced to second; Sean Labsan scored | 2-1, FAU |
| B2 | Florida Atlantic University | Austin Langham singled to left field, RBI; Kevin Abraham advanced to second; Eric Rivera scored | 3-1, FAU |
| T3 | University of Central Florida | Brennan Bozeman advanced to second on throwing error by catcher, failed pick-off attempt, advanced to third; Luke Hamblin scored on error, unearned | 3-2, FAU |
| B3 | Florida Atlantic University | Stephen Kerr advanced to second; Sean Labsan advanced to third; Esteban Puerta scored on passed ball | 4-2, FAU |
| B3 | Florida Atlantic University | Kevin Abraham singled to right-center field, RBI; Eric Rivera advanced to second; Stephen Kerr advanced to third; Sean Labsan scored | 5-2, FAU |
| B3 | Florida Atlantic University | Kevin Abraham advanced to second; Eric Rivera advanced to third; Stephen Kerr scored on wild pitch | 6-2, FAU |
| B3 | Florida Atlantic University | Austin Langham flew out to center field, sacrifice fly, RBI; Kevin Abraham advanced to third; Eric Rivera scored | 7-2, FAU |
| B6 | Florida Atlantic University | David Miranda tripled down right-field line, RBI; Austin Langham scored | 8-2, FAU |
| B6 | Florida Atlantic University | Esteban Puerta singled through left side, RBI; David Miranda scored | 9-2, FAU |
| B7 | University of Central Florida | Logan Heiser reached first on fielding error by first baseman; Kam Gellinger scored, unearned | 9-3, FAU |
| B9 | University of Central Florida | Eli Putnam singled through left side, RBI; Dallas Beaver advanced to third; Max Wood scored | 9-4, FAU |
Statistics and Starting Lineups
Pitching
| | | | | | | | |
| --- | --- | --- | --- | --- | --- | --- | --- |
| Player | Team | IP | R | ER | H | BB | SO |
| Marc Stewart | Florida Atlantic University | 3.0 | 2 | 1 | 2 | 2 | 3 |
| Nick Swan | Florida Atlantic University | 2.0 | 0 | 0 | 1 | 0 | 2 |
| Juan Pimentel | University of Central Florida | 2.1 | 7 | 7 | 7 | 3 | 2 |
Hitting
| | | | | | | | | | |
| --- | --- | --- | --- | --- | --- | --- | --- | --- | --- |
| Player | Team | AB | H | R | HR | RBI | SB | BB | SO |
| Austin Langham | Florida Atlantic University | 4 | 2 | 1 | 0 | 2 | 0 | 0 | 0 |
| David Miranda | Florida Atlantic University | 5 | 2 | 1 | 0 | 2 | 0 | 0 | 2 |
| Eli Putnam | University of Central Florida | 5 | 2 | 0 | 0 | 1 | 0 | 0 | 1 |
| Luke Hamblin | University of Central Florida | 4 | 0 | 1 | 0 | 0 | 0 | 1 | 3 |
FAU starting lineup: 1. Jared Shouppe (8) 2. Austin Langham (3) 3. Tyler Frank (6) 4. David Miranda (9) 5. Brad Mathiowetz (5) 6. Sean Labsan (DH) 7. Stephen Kerr (4) 8. Aldrich DeJongh (7) 9. Kevin Abraham (2)
FAU starting pitcher: Marc Stewart (1-1)
UCF starting lineup: 1. Luke Hamblin (8) 2. Eli Putnam (9) 3. Brennan Bozeman (6) 4. Kyle Marsh (DH) 5. Rylan Thomas (3) 6. Kam Gellinger (5) 7. Matthew Mika (4) 8. Max Wood (7) 9. Dallas Beaver (2)
UCF starting pitcher: Juan Pimentel (6-4)