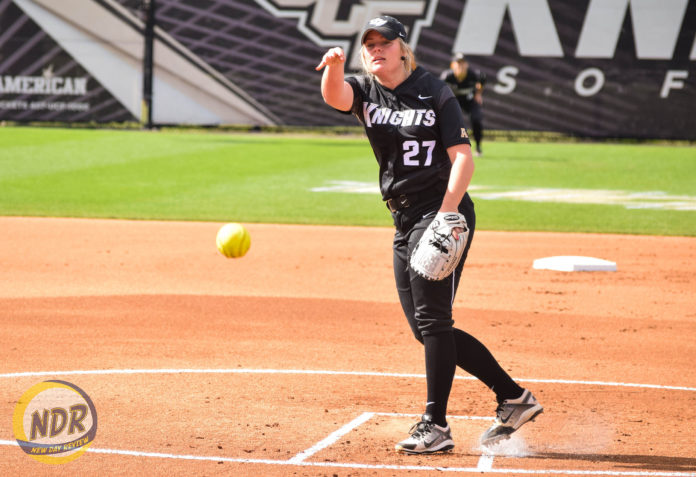 (Photo by Victor Tan / New Day Review)
Game Recap
The University of Central Florida started conference play on a high note. On Friday, the Knights (16-13, 1-0 in American Athletic Conference) defeated the University of Houston (14-13, 0-1 in AAC) 5-3 at the UCF Softball Complex in front of an announced crowd of 556.
Alea White (9-8) pitched a complete game and got the win, allowing eight hits and three earned runs with four strikeouts. For Houston, Presley Bell (2-3) got the loss, allowing five hits, two runs (two earned) in 5.0 innings pitched. Starter Trystan Melancon sat after the first inning after allowing three runs (three earned) on four hits.
"[White] started off really well. She got the first two batters out, struck them both out," UCF head coach Renee Luers-Gillispie said after the game. "[Houston] is just a very aggressive offensive team, and we knew that. Just a little too much at the plate, but she settled in and was able to get the balls moving a little bit more and was able to take care of it today."
The third inning featured the third and final lead change of the day. With one out, first baseman Cassady Brewer singled to center field, and Kyra Klarkowski reached on a single. After right fielder Willow Kalinen struck out and a wild pitch advanced Brewer to third and Klarkowski to second, freshman Aubrey Johnson hit a two-RBI single up the middle for the Knights' eventual game-winning runs.
"These freshman, with Kyra and Aubrey, they're just stepping up when we need them," Luers-Gillispie said. "They're coming in on those tough situations."
Said Johnson on conference play after the game: "Conference is exciting. I didn't know I'd be going into this game, so seeing my name on the [lineup], I knew I could help my team out more… I went up to the plate knowing that I'm gonna hit the ball."
The Cougars looked to make a push on their last chance in the top of the seventh inning. After Arielle James drew a lead-off walk on four-straight balls, a sacrifice bunt advanced her to second. Center fielder Sarah Barker then singled to left-center field. A groundout to second allowed James and Barker to advance before Maya Thomas' bunt fell in front of UCF catcher Autumn Gillespie for a game-ending putout at third.
White struck out her first two batters, but consecutive singles and a wild pitch set up Thomas' two-RBI double to left field to start the scoring for the Cougars in the first.
"We led off that first inning with two outs, and they scored their runs with two outs, and I just think we have to get tougher with that and get smarter with that," Luers-Gillispie said. "But it was very impressive to see that our offense came back and battled back to [take the lead] in that same inning."
The Knights responded with three runs of their own in the first. Left fielder Linnea Goodman drew a lead-off walk, and Courtney Rotton doubled to left field to start the inning. Brewer's sacrifice fly to left field let Goodman score before Tamesha Glover's double to left field drove in Rotton. Johnson capped the first-inning scoring with a single to right field that drove in Glover.
James' sacrifice fly to right field allowed Savannah Heebner to tie the game in the second for Houston.
Player of the Game: Aubrey Johnson
Johnson notched three of the Knights' five RBIs of the game for the Knights. She entered the game hitting just .190 but finished UCF's first conference win 2-for-2.
What's next?
The Knights continue their three-game series with Houston on Saturday at 2 p.m.
Highlights
NDR Notes
The Knights are 0-1 in conference play so far. Last season, the Knights started conference play with a 1-0 win over the UConn Huskies. UCF finished 12-4 in the conference last season.
Scoring
| | | |
| --- | --- | --- |
| | University of Central Florida | University of Houston |
| Runs | 5 | 3 |
| Hits | 9 | 8 |
| Errors | 0 | 0 |
| Left on Base | 4 | 8 |
| | | | |
| --- | --- | --- | --- |
| Inning | Team | Play | Score |
| T1 | University of Houston | Maya Thomas doubled to left field; Shelby Miller scored; Sarah Barker scored | 2-0, UH |
| B1 | University of Central Florida | Cassady Brewer sacrifice fly to left field, RBI; Linnea Goodman scored | 2-1, UH |
| B1 | University of Central Florida | Tamesha Glover doubled down left-field line, RBI; Courtney Rotton scored | 2-2, T |
| B1 | University of Central Florida | Aubrey Johnson singled to right field, RBI; Willow Kalinen advanced to second; Tamesha Glover scored | 3-2, UCF |
| T2 | University of Houston | Arielle James sacrifice fly to right field, RBI; Mariah Garcia advanced to second; Brooke Vannoy advanced to third; Savannah Heebner scored | 3-3, T |
| B3 | University of Central Florida | Aubrey Johnson singled up middle, 2 RBIs; Kyra Klarkowski scored; Cassady Brewer scored | 5-3, UCF |
Statistics and Starting Lineups
Pitching
| | | | | | | | |
| --- | --- | --- | --- | --- | --- | --- | --- |
| Player | Team | IP | R | ER | H | BB | SO |
| Alea White (9-8) | University of Central Florida | 7.0 | 3 | 3 | 8 | 4 | 4 |
| Presley Bell (2-3) | University of Houston | 5.0 | 2 | 2 | 5 | 0 | 3 |
| Trystan Melancon | University of Houston | 1.0 | 3 | 3 | 4 | 1 | 0 |
Hitting
| | | | | | | | | |
| --- | --- | --- | --- | --- | --- | --- | --- | --- |
| Player | Team | AB | H | R | HR | RBI | BB | SO |
| Aubrey Johnson | University of Central Florida | 2 | 2 | 0 | 0 | 3 | 0 | 0 |
| Kyra Klarkowski | University of Central Florida | 2 | 2 | 1 | 0 | 0 | 0 | 0 |
| Tamesha Glover | University of Central Florida | 1 | 1 | 1 | 0 | 1 | 0 | 0 |
| Cassady Brewer | University of Central Florida | 2 | 1 | 1 | 0 | 1 | 0 | 0 |
| Sarah Barker | University of Houston | 4 | 1 | 3 | 0 | 0 | 0 | 0 |
| Maya Thomas | University of Houston | 4 | 1 | 0 | 0 | 2 | 0 | 0 |
UCF starting lineup: 1. Linnea Goodman (7) 2. Megan Greenwell (8) 3. Courtney Rotton (4) 4. Cassady Brewer (3) 5. Tamesha Glover (5) 6. Willow Kalinen (9) 7. Aubrey Johnson (DP) 8. Brittany Solis (6) 9. Autumn Gillespie (2)
UCF starting pitcher: Alea White (8-8)
Houston starting lineup: 1. Arielle James (4) 2. Kaylin Crumpton (7) 3. Sarah Barker (8) 4. Shelby Miller (5) 5. Maya Thomas (DP) 6. Savannah Heebner (3) 7. Brooke Vannoy (2) 8. Elise LeBeouf (9) 9. Mariah Garcia (6)
Houston starting pitcher: Trystan Melancon (6-5)