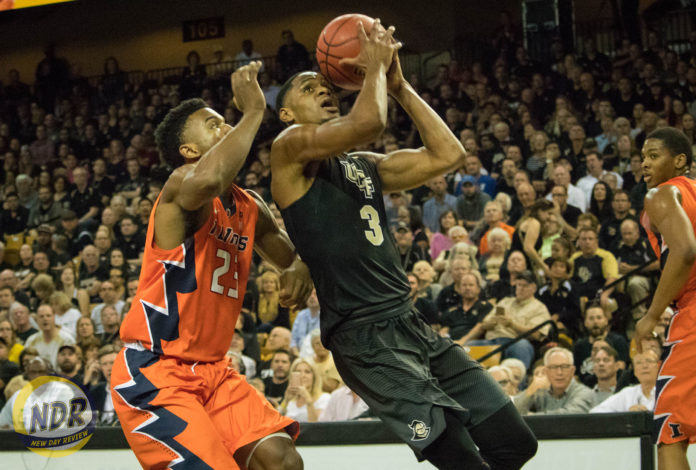 March 24, 2017 at The Venue
HC Johnny Dawkins
Dawkins returns to the National Invitation Tournament for the fourth time.
Well, I'm excited to go back to the Big Apple and actually have a chance to play for a championship. Having the ability to take this team and share that experience, I think it's big for our program, and we're looking forward to it.
When asked what this team means to Dawkins, he said he loves it.
I love this team. I love working with them every day. We haven't had any bad days. They've come to compete. They've wanted to get better. And they've had success. They've had a good season. Now we have a chance to make it even better.
When asked how he keeps the team focused, Dawkins said it was about keeping his players grounded.
By trying to keep 'em grounded. We're young. So trying to keep 'em grounded, try to have 'em understand that our job isn't over. We still have a lot to play for, and we have to prepare that way.
UCF plays Texas Christian University on Tuesday in the semifinals of the NIT at Madison Square Garden.
A very good team. [TCU head coach Jamie Dixon] does a great job with his program. He has TCU moving in the right direction. They have some real quality wins. They beat Kansas not too long ago. And they're playing some of their best basketball right now. They're a fast team in transition. They defend well. A lot of man defense. And they're good.
When asked about the biggest thing that surprised him this season, Dawkins said it was the players' attitudes.
I think the biggest thing that's probably surprised me is just their attitude. Whenever you take over a new program, there's always working on getting the young people to buy into a new philosophy. They've been coached a certain way, and there's certain things they expect. It kinda can become sometimes disruptive. These young men have allowed us to coach them, not just myself but my staff, and allow us to do our job. And that's what made it such a neat experience because I think we've all grown because of that.
Dawkins held up an apple during his address to a sold-out CFE Arena.
I ate that apple. I took a big bite out of it that night, and I ate the rest of it the rest of that evening. That was a lot of fun. It was fun to share it with our community of Orlando, especially just fun to share with our student body. It was electric in that gym that night, man. What a special evening. What a special atmosphere.
When asked about how the team will win the NIT, Dawkins specifically noted the number of teams remaining.
We're gonna have to play well. As well as we played to get there, we're gonna have to be better. No one gets that far. There's 32 teams started in this field. There's four left. So everyone's preparing to try to win it, and we need to be at our best when we go to New York if we expect to bring back the championship.
Despite a roster with little depth and it being his first year, Dawkins has maintained he has high expectations for his players.
Well, I like to think we always start with high expectations as a program. I've done that everywhere I've been. I near try to sell our young people short. Our belief has been in 'em from Day 1. And I think as we start to play and start to gain some momentum, I think they started to realize what we could accomplish, and they kept working. And we've been able to put ourselves in position to be very competitive this season, and so I'm just excited.
Dawkins sees the previous tournaments his team has played in as helpful. The Knights made it to the final of the Gildan Charleston Classic at the beginning of the season, losing to the then-No. 1 Villanova Wildcats 67-57. UCF lost Southern Methodist University 70-59 in the American Athletic Conference Tournament.
Well I think all the tournaments we've played in help prepare you for a situation that we're gonna face next week. Any time you can play in tournaments with the fields that we had, and the Charleston tournament or the field we had for our own conference tournament, that's great prep for this tournament, the NIT. So, you use those experiences of how to prepare, how to understand about preparing for each one of our opponents, how to understand about taking care of our bodies and getting our rest. All those things that go into being successful, our guys have done in several other tournaments. So, hopefully, we'll use it again for this one.
For Dawkins, it's about more than the will to win.
The same thing for us is it's all about preparation. The will to win isn't enough. I tell our guys that all the time. It's the will to prepare to win, and it starts today with us getting back to work. And we have to prepare the right way if we want to give ourselves a chance to be competitive in the tournament in New York.
After a light practice on Friday, the Knights will travel to New York City where they will have approximately three days of preparation.
Well, today, we're gonna practice, but we're gonna have a practice that it won't be very long. Wanna get 'em back in the gym, wanna get us refocused. A lot of skill work today. Trying to work on our different skills. Ball-handling, shooting the basketball. It'll be a little competitive, but it won't be long, and then we'll start, really, with our full game prep starting tomorrow. We have three days of game prep. We'll prep for the next three days in preparation for TCU.
Dawkins isn't concerned about his team losing focus while staying in a hotel near Time Square.
For one, if we have any kind of character, which I think this team does, we know the importance of going up there, and going up there as far as a business trip as opposed to a pleasure trip. If we want to be successful up there, we have to go up there with a mindset hat we have to prepare to win. And to do that, you have to be disciplined. We're in Time Square, but you can't be out at night. You have to understand we have to be in our rooms and getting our rest and getting off our feet. These are things that are gonna be required to have a successful event up there.
We usually have a curfew for our guys, whether it's imposed by us or self-imposed. Our guys understand of getting their rest and making sure they're prepared to be able to at their best on game day.
One of Dawkins' fondest memories at Madison Square Garden was as a player for the San Antonio Spurs.
Probably my first game as a player with the San Antonio Spurs. I felt I had one of my best games as rookie there. We had a really good game, and I thought I played well. And I'll always carry that memory with me.
Dawkins enjoys reliving some of his memories as a player through his players.
This has been great for our program. I'm really happy. I've been here before. In a number of these situations, I always have to remember that, but our players have not. So, for me, it's great because I get to share it with them. So each time that we do something that I may have already accomplished as a player or a coach, I get to live it through their eyes and through their experience. And I love that. That's what it's about. These shared experiences, and, you know, young people can take you to some amazing places, and I think our UCF team, this year, has taken us to one of those places, the opportunity to play for a championship, and I'm very proud of it.
Dawkins sees his seniors as tone-setters.
Well, I think, what the seniors have done with their leadership has been terrific. I always tell our guys it's about leaving your legacy. You want to leave places better than the way you found 'em. That's always the goal. My parents taught me that. I'm a big believer in it, and our seniors are doing that. They're leaving us in a position where we're better from having an experience that they've provided for us, and it's something for us to try to build on. And that's what we want to do.
For Dawkins, having nerves is normal.
I think you should always have some nerves. I don't think if you don't have any nerves, then you probably not alive. So I think you need to have that to be successful. And it's what you do with it that determines what you do as a team or as a coach. But, of course, I'm excited, and I think we should be.
PG B.J. Taylor
Taylor knows there's only very few college-basketball teams playing still.
Extremely excited, man. It's a great opportunity for us to compete for a championship. I mean, there's a few teams left. There's gonna be eight teams left after today in the NCAA tournament, and there's only four left in the NIT, so that's 12 teams right there. So, we just excited for the opportunity to represent UCF and get out there and make a good showing in the Garden.
Dawkins has won the NIT twice.
We gotta keep doing what we're doing. We're obviously excited about what happened last game at home, but we gotta move forward now. We got a really strong team against TCU coming up, so we just gonna keep doing what we doing, keep focusing on our game plan, preparing like we've been preparing all season, and we'll get the result we want up there.
For Taylor, it's about more than just representing UCF.
We're just excited, man. UCF's been so good to us all year, and the fans were awesome. Last game at home against Illinois, I mean, having the first sell-out crowd in CFE history, I mean, this team has a chance to do something really special, and these seniors have a chance to leave their legacy at UCF like no other. So, I mean, we're just excited to go up to New York and represent UCF, and, me personally, I'm excited to go up to New York and represent Orlando, man. I mean, Orlando's been behind me my whole career, so I'm just excited for the opportunity to go ahead and represent the city.
Taylor knows the amount of history that resides within Madison Square Garden.
There's a building that has crazy amount of history, man. The amount of players that have played there—it's just crazy. So, the opportunity for us to represent the university like Central Florida up there is gonna be crazy.
Taylor's happy his team's seniors have had this kind of send-off.
We've had a great season so far. We just so excited for the guys. And the seniors—I'm so happy for them that they were able to win their last home game in the CFE. So, we've had a really good season, but it's not done yet. So we just wanna finish the season the way we wanna finish it, and that's with a championship.
For Taylor, his new head coach has instilled toughness.
I mean, he's instilled a lot of toughness in this team. I think you see it out there when we play. Our mentality going into games is that we're going to be a tougher team, we're going to be the more physical team, and we're gonna make it hard for your offense to score. So, since the spring and the whole summer, he's instilled that kind of toughness and perseverance in games where we've gotten down by 18 like we did against Illinois State. We knew we could come back just because of the toughness and all the things we've been through with Coach. So, he's instilled a lot of toughness in his team, and it kinda shows when we're out there on the floor.
Dawkins' pedigree is what attracts Taylor to him as a coach.
With a coach like Coach Dawkins, his pedigree and everything he's accomplished as a player, first and foremost, speaks for itself. I mean, two-time national player of the year at Duke, 10-year, 12-year NBA career, and then to coach under Coach K for as many years as he did, he gets pretty much immediate credibility, and there's nobody in the game that has more credibility as him. So, for me personally, I was bought in from Day 1 that I knew he could help me reach the maximum potential that I have as a player, and he can help me reach my dreams, and I knew he was fully bought in with UCF and representing the community and Orlando the right way. And, I mean, that just means a lot for me and how he wanted to come in here and help build this city up.
Playing at a neutral location, Taylor knows that it's a unique situation.
You gotta bring your game to a neutral-site game. You can't depend on crowds because it's not like a home game; it's not like road game. It's a different atmosphere, so you definitely have to be locked in. You gotta be focused on the game plan and what you gotta do out there as a team, and the five guys out there on the floor really got to be close and gotta be together because you can't rely on your home crowds to get you going with energy and stuff like that. So, you just gotta be locked in and ready to go.
Taylor sees similarities TCU has similarities with UCF.
I know they had a great season in the Big 12. I know they have a great coach… I mean, it's similar to us. They've always been physical, tough-minded team, so we knew it was going to be a fight. I mean, we're looking forward to the challenge because, as a competitor, that's what you want. And there's nothing more we can ask for. I mean, I know they're competition 'cus they're such a physical team, and it's gonna be a great game.
C Tacko Fall
For Fall, the mindset was to simply compete in every game.
We were just going to go out there and compete every game. Just trying to do our best. Come out and play. I mean, we knew we didn't have a lot of guys this year, so we knew how many coming into this year it's not going to be easy. But we just came in and worked our way this far.
Fall sees Dawkins believes in the players.
He has a meant a lot. He's engaged every game you guys see. He's cheering on us, and he believes in us. And it shows on the court. Like, guys play free, and guys wanna play for him. They want to play hard for him.
He has brought a lot. He has brought a lot of toughness to this program. You can talk to every player. Everybody's tougher. And he has brought a new culture around here. And we have a new identity too.
Fall has only been to New York City once before.
I've been to New York once, but I've never been to the Garden. I think it's gonna be a heck of an experience.
Fall recalls seeing some of TCU's players play in high school.
TCU, I have heard of them before. I've known some of their players, not personally, but seen them play before in the high schools. So, they're a pretty good team, and we just trying to go out there and win it all.
For Fall, the opponent doesn't matter. He and his teammates are only concerned about staying true to their principles.
At the end of the day, it's still a game no matter who we play. As long as we stay true to what we do every game, which is play defense, no matter who we play, we can bring it everywhere. So we're just trying to go out there and do the same thing.
Fall sees a lot of positivity around campus.
I would say it's a lot of positivity around as of now. We have made big strides this last year. I mean, the guys are happy. But you can't get too happy because we still have a lot of work to do.
No matter where we play, we just try to bring it. Whether we play at home, whether we play away or a neutral site, we just try to get in there and do the same things.
When asked about the chance to bring a national title back to UCF, Fall said it would be "awesome."
I think it's awesome… Coming over here at UCF and doing something that nobody else has done before. So, it would mean a lot.