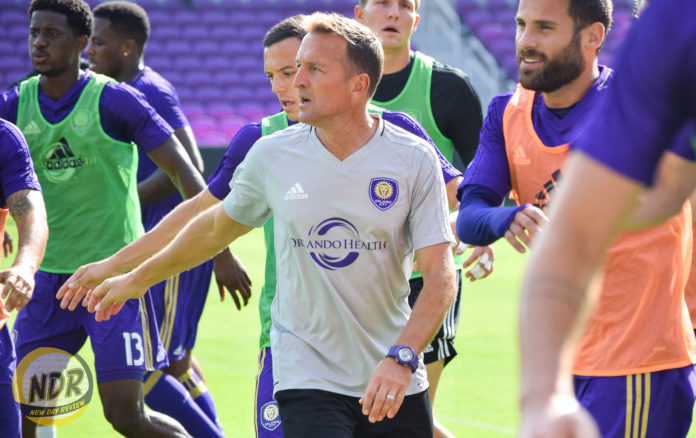 Orlando City SC has played just two regular-season matches in four weeks to start the 2017 Major League Soccer season.
After defeating New York City FC 1-0 in the season-opener at Orlando City Stadium, the Lions were supposed to take to the road to battle with the New England Revolution. But weather conditions in Foxborough, Mass., kept the Lions from even leaving Orlando, and the match was eventually rescheduled to Sept. 2.
For City head coach Jason Kreis, though, he sees this as an opportunity to breathe. After all, his team is 2-0-0 and sit in the No. 2 spot in the Eastern Conference.
"I think we look at the situation now and say, you know, probably not ideal for most teams to only play two games in four weeks," Kreis said after training Thursday. "To play a game and then have two weeks and then play a game and have two weeks. It's probably not ideal in the grand scheme of things, but, for us, right now, I think it's an opportune moment for us to take a breath in between these games and try to get players back healthy."
Yes, health has been an issue for Orlando City in 2017.
The Lions started the season without starting right-back Rafael Ramos, who sustained hamstring injuries in friendly scrimmages with Toronto FC during the preseason. Back-up Kevin Alston is just now finding his way back to the pitch, as he will play in Orlando City B's season-opener against the Tampa Bay Rowdies on Saturday, and third-stringer Tony Rocha sustained an injury in City's preseason finale against Saint Louis FC. Also, team captain Ricardo Kaká suffered a hamstring injury of his own in the first 10 minutes of the NYCFC match.
Injuries to so many players forced some players to perform out of their position. For example, first-year Lion Will Johnson, a natural midfielder, filled the spot at right-back in City's season-opener. Fellow midfielder Matías Pérez García sees these early breaks as an opportunity for the Lions to get back healthy.
"Yes, actually after the first game, we had a couple guys that weren't physically good," Pérez García said after training Thursday via translator. "They were injured for the second game, and the fact that we couldn't play against New England helped us and gave us some more time, and, now, we won against Philadelphia, and we have this break again for this weekend, so it's gonna help us prepare even more and get some of those guys back for the game against Columbus."
Fortunately for Orlando City, the front office has addressed the lack of depth at the outside-back positions. On March 3, City signed outside-back Scott Sutter. Pérez García sees Sutter's arrival as an opportunity for Johnson to return to his natural position.
"It's a very important player for us," Pérez García said. "Obviously, we've suffered some injuries in team. Rafa went down, Will's been playing out of position. He's been doing well, but he's playing out of position. And he's a veteran player that can help us a lot. So I think it's going to be good for the team."
Orlando City will travel to play Columbus Crew SC on April 1 at 4 p.m.