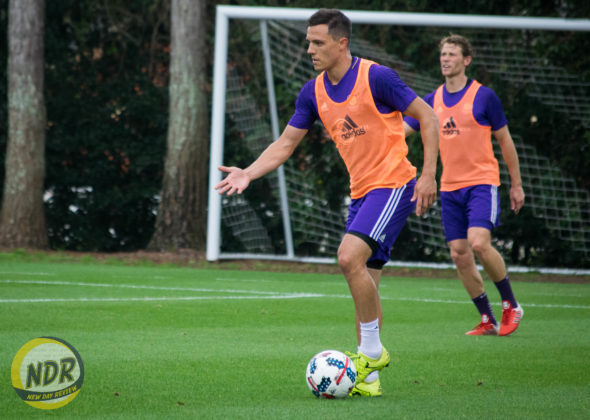 March 23, 2017 at Sylvan Lake Park
HC Jason Kreis
Orlando City SC has another off week before traveling to play Columbus Crew SC on April 1 at 4 p.m.
Pretty good. Pretty good. Yesterday was first day back after guys that played in the match had three days off. Took us a little bit to get going again, and today was quite good. So, we'll move forward here in the next couple days and try to get in good work.
For Kreis, the focus during the off week is on themselves.
We're focusing on ourselves. Trying to improve. We feel like we're in a really good spot right now because we have six points, obviously, and two wins. At the same time, I think there's a hunger inside of us to improve. We know that we need to be better, and we know that we were, in some ways, a little bit fortunate with those results. And we know that we need to improve if we're gonna continue to get results for the rest of the season.
Sutter was acquired by the Lions on March 3.
Been good. Very good. You can see he's a very experienced professional. He's spent a lot of time in the game and in quite a few different places, so, to be here with us, I think is not a big adjustment for him. So, he's fitting in quite well.
I'm not sure about his expectations. I'm only sure about ours, which is we know he's a quality player and somebody that can contribute. It's only going to be a question of when.
Orlando City has played two matches in the first four weeks of the 2017 Major League Soccer Season.
Yeah, I think we look at the situation now and say, you know, probably not ideal for most teams to only play two games in four weeks. To play a game and then have two weeks and then play a game and have two weeks. It's probably not ideal in the grand scheme of things, but, for us, right now, I think it's an opportune moment for us to take a breath in between these games and try to get players back healthy.
Coaches, I think we all want to have a game every Saturday or a game every Sunday and so you get to a real rhythm as things go. But it's not the way it is in MLS. Never has been, never will be. So we adjust to it the best way we can, which is to take these opportunities to let the guys breathe a little bit, as I said, to get some rest, get some guys healthy and also focus tactically on where we need to improve because, as I said, we need to improve.
Kreis has been impressed with his team's fitness so far.
I think we're okay. I have to say in the last match I felt as if I really kinda sensed a different level of fitness in the team. The way we finished the game was quite strong. Looked like we're very still fit, not making mental errors. And so we're moving in the right direction on that front. So I think it's important to know that rest plays a component when you're talking about fitness and your work as well.
For Kreis, improving on his team's possession is still a focus.
I still think that we need to be better with the ball. I still feel that we're a little too hectic with things. We pick up the ball, we're going 90 miles an hour to create our attack, which is good. And you wanna be able to do that. But if you're doing it all the time, you can get yourself into a real tactical problem. You can also get yourself pretty worn out. We need to spend more time with the ball.
DF Scott Sutter
Sutter trained for the first time with his new team on Wednesday.
The first day was yesterday. It was obviously a bit warmer than it was today. But it was good. It's nice to finally get into it, get back into the rhythm and meet the guys. Things are going well.
Sutter compared joining Orlando City to a first day at school.
Good. Everything's new. It's exciting for me, personally. It's like having the first day at school. You're new. You want to try and show yourself. Doesn't matter what background or what games you've played, you need to start from scratch. I'm up for that. Like I said, it's exciting. I'm happy to be here, and, yeah, the guys just make it really easy for me. So, it's not a big transition, to be honest.
For Sutter, his first impressions start with Kreis and his expectations.
The guys work hard, and Jason expects a lot from them. He keeps the level high, I think, what I've seen from the first two days. Obviously, it's early, so I can't really go into too much detail, but he works the guys hard, and the guys are willing to put in the effort. So that fits right with me as well.
Kreis has showed Sutter a general idea of what the team expects from him.
Well, I had a chat with him yesterday where he explained, on the TV screen, like stuff that he wants me to do, like movements in my position and what he wants the team to do, just so I know kind of what—'cus every coach is different, of course. So, I haven't really spoken to him what he expects from me, personally, over the course of the season, but, now, like I said before, it's a perfect time to come in. There's no game at the weekend, just a friendly on Saturday, so it's a perfect time to come in and learn these things and see what's what.
Sutter is happy to be a part of Orlando City, overwhelmed almost.
It's great. It's such an exciting to be at the club with the new stadium. For me, it's just unbelievable that after only three years in the MLS, the following, the support that we have. It's really special time to be here. For me, I'm really happy that I'm part of it. And everything's just really, really professional. Just everything from the trainers to the physios, to just everyone on the whole staff. I mean, I went into the offices when we met for the first time. It's just crazy. It's just like about 100 people there. It's something I've never seen before. Like I said, it's just really, really cool. And I'm just really happy to be here.
MF Matías Pérez García
(translated from Spanish)
Playing so few games in the span of four weeks has proven favorable for MPG. The Argentinian said the breaks have given the team a chance to recover.
Yes, actually after the first game, we had a couple guys that weren't physically good. They were injured for the second game, and the fact that we couldn't play against New England helped us and gave us some more time, and, now, we won against Philadelphia, and we have this break again for this weekend, so it's gonna help us prepare even more and get some of those guys back for the game against Columbus.
The focus during the off-week has been about recovery.
We focus on recovering ourselves. The team recovers with this time, but, also, we continue working very hard. Adjusting some of the tactics that the head coach has been telling us to do. They gave us some free days, some off days early in the week. But now that we're back, we're focused mainly on just recovering our bodies and focusing already in the game against Columbus.
MPG sees Sutter as an important player because of the position he plays.
It's a very important player for us. Obviously, we've suffered some injuries in team. [Rafael Ramos] went down, Will's [Johnson] been playing out of position. He's been doing well, but he's playing out of position. And he's a veteran player that can help us a lot. So I think it's going to be good for the team.