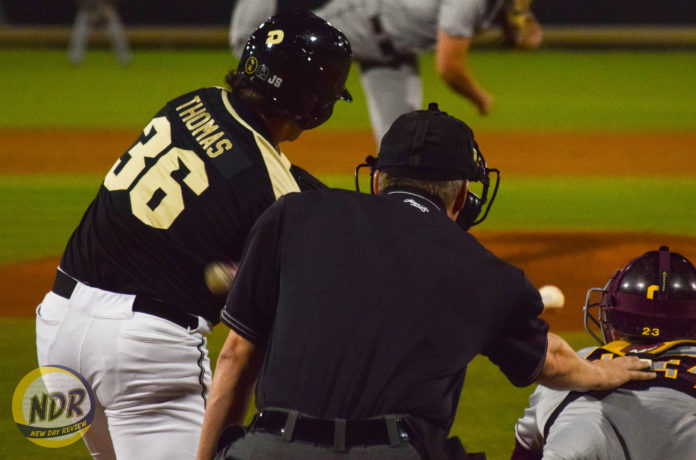 Live Blog: UCF vs. Central Michigan, Game 1
Game Recap
ORLANDO, Fla. – It was Rylan Thomas Night at Jay Bergman Field Friday night. The University of Central Florida (12-3) defeated the Central Michigan Chippewas 21-1 behind Thomas' two home runs and seven RBIs. He's the first player to hit two home runs in a game since Matt Diorio last season.
"He's uber-talented. This was a type of kid that we saw in inter-squads all fall and all winter," first-year UCF head coach Greg Lovelady said after the game. "He's really, really competitive, puts a lot of pressure on himself. I think he's been trying to do way too much in the games. And, so, it was good to finally get him to settle down and do what he's capable of. We believe in him enough to hit him in the three hole the last couple games."
Robby Howell (3-0) got the start and the win on the mound going 7.0 innings with four strikeouts, allowing just one earned run and four hits. Central Michigan's Pat Leatherman (1-2) got the loss, allowing 11 runs (seven earned) on 10 hits in 3.0 innings.
For Howell, who allowed one run on two hits to start the game, it was about having the lead that helped his performance.
"We scored two runs [in the first inning]. Just pitch with the lead and kinda just stay in the zone and get ground balls," Howell said after the game. "That's all I was really trying to do."
It looked like the Knights and Chippewas would battle in a closely contested dispute. It was anything but that after the second inning, though. In the bottom half of the second up 2-1, UCF put up six runs on five hits.
Kam Gellinger, Logan Heiser and Matthew Mika loaded the bases to start the second. That was followed by an RBI single by Luke Hamblin and Eli Putnam's groundout RBI to the shortstop to make it a 4-1 UCF lead. After Ryan Crile walked, Kyle Marsh reached first on an error by Central Michigan's Zach Heeke, letting Mika score. Thomas capped the scoring with his first home run of the season, a three-run bomb over the left-field wall.
Friday's win was the first time the Knights hit five bombs since May 21, 2011, in an 8-1 win over Marshall university.
"The offense did a phenomenal job. We played really, really well today," Lovelady said. "This is by far the best all-around game we've played. We played great defense. We pitched really well… Rylan Thomas, finally get him going. To hit five home runs, we just did a phenomenal job of a lot of things tonight."
UCF added seven runs in the third and fourth to extend the blow-out lead.
Hamblin's single to the mound in the third bounced off the pitcher's shin, driving in Mika and giving Hamblin enough time to reach first. Putnam then hit his third home run of the season, a two-run shot, over the center-field wall for an 11-1 UCF lead.
A two-run Thomas home run started the scoring in the fourth for the Knights. After Gellinger drew a walk, Anthony George tripled down the right-field line to drive in the shortstop. Mika's sacrifice fly to left field let George score for a 15-1 lead.
In the sixth, UCF recorded a new season-high in runs with its 18th off a wild pitch. The Knights would eventually score their 20th run in the eighth off a Josh Moser home run to give the Knights' first 20-run game since a 24-run performance against the University of Hartford in 2010.
The Knights suffered their first multi-game losing streak of the season to the No. 3 Florida State Seminoles on Tuesday and Wednesday. For Lovelady, Friday's blowout win was more about just seeing his team play well and not about regaining confidence.
"It's just good to see us come out and play well. We didn't play well those two games," Lovelady said. "Good to see us flush it and come out today and understand it's a new day and a new opportunity and that we had a chance to do something different.
"Glad that the hangover of playing poorly and losing didn't carry over today, and we played a whole lot better."
Player of the Game: Rylan Thomas
Thomas entered Friday's game with the most strikeouts on the team with 15. But in his 3-for-3 effort, he didn't strike out once. Instead, he put up the Knights' first of five home runs on the night in the second.
"It just felt great, man. I've been hitting singles all year so far—singles and doubles," Thomas said after the game. "Something clicked in my swing, and I just finally found that stroke that I've been looking for for a while."
Thomas hit his first two RBIs in the first inning with two outs. In the second, he hit his first home run with two outs, also.
"I've been coming up a lot lately, especially with two outs and just not being able to get the job done, per se," Thomas said. "Maybe getting a hit here or there but not anything clutch with RBIs. But, I mean, I've just been trying to think to myself, 'Just win every pitch.' Love's been talking about that all year. All the coaching staff has."
What's next?
UCF will play a double-header with Central Michigan on Saturday starting at 2:30 p.m. The second game will start 45 minutes after the final out of the first game. Sunday's game was moved because of inclement weather.
"We just gotta understand, one, that we can't carry over any runs or hits going into tomorrow," Lovelady said. "Eighteen innings is a long day—minimum of 18 innings. But we just gotta come out tomorrow, worry about winning pitches in the first game, try to win that game. And then regroup and then try to go do it again in the second game."
Position Changes
Crile, who has been playing second base, and Mika, who has been playing third base, switched positions Friday night. Additionally, Hamblin, who usually hits out of the two hole, replaced Putnam in the lead-off spot.
"Rylan had been struggling in the three hole, so I wanted to put Crile up there," Lovelady said. "So I didn't want the two lefties hitting back-to-back, two and three. Luke's been getting on base last week. Eli's been struggling a little bit… And just felt like we moved [three] guys out of position with the injury [to shortstop Brennan Bozeman]… So we've moved three guys. Just wasn't happy with some of the things and…wanted to see if this defensive lineup was going to be better."
Back to Winning
Following Wednesday's night 5-0 loss to the No. 3 Florida State Seminoles, Lovelady said he would see how his Knights was unsure how his team would respond to its first real adversity. He said he would find out in the practices leading up to the three-game series against the Chippewas.
"I thought practice was fine," Lovelady said. "You never know until the lights go on. It's just one of those things. But we practiced really hard yesterday. They weren't mopey or anything like that. So, we were just hoping they were gonna come out today and put up a good fight, and they did it from the first inning."
Highlights
B1- Clutch 2 out single by Thomas, and we take back the lead!!

CMU 1 UCF 2#ChargeOn pic.twitter.com/3aHcNT4Wi5

— UCF Baseball (@UCF_Baseball) March 11, 2017
Hamblin adds another!! pic.twitter.com/u9XX3xyKUk

— UCF Baseball (@UCF_Baseball) March 11, 2017
B2- Pouring it on with a 2-out rally, RT with his first long-ball of the season, a 3-run blast!

CMU 1 UCF 8 pic.twitter.com/Mj83Sqqbqb

— UCF Baseball (@UCF_Baseball) March 11, 2017
B3- Chippewas trying to get one back, but Crile with the throw and RT with the stretch!!

CMU 1 UCF 8 pic.twitter.com/Hqq8KIEbwa

— UCF Baseball (@UCF_Baseball) March 11, 2017
B3- The shin bone is connected to the.. baseball?? Hamblin drives home our 9th run!

CMU 1 UCF 9 pic.twitter.com/spiL652gFQ

— UCF Baseball (@UCF_Baseball) March 11, 2017
B3- Hey Northview, did anyone find that baseball that Putnam just crushed!?!?

CMU 1 UCF 11#ChargeOn pic.twitter.com/zOSNne4chr

— UCF Baseball (@UCF_Baseball) March 11, 2017
B4- @rylan_thomas goes back to the well, this time the other way!!

CMU 1 UCF 13 pic.twitter.com/2OFuaZ96Ia

— UCF Baseball (@UCF_Baseball) March 11, 2017
B4- George with an RBI Triple! pic.twitter.com/BC0sSWymiy

— UCF Baseball (@UCF_Baseball) March 11, 2017
B5 – Crile getting in on the action, his 3rd home run of the year!

CMU 1 UCF 16 pic.twitter.com/vbOmLnXmBm

— UCF Baseball (@UCF_Baseball) March 11, 2017
T6 – Chippewas get a couple of runners on, but we turn a nifty double-play to end the inning!! #ChargeOn pic.twitter.com/jhpfQzKasP

— UCF Baseball (@UCF_Baseball) March 11, 2017
Hear from @CoachLovelady23 after tonight's big win! pic.twitter.com/naQ9nQfdpf

— UCF Baseball (@UCF_Baseball) March 11, 2017
NDR Notes
Thomas hit his first two home runs of the season.
Before Thomas, the last time a UCF batter had two home runs in a game was on May 1, 2016, when Diorio had two bombs in a 9-2 win over the USF Bulls.
The last time a Knight had seven RBIs was Putnam on March 27, 2016, in a 16-0 win over Cornell University.
The Knights last hit five home runs in a game on May 21, 2011, in an 8-1 win over Marshall University.
UCF eclipsed its previous season-high of 17 runs in a game in the bottom of the sixth when the Knights scored its 18th on a wild pitch.
Scoring
| | | |
| --- | --- | --- |
| | University of Central Florida | Central Michigan University |
| Runs | 21 | 1 |
| Hits | 19 | 5 |
| Errors | 1 | 1 |
| Left on Base | 6 | 7 |
| | | | |
| --- | --- | --- | --- |
| Inning | Team | Play | Score |
| T1 | Central Michigan University | Jason Sullivan grounded out to third base, RBI; Daniel Robinson advanced to third; Alex Borglin scored | 1-0, CMU |
| B1 | University of Central Florida | Rylan Thomas singled up the middle, 2 RBIs; Ryan Crile scored; Eli Putnam scored | 2-1, UCF |
| B2 | University of Central Florida | Luke Hamblin singled to left field, RBI; Matthew Mika advanced to second; Logan Heiser advanced to third; Kam Gellinger scored | 3-1, UCF |
| B2 | University of Central Florida | Eli Putnam grounded out to shortstop, RBI; Luke Hamblin out at second, shortstop unassisted; Matthew Mika advanced to third; Logan Heiser scored | 4-1, UCF |
| B2 | University of Central Florida | Kyle Marsh reached on an error by third baseman, RBI; Ryan Crile advanced to second; Matthew Mika scored, unearned | 5-1, UCF |
| B2 | University of Central Florida | Rylan Thomas home run, 3 RBIs, unearned; Kyle Marsh scored, unearned; Ryan Crile scored, unearned | 8-1, UCF |
| B3 | University of Central Florida | Luke Hamblin singled to pitcher, RBI; Matthew Mika scored | 9-1, UCF |
| B3 | University of Central Florida | Eli Putnam home run, 2 RBIs; Luke Hamblin scored | 11-1, UCF |
| B4 | University of Central Florida | Rylan Thomas home run, 2 RBIs; Kyle Marsh scored | 13-1, UCF |
| B4 | University of Central Florida | Anthony George tripled down right-field line, RBI; Kam Gellinger scored | 14-1, UCF |
| B4 | University of Central Florida | Matthew Mika flew out to left field, sacrifice fly, RBI; Anthony George scored | 15-1, UCF |
| B5 | University of Central Florida | Ryan Crile, home run, RBI | 16-1, UCF |
| B6 | University of Central Florida | Josh Moser grounded out to second base, RBI; Matthew Mika advanced to third; Anthony George scored | 17-1, UCF |
| B6 | University of Central Florida | Max Wood struck out swinging, reached first on wild pitch, RBI; Matthew Mika scored on wild pitch | 18-1, UCF |
| B7 | University of Central Florida | Anthony George singled to right field, RBI; Brooks Morgan advanced to second; Dallas Beaver advanced to third; Austin Murphy scored | 19-1, UCF |
| B8 | University of Central Florida | Josh Moser home run, RBI | 20-1, UCF |
| B8 | University of Central Florida | Michael Higgins advanced to second on wild pitch; Max Wood scored on wild pitch | 21-1, UCF |
Statistics and Starting Lineup
Pitching
| | | | | | | | |
| --- | --- | --- | --- | --- | --- | --- | --- |
| Player | Team | IP | R | ER | H | BB | SO |
| Robby Howell (3-0) | University of Central Florida | 7.0 | 1 | 1 | 4 | 1 | 4 |
| Drew Faintich | University of Central Florida | 1.0 | 0 | 0 | 1 | 1 | 3 |
| Pat Leatherman (1-2) | Central Michigan University | 3.0 | 11 | 7 | 10 | 2 | 2 |
Hitting
| | | | | | | | | | |
| --- | --- | --- | --- | --- | --- | --- | --- | --- | --- |
| Player | Team | AB | H | R | HR | RBI | SB | BB | SO |
| Rylan Thomas | University of Central Florida | 3 | 3 | 2 | 2 | 7 | 0 | 0 | 0 |
| Eli Putnam | University of Central Florida | 3 | 2 | 2 | 1 | 3 | 0 | 0 | 0 |
| Josh Moser | University of Central Florida | 3 | 1 | 1 | 1 | 2 | 0 | 0 | 1 |
| Ryan Crile | University of Central Florida | 3 | 1 | 1 | 1 | 1 | 1 | 2 | 0 |
| Jason Sullivan | Central Michigan University | 4 | 2 | 0 | 0 | 1 | 0 | 0 | 0 |
UCF starting lineup: 1. Luke Hamblin (8) 2. Eli Putnam (9) 3. Ryan Crile (5) 4. Kyle Marsh (7) 5. Rylan Thomas (3) 6. Bryce Peterson (DH) 7. Kam Gellinger (6) 8. Logan Heiser (2) 9. Matthew Mika (4)
UCF starting pitcher: Robby Howell (2-0)
Central Michigan starting lineup: 1. Alex Borglin (6) 2. Zach Gilles (8) 3. Daniel Robinson (9) 4. Jason Sullivan (4) 5. Nick Stokowski (DH) 6. Daniel Jipping (7) 7. Evan Kratt (3) 8. Robert Greeman (2) 9. Zach Heeke (5)
Central Michigan starting pitcher: Pat Leatherman (1-1)