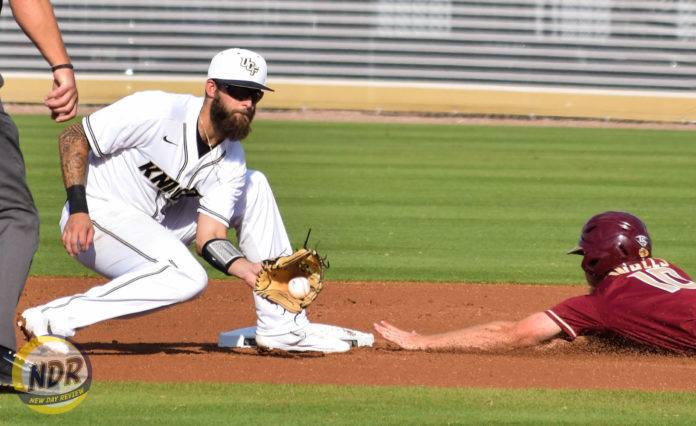 Live Blog: UCF vs. No. 3 FSU, Game 2
Game Recap
ORLANDO, Fla. – The University of Central Florida faced its first real adversity for the first time in the 2017 season. After dropping the two-game series home-opener with the No. 3 Florida State Seminoles (11-2) 5-2, the Knights (11-3) were shut out 5-0 at Jay Bergman Field Wednesday night.
"I felt like it was a good way to grade ourselves out, and we didn't do a very good job," first-year UCF head coach Greg Lovelady said after the game. "And these are the types of games you need to have. I'm not happy that we lost, but we got exposed a little bit on doing some different things—some base-running things, some defensive things, little things… Those things you get away with when you don't play good teams. And when you play a great team, you gotta make all those plays. You gotta almost play perfect."
Joe Sheridan (2-1) got the start and the loss on the mound for the Knights, going 4.0 innings with three runs (three earned), five runs, three walks and five strikeouts. FSU's Will Zirzow (1-0) got the win, pitching 5.0 innings in relief with seven strikeouts and one hit.
The Knights' staff allowed nine walks.
"When you look at [FSU's] stats, they walk a lot," Lovelady said. "They're very disciplined. They don't swing at bad pitches. They didn't swing at anything in the dirt. So you gotta make pitches. Again, when you're facing really, really good offensive teams, some of those pitches that really shouldn't be chased get chased, and, now, they don't get chased."
Florida State broke a scoreless tie in the third inning when the Seminoles put up a three-spot. With runners on the corners and only one out away, Dylan Busby doubled to left-center field to drive in J.C. Flowers from third. Rhett Aplin's two-RBI base hit to left field drove in Busby and Taylor Walls.
The Seminoles scored two more in the top of the fifth on a bases-loaded sacrifice fly and a bases-loaded walk.
It was FSU's bullpen that once again shut down the Knights. After Seminoles starter Ed Voyles sat after just two innings, giving up three hits in the process, FSU's bullpen only allowed four hits the rest of the way.
The Knights nearly got on the board in the bottom of the eighth when they loaded the bases with one out. Austin Griffin got the lead-off walk that was followed by Matthew Mika's base hit up the middle. After Gellinger struck out swinging, Putnam's bunt gave him enough time to load the bases.
Hamblin's line drive to third base allowed Busby record the unassisted double play.
Player of the Game: Will Zirzow
FSU's first relief pitcher struck out seven of the 15 batters he faced. He only allowed one hit and no runs in the shutout of UCF.
What's next?
The Knights start a three-game weekend series with the Central Michigan Chippewas on Friday at 6:30 p.m.
UCF's 1 Bright Spot
Amid the Knights' poor pitching performance on Wednesday, there was one standout. Relief pitcher Bryce Tucker entered the game in the top of the seventh. He struck out three of the four batters he faced.
"He's been awesome. He's got the mentality to come in and shut people down," Lovelady said. "He's not scared. He's competitive. He doesn't care who we're playing or what the situation is. He's gonna come in and do his job. We just need more people to be like that."
After his three strikeouts in Wednesday's loss, Tucker now has 17 total strikeouts. Only starters Jason Bahr (19) and Robby Howell (18) have more strikeouts on the team. Tucker also has significantly less innings pitched. After Wednesday's performance, he has 10.0 innings pitched. Bahr has 14.2, and Howell has 15.1 on the season.
Highlights
Here's how The Sheriff ended the second!#ChargeOn pic.twitter.com/1AMJKj3urR

— UCF Baseball (@UCF_Baseball) March 8, 2017
B2- Crile smacks one down the line for extra bases! pic.twitter.com/twosBAPyF8

— UCF Baseball (@UCF_Baseball) March 8, 2017
NDR Notes
Kyle Marsh started as the Knights' designated hitter for the first time this season.
UCF's 5-0 loss to FSU is the Knights' first time the Knights have lost consecutive games this season.
Scoring
| | | |
| --- | --- | --- |
| | University of Central Florida | Florida State University |
| Runs | 0 | 5 |
| Hits | 7 | 6 |
| Errors | 3 | 1 |
| Left on Base | 6 | 13 |
| | | | |
| --- | --- | --- | --- |
| Inning | Team | Play | Score |
| T3 | Florida State University | Dylan Busby doubled to left-center field, RBI; Taylor Walls advanced to third; J.C. Flowers scored | 1-0, FSU |
| T3 | Florida State University | Rhett Aplin singled through left side, 2 RBIs; Dylan Busby scored; Taylor Walls scored | 3-0, FSU |
| T5 | Florida State University | Taylor Daughtry flew out to right field, sacrifice fly, RBI; Quincy Nieporte advanced to third; Rhett Aplin scored | 4-0, FSU |
| T5 | Florida State University | Matt Henderson walked, RBI; J.C. Flowers advanced to second; Nick Derr advanced to third; Quincy Nieporte scored | 5-0, FSU |
Statistics and Starting Lineup
Pitching
| | | | | | | | |
| --- | --- | --- | --- | --- | --- | --- | --- |
| Player | Team | IP | R | ER | H | BB | SO |
| Will Zirzow (1-0) | Florida State University | 5.0 | 0 | 0 | 1 | 0 | 7 |
| Bryce Tucker | University of Central Florida | 1.0 | 0 | 0 | 1 | 0 | 3 |
| Ed Voyles | Florida State University | 2.0 | 0 | 0 | 3 | 0 | 1 |
| Joseph Sheridan (2-1) | University of Central Florida | 4.0 | 3 | 3 | 5 | 3 | 5 |
Hitting
| | | | | | | | | | |
| --- | --- | --- | --- | --- | --- | --- | --- | --- | --- |
| Player | Team | AB | H | R | HR | RBI | SB | BB | SO |
| Rhett Aplin | Florida State University | 3 | 1 | 1 | 0 | 2 | 0 | 1 | 0 |
| Matt Henderson | Florida State University | 3 | 2 | 0 | 0 | 1 | 0 | 2 | 1 |
| Matthew Mika | University of Central Florida | 3 | 2 | 0 | 0 | 0 | 0 | 0 | 0 |
UCF starting lineup: 1. Eli Putnam (9) 2. Luke Hamblin (7) 3. Rylan Thomas (3) 4. Kyle Marsh (DH) 5. Ryan Crile (4) 6. Logan Heiser (2) 7. Josh Moser (8) 8. Matthew Mika (5) 9. Kam Gellinger (6)
UCF starting pitcher: Joseph Sheridan (2-0)
FSU starting pitcher: 1. Taylor Walls (6) 2. Dylan Busby (5) 3. Rhett Aplin (DH) 4. Quincy Nieporte (3) 5. Cal Raleigh (2) 6. Nick Derr (9) 7. Tyler Daughtry (7) 8. J.C. Flowers (8) 9. Matt Henderson (4)
FSU starting pitcher: Ed Voyles (1-0)