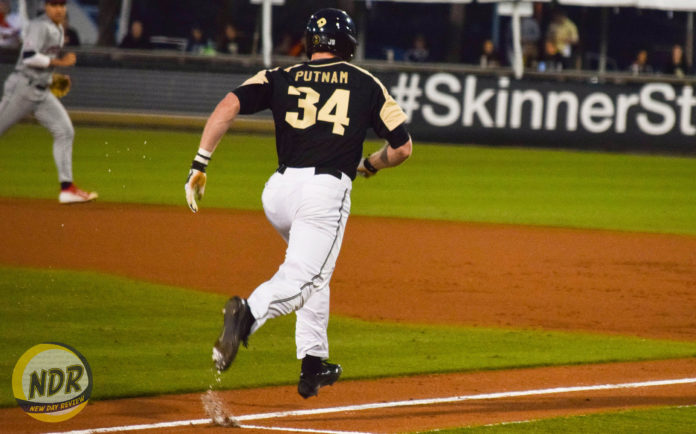 Live Blog: UCF vs. Stony Brook, Game 2
Game Recap
ORLANDO, Fla. – Stony Brook University has the University of Central Florida's number early in games. But that's it—only early in the game. The Knights (10-1) collected their 10th win of the season after defeating Stony Brook (1-7) 8-4 after overcoming an early 3-0 deficit at Jay Bergman Field Saturday night.
Juan Pimentel (3-0) got the start and the win on the mound, allowing four runs (two earned), five hits and two walks with three strikeouts in 6.0 innings. Bryce Tucker got his third save of the season, pitching the final three outs with five strikeouts and one hit. The Seawolves' Cole Creighton (0-1) got the loss, pitching 2.0 innings and allowing three hits and an earned run with two strikeouts.
"I just felt like [Pimentel] didn't put guys away enough," UCF head coach Greg Lovelady said after the game. "He just ran his pitch count up a little bit higher, but he competed. Really got into a groove there in the fourth inning…and the fifth. Finished strong, which, again, we talk a lot about finishing… Not his best performance, but, again, I want guys to compete when they don't have their best stuff, and he did another great job of doing that tonight."
UCF narrowly led 5-4 entering the bottom half of the seventh after pitching two scoreless innings. A Luke Hamblin two-out, two-RBI single to left field with the bases loaded helped the Knights extend their lead to 7-4.
The Knights loaded the bases, beginning with a Bryce Peterson lead-off walk. Catcher Logan Heiser was hit by a pitch, and shortstop Kam Gellinger reached first on an error by Stony Brook second baseman Michael Wilson.
Hamblin partially attributed his two-RBI knock to Eli Putnam's previous at-bat. Though he struck out, Putnam forced Stony Brook pitcher Teddy Rodliff to throw an 11-pitch at-bat, including fouling off five in a row.
"I've pitched before, and knowing when a hitter does that, you get tired, your adrenaline's going, and your arm gets tired, and you just start leaving balls over the plate, and that's what happens," Hamblin said after the game. "Eli really helped out in that."
Like in Game 1, UCF faced another early 3-0 deficit. Stony Brook worked to a 3-0 lead after scoring two in the second and one in the third. But after Pimentel held the Seawolves scoreless in the fourth, the Knights took the lead with an explosive four-run half-inning.
After Heiser lined out to start the half-inning, Matthew Mika drew a walk. Then, Gellinger doubled to right-center field to drive in Mika from first for the Knights' first run of the game. Putnam got his first hit of the night with a triple to left-center field to drive in Gellinger. Hamblin's single to left field drove in Putnam to tie the game. Before Kyle Marsh's sacrifice fly to left field capped the Knights' four-run fourth inning, Rylan Thomas singled, and he and Hamblin executed a double steal.
"Just tough at-bats. Guys did a good job," Lovelady said. "We talk a lot about just trying to get the next guy up. Not trying to do too much in your at-bat. Not trying to hit three-run homers and grand slams with nobody on base. We're just trying to get the next guy to the plate."
Stony Brook retaliated immediately in the fifth with a lead-off home run by Toby Handley to tie the game at 4-4. But UCF would once again take the lead in the bottom half of the sixth.
Putnam hit a lead-off double that was followed by a Hamblin looking strikeout. On the next at-bat, Thomas and the Knights reclaimed the lead with a double to left-center field, scoring Putnam.
Player of the Game: Luke Hamblin
Hamblin knocked in two RBIs on a two-out base hit to help extend the Knights' lead to three in the bottom of the seventh. He finished the game 2-for-3 with three RBIs, a run and a walk.
"Well, here at UCF, we don't really pride ourselves on batting averages. We really pride ourselves on quality at-bats," Hamblin said. "So, I go up there, and if I'm not feeling good that day, I get up on the plate, try to get hit. I go up there, and I try to foul some balls off, draw a walk. Even if we aren't at our best that day, we still go up there and try to have quality at-bats.
"That's what we keep track of. I couldn't even tell you my average. No one on our team could."
Instead of keeping track of averages, the Knights record their quality at-bats. Hamblin said that statistic is posted in their locker room.
What's next?
UCF hosts Stony Brook for a 1 p.m. series-finale on Sunday.
Brennan Bozeman to Have Surgery
Shortstop Brennan Bozeman sustained a thumb injury in the 11-2 win over the No. 2 Florida Gators on Wednesday. Lovelady said he'll have surgery next week and will be out for six to eight weeks.
Bozeman's injury is the same as last year's.
Alternating Between Dallas Beaver and Logan Heiser
Throughout the season, Heiser and fellow catcher Dallas Beaver have alternated as the starting catcher. Lovelady, who was a two-time national championship-winning catcher for the Miami Hurricanes, said it was about protecting Heiser to have him for the end of the season.
Anthony George has also subbed into the position mid-game.
"Logan does a great job. I just gotta protect him a little bit with his history and what-not," Lovelady said. "I just want to make sure he's healthy and ready to go at the end of the year. Again, Dallas, just most of the time he's been a right-handed pitcher, obviously, with a left-hand at-bat… And getting Anthony George there at the end for his defense and stuff.
"We'll continue to mix that up and give Logan the rest that he needs and make sure, again, at the end of the year, I need him the most."
Bryce Tucker Gets the 3-inning Save
Entering Saturday's game, Tucker had pitched a total of four innings. He entered Saturday's win in the seventh and pitched the rest of the game.
"Definitely feeling really good. We had the lead, I went in, and we added some runs, which made me a little more comfortable out there," Tucker said after the game. "I had my team behind my back, so, I was definitely feeling good, and I was able to get the job done tonight.
"My goal is just to get outs and take it one pitch at a time, which is what we pride ourselves on as a staff, which is win every pitch. Get through it all and worry about all that other stuff later."
Tucker recorded five strikeouts in Saturday's win. He is now tied for the second-most strikeouts on the team with Jason Bahr with 14. Robby Howell has 15.
Highlights
T4 – Kam doing work on the left side! Putnam runs down the final out on the right field line.

SBU 3 UCF 0 pic.twitter.com/5uptJuoTyX

— UCF Baseball (@UCF_Baseball) March 5, 2017
He can hit too, we're on the board!

SBU 3 UCF 1 pic.twitter.com/aLRJSObyNw

— UCF Baseball (@UCF_Baseball) March 5, 2017
Putnam extends his hitting streak with a triple!!!

SBU 3 UCF 2#ChargeOn pic.twitter.com/Msku5BJBCc

— UCF Baseball (@UCF_Baseball) March 5, 2017
BOOM! Tie ball game!

SBU 3 UCF 3#ChargeOn pic.twitter.com/zw4erwM4zk

— UCF Baseball (@UCF_Baseball) March 5, 2017
B4 – Hamblin steals 3rd, Thomas 2nd, Marsh gives us the lead!

SBU 3 UCF 4#ChargeOn pic.twitter.com/p2VptU2Aat

— UCF Baseball (@UCF_Baseball) March 5, 2017
RT doubles to left center to give us the lead, scores Putnam from 2nd!

SBU 4 UCF 5#ChargeOn pic.twitter.com/4YTbQoTYiM

— UCF Baseball (@UCF_Baseball) March 5, 2017
Clutch 2 out hit by Hamblin extends our lead!

SBU 4 UCF 7#ChargeOn pic.twitter.com/RUOYTuLB0p

— UCF Baseball (@UCF_Baseball) March 5, 2017
Marsh tags his 2nd long ball of the season! We lead 8-4!#ChargeOn pic.twitter.com/v9TdNpRhPg

— UCF Baseball (@UCF_Baseball) March 5, 2017
NDR Notes
Putnam is now on an 11-game hitting streak. He finished Saturday 2-for-5 with two runs, an RBI, a double and a triple.
Marsh's first hit of the game was his second home run of the season. He is now tied for a team-high in home runs with two with three other players (Putnam, Crile, Peterson).
Tucker entered Saturday's game with 4.0 innings pitched. He pitched the final three innings of the game and got the save with five strikeouts.
Scoring
| | | |
| --- | --- | --- |
| | University of Central Florida | Stony Brook University |
| Runs | 8 | 4 |
| Hits | 11 | 6 |
| Errors | 1 | 1 |
| Left on Base | 11 | 5 |
| | | | |
| --- | --- | --- | --- |
| Inning | Team | Play | Score |
| T2 | Stony Brook University | Chris Hamilton grounded out to first base unassisted, RBI; David Real advanced to second; Bobby Honeyman advanced to third; Michael Wilson scored, unearned | 1-0, SBU |
| T2 | Stony Brook University | David Real advanced to third on a balk; Bobby Honeyman scored on a balk, uneared | 2-0, SBU |
| T3 | Stony Brook University | Michael Wilson grounded out to second base, RBI; Dylan Resk advanced to second; Casey Baker advanced to third; Toby Handley scored | 3-0, SBU |
| B4 | University of Central Florida | Kam Gellinger doubled to right-center field, RBI; Matthew Mika scored | 3-1, SBU |
| B4 | University of Central Florida | Eli Putnam tripled to left-center field, RBI; Kam Gellinger scored | 3-2, SBU |
| B4 | University of Central Florida | Luke Hamblin singled through left side, RBI; Eli Putnam scored | 3-3, T |
| B4 | University of Central Florida | Kyle Marsh flew out to left field, RBI; Rylan Thomas advanced to third; Luke Hamblin sscored | 4-3, UCF |
| T5 | Stony Brook University | Toby Handley home run to left field, RBI | 4-4, T |
| B6 | University of Central Florida | Rylan Thomas doubled to left-center field, RBI; Eli Putnam scored | 5-4, UCF |
| B7 | University of Central Florida | Luke Hamblin singled down left-field line, 2 RBIs; Kam Gellinger advanced to second; Logan Heiser scored, unearned; Josh Moser scored, unearned | 7-4, UCF |
| B8 | University of Central Florida | Kyle Marsh home run to left field, RBI | 8-4, UCF |
Statistics and Starting Lineup
Pitching
| | | | | | | | |
| --- | --- | --- | --- | --- | --- | --- | --- |
| Player | Team | IP | R | ER | H | BB | SO |
| Juan Pimentel (3-0) | University of Central Florida | 6.0 | 4 | 2 | 5 | 2 | 3 |
| Bryce Tucker | University of Central Florida | 3.0 | 0 | 0 | 1 | 0 | 5 |
| Sam Turcotte | Stony Brook University | 3.1 | 4 | 4 | 6 | 5 | 5 |
| Cole Creighton (0-1) | Stony Brook University | 2.0 | 1 | 1 | 3 | 0 | 2 |
Hitting
| | | | | | | | | | |
| --- | --- | --- | --- | --- | --- | --- | --- | --- | --- |
| Player | Team | AB | H | R | HR | RBI | SB | BB | SO |
| Luke Hamblin | University of Central Florida | 3 | 2 | 1 | 0 | 3 | 1 | 1 | 1 |
| Eli Putnam | University of Central Florida | 5 | 2 | 2 | 0 | 1 | 0 | 0 | 2 |
| Kyle Marsh | University of Central Florida | 3 | 1 | 1 | 1 | 2 | 0 | 2 | 0 |
| Toby Handley | Stony Brook University | 4 | 2 | 2 | 1 | 1 | 0 | 0 | 0 |
| Michael Wilson | Stony Brook University | 4 | 1 | 1 | 0 | 1 | 1 | 0 | 1 |
UCF starting lineup: 1. Eli Putnam (9) 2. Luke Hamblin (8) 3. Rylan Thomas (3) 4. Kyle Marsh (7) 5. Ryan Crile (4) 6. Bryce Peterson (DH) 7. Logan Heiser (2) 8. Matthew Mika (5) 9. Kam Gellinger (6)
UCF starting pitcher: Juan Pimentel (2-0)
Stony Brook starting lineup: 1. Andruw Gazzola (7) 2. Toby Handley (8) 3. Casey Baker (3) 4. Dylan Resk (9) 5. Michael Wilson (4) 6. Bobby Honeyman (5) 7. David Real (2) 8. Chris Hamilton (DH) 9. Nick Gande (6)
Stony Brook starting pitcher: Sam Turcotte (0-0)