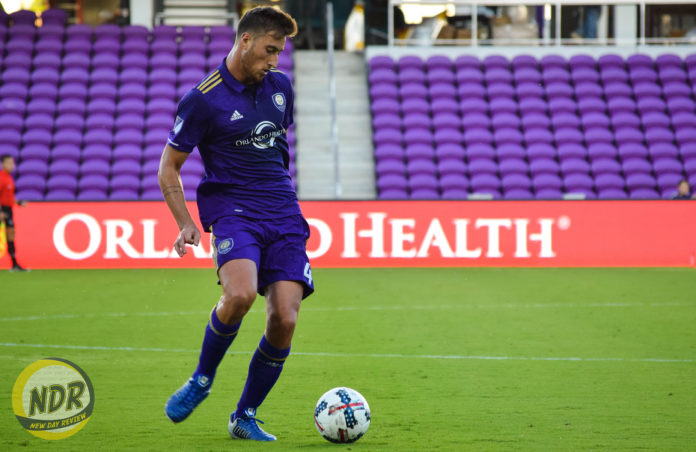 Thirty-four.
That's the number of shutouts Orlando City SC goalkeeper Joe Bendik wants in the 2017 season. While the second-year Lions goalie knows that is highly unlikely, he said that's the kind of mentality the team needs.
"That's the mentality you have to go into every single game with. Is it likely? No," Bendik said during the team's media day on Tuesday. "But if you go into each game with that mentality, I think you've set a standard for yourself to try to go for shutouts, and if this team holds a shutout, we're in an unbelievable position."
For Orlando City, a mentality change has been at the heart of the new-look, new-feel Lions. Specifically to the team's defense, it begins with a simple objective: Keep the ball out of the back of the net.
That's first-year City goalkeeper coach Tim Mulqueen's philosophy.
"First, it's very simple. The first thing we want to do is make sure the ball doesn't go behind us," Mulqueen said after training on Feb. 13. "I mean, you laugh, but that's key. So many people get wrapped in goalkeepers being field players and being able to play with their feet. No, the main job is to keep the ball from going in."
That's a task that could be difficult for a new and relatively unfamiliar back-line. For starters, starting right-back Rafael Ramos and back-ups Kevin Alston and Tony Rocha are all out with injuries. On the other hand, City also added a bevy of new defenders, including center-back Jonathan Spector and outside backs Donny Toia, Victor "PC" Giro and Scott Sutter.
Spector, though, has seen significant progress in the preseason with his new team. For him, the coaching staff has disciplined the group and set up the team for success.
"I don't know exactly what it was like before…but any time you've got a turnover of players, I think, particularly on the back-line, you need to have cohesion, and I think we've worked really hard on that to get that," Spector said during the team's media day on Tuesday. "I think there's a lot of cooperation that goes into it. And, for any team, it's important to have a solid foundation, a solid base to work from."
One of the challenges the back-line has faced is a language barrier between English-speaking Spector and fellow center-back and Spanish-speaking José Aja. For Spector, though, the language of soccer is the two players' connection.
"Between José and myself, [communication's] gonna be very important, being the two central defenders in that back four," Spector said. "There is the language barrier. José speaks pretty good English, though. I think there's words that you use on a soccer field that he understands, I understand, whether it's English, Spanish—whatever language it might be."
And while communication is important to Bendik, the 27-year-old keeper reiterated, perhaps coincidentally, his goalkeeper coach's approach to defending as being the No. 1 concern.
"People talk about communication and about all these different things, but it really just boils down to one thing, and that's your passion and your commitment to keep the ball out of the back of the net," Bendik said. "And I think that's one thing that's changed in this team as a whole is our commitment towards each other and our commitment towards that goal of winning and to keep the ball out of the back of the net."
It was a preseason moment that helped Bendik and the defense refocus themselves. Bendik said his team's 4-0 and 3-1 training-scrimmage losses to Toronto FC on Feb. 19 "lit a fire" under the Lions.
"I think the preseason game against Toronto is probably the most I've ever felt in a preseason game, I guess you could say, in that we got our asses handed to us," he said. "And we came in the next day with this fire lit underneath us to really try to defend as a team and to really show a lot of passion in our defending."
That wake-up call proved to be fruitful, as Orlando City would nearly shut out Saint Louis FC in a 3-1 win at Orlando City Stadium if not for an 89th-minute goal by Milan Petosevic. On Sunday, the Lions will face their first real test against New York City FC.
Second-year City head coach Jason Kreis' message at the team's media day on Tuesday perhaps epitomized the new mentality for his team.
"[NYCFC is] a dangerous team," Kreis said. "There's no doubt about it. It's a big, big challenge for us. But we're not afraid of it, and we're not going into this game feeling as if we're the underdogs. We're going into this game confident. This is the beginning of the season.
"We're a different team with a different mentality and a different spirit. We're in our home. We will protect our home fiercely."
City hosts NYCFC in Orlando City Stadium on Sunday at 5 p.m. to start each team's 2017 campaign.