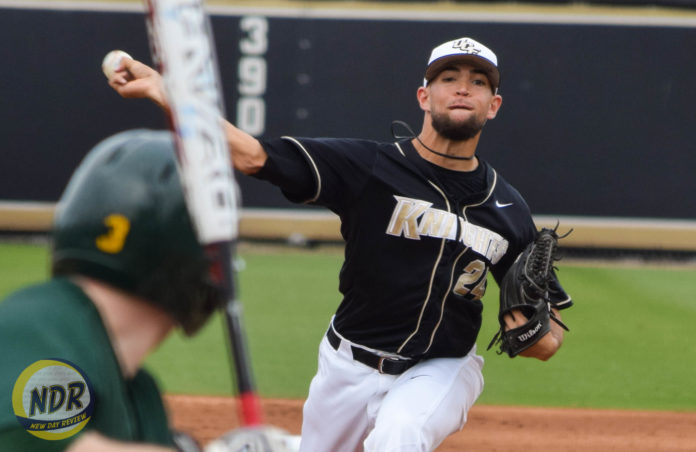 Game Recap
A Saturday bout with Siena College saw the University of Central Florida come back down to Earth. After defeating the Saints 17-6 on Opening Night, the Knights (2-0) defeated the Saints (0-2) 3-0 at Jay Bergman Field.
"The bats didn't show up as well as we should've," first-year Knights head coach Greg Lovelady said after the game. "I thought we were a little over-aggressive, beat the ball into the ground a lot. That freshman had a good arm—a little sneaky, short-arm action and kept the ball down in the zone with some sink. And we just kept pounding the ball into the ground, not waiting for him to elevate pitches."
Juan Pimentel (1-0) got the start on the mound for the Knights, pitching 5.1 innings with two hits, one walk and four strikeouts. Bryce Tucker recorded the save, striking out three and allowing a walk and a hit.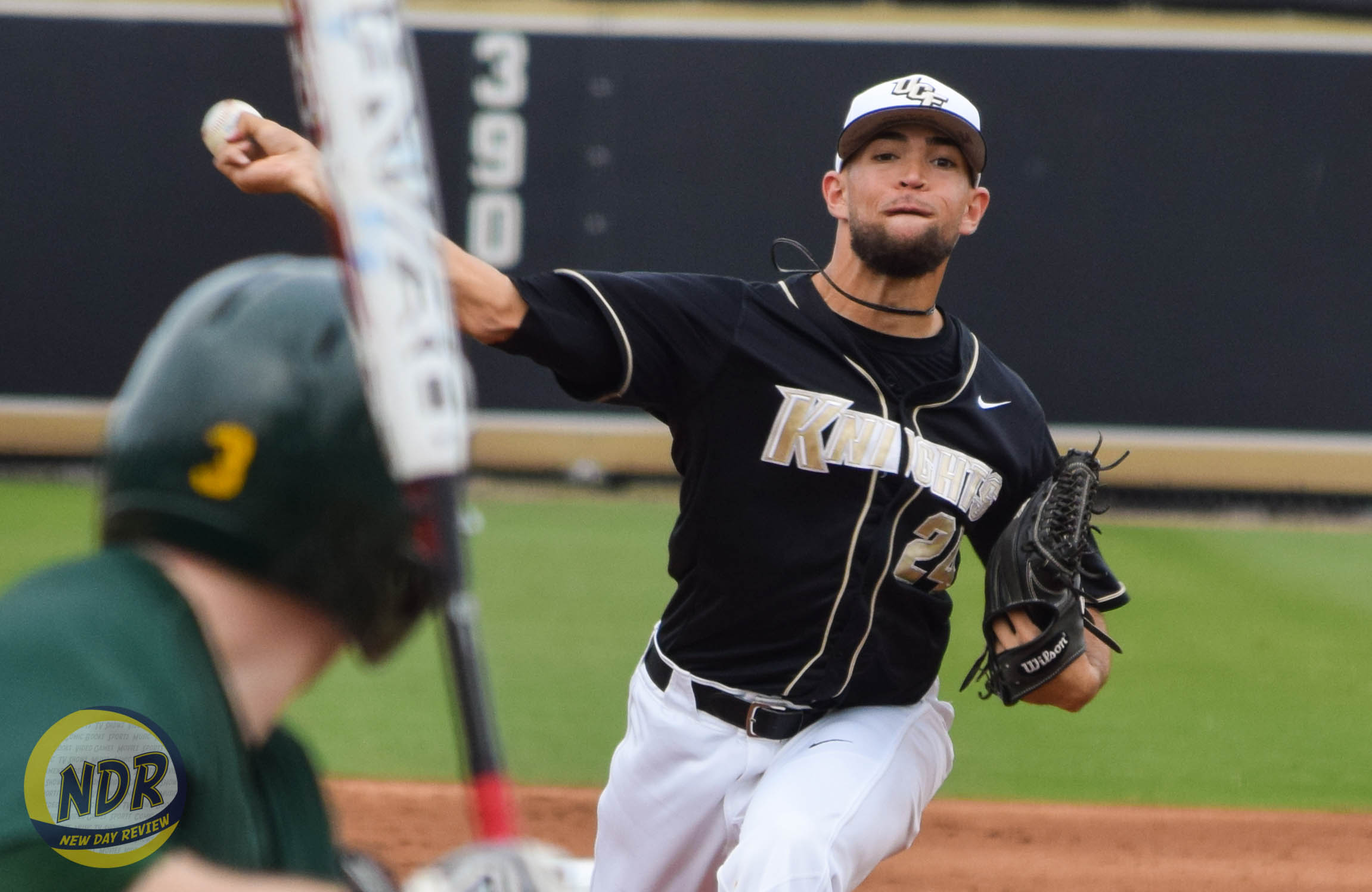 "Honestly, my stuff was really, really bad," Pimentel said after the game. "You can't see it 'cus of the outcome of the game, but my fastball wasn't there, the breaking ball wasn't there. I was able to manage and get out of situations. But, honestly, I had a lot of work to do, and it wasn't a great outing for me.
"That's Lovelady's first thing. It's all a mental game. Those are situations where you need that the most. When you don't have your physical stuff, the mental game comes into play. And that's what I did today. I just grind it out and found a way to give us a win."
With the Knights leading 3-0 entering the ninth inning, Tucker entered the game for the save. He struck out his first two batters but walked and allowed a single on his next two batters. He closed out the win with a strikeout that left Siena's Dan Lowndes frozen in his spot.
"[Tucker's] gonna get the job done," sophomore first baseman Kyle Marsh said after the game. "I know that we have a good staff, and we trust each other. We knew he was gonna get the job done."
UCF scored in the first, fifth and eighth innings. Brennan Bozeman hit a two-out base hit to drive in Marsh, who hit a two-out triple, to open the scoring. Luke Hamblin hit a sacrifice bunt to put Matthew Mika in scoring position after he hit a lead-off single in the fifth. Mike stole third before being driven by Eli Putnam when he grounded out to the shortstop. Marsh added an insurance run in the bottom of the eighth with an RBI double that brought in Putnam.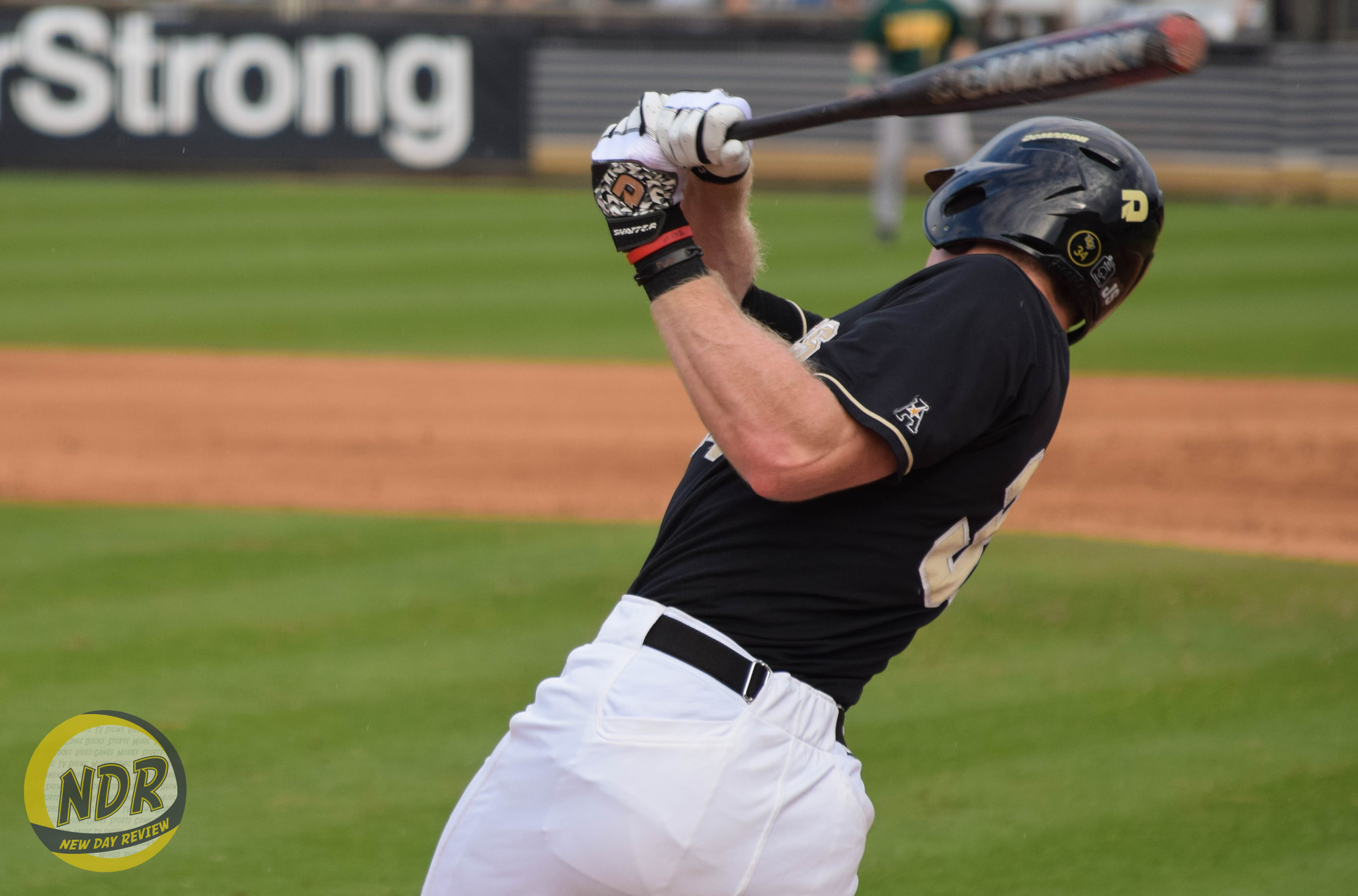 Player of the Game: Kyle Marsh
Marsh finished the game 2-for-4 with a run, an RBi, a double and a triple. He sat out last season due to injury.
"[Sitting out last season] helped a lot," Marsh said. "Like I said…sitting in the dugout, watching every single game last year, I was down on myself. But coming out here and being able to play and help my team out, it was awesome. I think it's really helped me what I did last year with the mental game—just sitting there, watching every rep—and it's shown."
Marsh came close to a home run over the center-field wall. It ended up being his lone triple.
"At first, I thought I had it," Marsh said. "Around second, I thought he caught it. And then saw the ball on the ground and just kept running. But, yeah, I definitely thought it was out, but it was a good play."
What's next?
UCF hosts Siena for the series-finale in a 1 p.m. game on Sunday.
Highlights
Pimentel to Beaver to Bozeman for a strike 'em out throw 'em out double play! Then a ground ball out ends the top half of the first. pic.twitter.com/eOs3GteXp4

— UCF Baseball (@UCF_Baseball) February 18, 2017
Marsh nearly goes yard with a triple to center field! Bozeman follows with an RBI single. Knights lead 1-0 after one. #ChargeOn pic.twitter.com/i41hbTuzGz

— UCF Baseball (@UCF_Baseball) February 18, 2017
Here's how we took a 2-0 lead in the 5th!#ChargeOn pic.twitter.com/XKkMtTzhLf

— UCF Baseball (@UCF_Baseball) February 18, 2017
.@ChrisWilliams_3 gets us out of a jam with a big strike out!

Knights lead 2-0 B6#ChargeOn pic.twitter.com/XmDllYzXRx

— UCF Baseball (@UCF_Baseball) February 18, 2017
.@Kylemarsh8 hits a rope to right-center scoring Putnam from 2nd. We're up 3-0 headed to the 9th vs @SienaBaseball!#ChargeOn pic.twitter.com/UkAjEcldtx

— UCF Baseball (@UCF_Baseball) February 18, 2017
NDR Notes
Four Knights combined for UCF's six hits. Marsh and Mike each had two hits while Putnam and Bozeman each had one.
Last season, the Knights started the season 3-0 with wins against Siena. UCF has a chance to do that again with a win on Sunday.
Scoring
| | | |
| --- | --- | --- |
| | University of Central Florida | Siena College |
| Runs | 3 | 0 |
| Hits | 6 | 3 |
| Errors | 1 | 0 |
| Left on Base | 5 | 7 |
| | | | |
| --- | --- | --- | --- |
| Inning | Team | Play | Score |
| B1 | University of Central Florida | Brennan Bozeman singled to catcher, RBI; Kyle Marsh scored | 1-0, UCF |
| B5 | University of Central Florida | Eli Putnam grounded out to shortstop, RBI; Matthew Mika scored | 2-0, UCF |
| B8 | University of Central Florida | Kyle Marsh doubled to right-center field, RBI; Eli Putnam scored | 3-0, UCF |
Statistics and Starting Lineup
Pitching
| | | | | | | | |
| --- | --- | --- | --- | --- | --- | --- | --- |
| Player | Team | IP | R | ER | H | BB | SO |
| Juan Pimentel (1-0) | University of Central Florida | 5.1 | 0 | 0 | 2 | 1 | 4 |
| Brendan White (0-1) | Siena College | 5.0 | 2 | 2 | 3 | 2 | 1 |
Hitting
| | | | | | | | | |
| --- | --- | --- | --- | --- | --- | --- | --- | --- |
| Player | Team | AB | H | R | HR | RBI | BB | SO |
| Kyle Marsh | University of Central Florida | 4 | 2 | 1 | 0 | 1 | 0 | 0 |
| Matthew Mika | University of Central Florida | 3 | 2 | 1 | 0 | 0 | 0 | 0 |
| Dan Lowndes | Siena College | 4 | 1 | 0 | 0 | 0 | 0 | 1 |
UCF starting lineup: 1. Eli Putnam (9) 2. Ryan Crile (DH) 3. Kyle Marsh (3) 4. Brennan Bozeman (6) 5. Kam Gellinger (5) 6. Bryce Peterson (7) 7. Dallas Beaver (2) 8. Matthew Mika (4) 9. Luke Hamblin (8)
UCF starting pitcher: Juan Pimentel (0-0)
Siena starting lineup: 1. Dan Swain (8) 2. Jordan Bishop (4) 3. Joe Drpich (3) 4. Phil Madonna (2) 5. Chris Davignon (7) 6. Matt Hamel (DH) 7. Dan Lowndes (9) 8. Jordan Folgers (5) 9. Max Goione (6)
Siena starting pitcher: Brendan White (0-0)