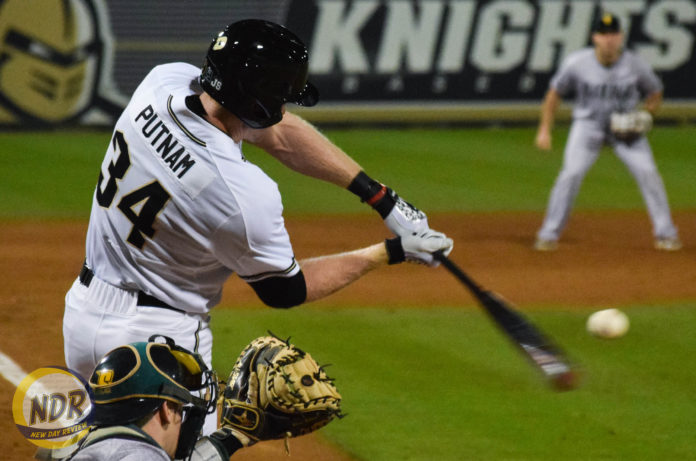 Game Recap
Under first-year University of Central Florida head coach Greg Lovelady, the Knights jumped out to a hot start in the team's season-opener. On Friday night, UCF (1-0) defeated Siena College (0-1) 17-6 at Jay Bergman Field.
Robby Howell (1-0) got the start on the mound, pitching 5.0 innings with six hits, three earned runs, no walks and nine strikeouts. Siena's Tommy Miller (0-1) got the loss, giving up nine earned runs on eight hits in just 0.1 innings.
"I think just command early in the zone [helped me], obviously," Howell said after the game. "Just throwing the ball over the plate and letting things happen. We played some good defense. Just overall good night. Put up a lot of runs early which makes it lot easier to pitch and throw a lot more strikes."
UCF opened its season with a high-scoring first inning. On lead-off hitter Eli Putnam's second pitch, the senior right fielder sent a bomb over the left-center field wall. That epitomized what turned into a 10-run first inning that was highlighted by Putnam's bomb and Ryan Crile's three-run homer to cap the first-inning scoring.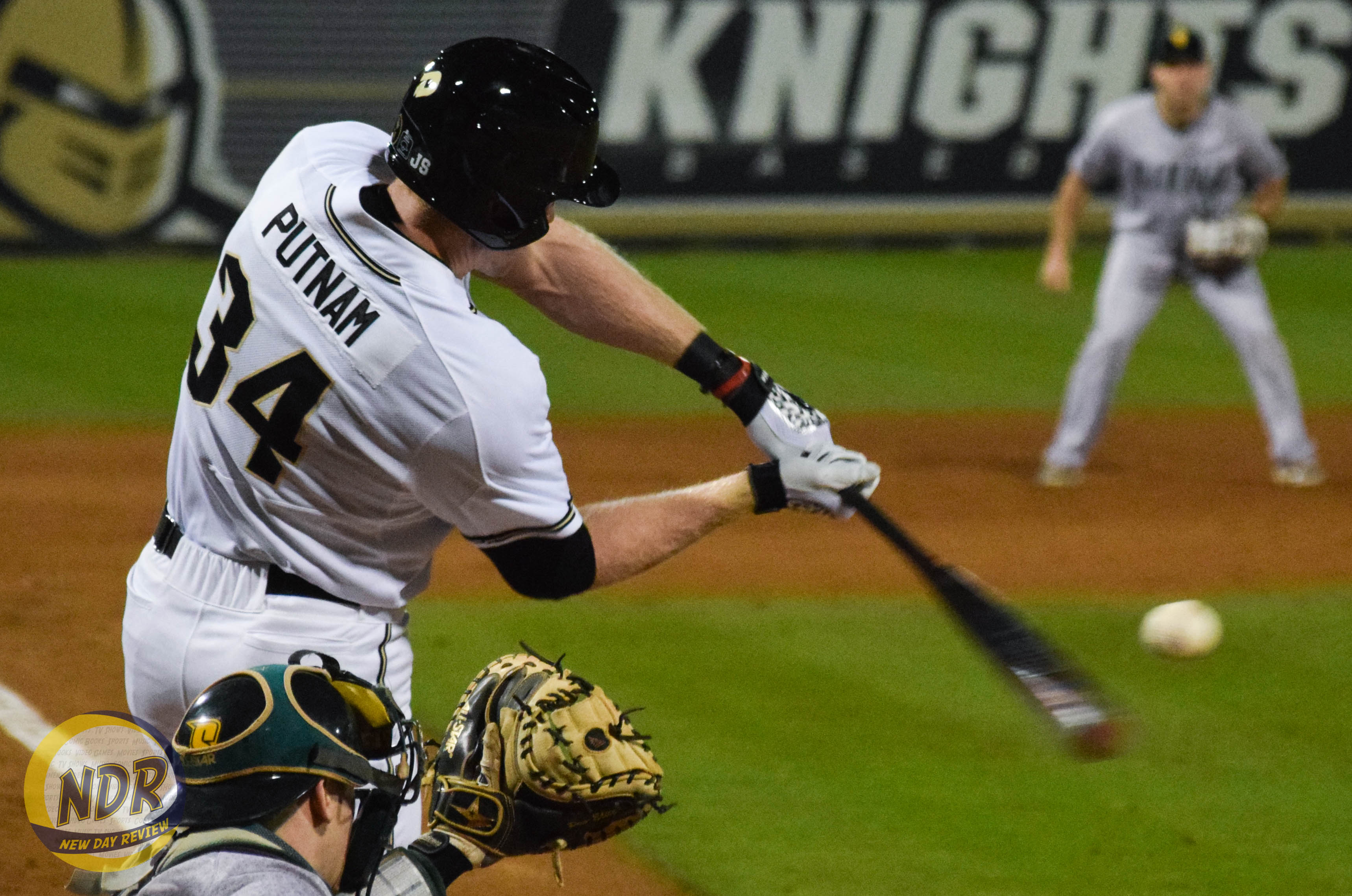 "Definitely made me feel a lot better. The nerves definitely calmed after that," Lovelady said after the game. "Just really proud of the guys. We came out swinging the bats. Obviously, Eli Putnam—second pitch of the game got us really geeked up and kinda the rest of the guys followed right after that."
The Knights would add on a run in the second and fourth innings. Junior Logan Heiser hit a sacrifice fly to right field that drove in Bryce Peterson, who hit a lead-off double to start the bottom half of the second inning. Third baseman Kam Gellinger scored after a lead-off single in the fourth inning courtesy of senior Luke Hamblin's single through the right side.
"After today, I don't know how you can change [the starting lineup]" Lovelady said. "We'll probably stick with the same lineup. I gotta go back and look at the scouting report on this guy. He's a right-hander, but I can't imagine we'll change anything."
The Saints didn't go quietly, though, as they scored five runs toward the middle stretch of the game. With two outs already away, Siena's Max Goione smacked a base hit to shallow left field to drive in Chris Davignon for the first of three runs in the top of the fifth inning. Goione would score himself on an error. Jordan Bishop doubled to left field to drive in Dan Swain to end the fifth-inning scoring.
A two-run homer by Swain in the seventh inning made the score 12-5 before the Knights scored five unanswered runs in the seventh.
"Robby Howell went out after that big 10-run inning and struck out the side. And we kinda got lackadaisical," Hamblin said after the game. "It kinda showed. We kinda put up some zeroes. But then we came back and started adding some runs. So we kinda tailed off a little bit, then we got back on the horse and started adding some runs."
Hamblin hit 4-for-5 with a run, four RBIs and one home run short of hitting the cycle.
Player of the Game: UCF Bats
The Knights haven't scored 17 runs since the 2008 season. In Friday night's win, every batter in the starting lineup had at least a hit with Putnam hitting a solo homer and Crile smashing a three-run bomb.
What's next?
UCF continues a three-game home series with Sienna on Saturday at 6:30 p.m.
Highlights
Welcome to 2017! Eli Putnam with a lead-off home run to start the Lovelady era! #ChargeOn pic.twitter.com/qjEHDkgYzY

— UCF Baseball (@UCF_Baseball) February 17, 2017
This time @rcrile goes yard with a 3-run blast to right! Knights lead 10-0 in the bottom of the first. #ChargeOn pic.twitter.com/kAdGPvRJEa

— UCF Baseball (@UCF_Baseball) February 18, 2017
T5 – @robbyhowell2 has 6 stirkeouts through four innings, stuck out the side in the second! Knights lead the Saints 12-0. pic.twitter.com/UkE133nkfc

— UCF Baseball (@UCF_Baseball) February 18, 2017
Hey @CoachLovelady23! Your thoughts on win No. 1? 👇 pic.twitter.com/lPTjeLKnwF

— UCF Knights (@UCFKnights) February 18, 2017
NDR Notes
Last season, the most the Knights scored was 16 runs in a 16-0 win over Cornell University. In Friday's win, UCF scored 17.
UCF last scored 17 runs in a game in a 17-1 win over Florida A&M University on Feb. 22, 2008.
Scoring
| | | |
| --- | --- | --- |
| | University of Central Florida | Siena College |
| Runs | 17 | 6 |
| Hits | 21 | 11 |
| Errors | 1 | 3 |
| Left on Base | 8 | 5 |
| | | | |
| --- | --- | --- | --- |
| Inning | Team | Play | Score |
| B1 | University of Central Florida | Eli Putnam home run to left field, RBI | 1-0, UCF |
| B1 | University of Central Florida | Brennan Bozeman doubled down right-field line, 2 RBIs; Kyle Marsh scored; Ryan Crile scored | 3-0, UCF |
| B1 | University of Central Florida | Bryce Peterson singled through left side, advanced to second on throw, advanced to third on error by third baseman, scored; Kam Gellinger scored; Brennan Bozeman scored | 6-0, UCF |
| B1 | University of Central Florida | Luke Hamblin doubled to left-center field, RBI; Logan Heiser scored, unearned | 7-0, UCF |
| B1 | University of Central Florida | Ryan Crile, homered down right-field line, 3 RBIs; Eli Putnam scored; Luke Hamblin scored | 10-0, UCF |
| B2 | University of Central Florida | Logan Heiser flew out to right field, sacrifice fly, RBI; Matthew Mika advanced to second; Bryce Peterson scored | 11-0, UCF |
| B4 | University of Central Florida | Luke Hamblin singled through right side, RBI; Matthew Mika advanced to third; Kam Gellinger scored | 12-0, UCF |
| T5 | Siena College | Max Goione singled through left side, RBI; Chris Davignon scored | 12-1, UCF |
| T5 | Siena College | Dan Swain singled up middle; Max Goione advanced to third, scored on error by first baseman | 12-2, UCF |
| T5 | Siena College | Jordan Bishop doubled to left field, RBI; Dan Swain scored | 12-3, UCF |
| T7 | Siena College | Dan Swain homered to left field, 2 RBIs; Dan Lowndes scored | 12-5, UCF |
| B7 | University of Central Florida | Kam Gellinger singled through right side, RBI; Brennan Bozeman advanced to second; Kyle Marsh scored | 13-5, UCF |
| B7 | University of Central Florida | Logan Heiser singled to right field, 2 RBIs; Matthew Mika advanced to third; Kam Gellinger scored; Brennan Bozeman scored | 15-5, UCF |
| B7 | University of Central Florida | Luke Hamblin tripled down right-field line, 2 RBIs; Max Wood scored; Matthew Mika scored | 17-5, UCF |
| T9 | Siena College | Nico Ramos home run, RBI | 17-6, UCF |
Statistics and Starting Lineup
Pitching
| | | | | | | | |
| --- | --- | --- | --- | --- | --- | --- | --- |
| Player | Team | IP | R | ER | H | BB | SO |
| Robby Howell (1-0) | University of Central Florida | 5.0 | 3 | 3 | 6 | 0 | 9 |
| Tommy Miller (0-1) | Siena College | 0.1 | 10 | 9 | 8 | 1 | 1 |
| Matt Pierce | Siena College | 3.2 | 2 | 2 | 6 | 0 | 4 |
Hitting
| | | | | | | | | |
| --- | --- | --- | --- | --- | --- | --- | --- | --- |
| Player | Team | AB | H | R | HR | RBI | BB | SO |
| Luke Hamblin | University of Central Florida | 5 | 4 | 1 | 0 | 4 | 0 | 0 |
| Logan Heiser | University of Central Florida | 4 | 2 | 1 | 0 | 3 | 0 | 0 |
| Ryan Crile | University of Central Florida | 3 | 1 | 2 | 1 | 3 | 2 | 0 |
| Eli Putnam | University of Central Florida | 5 | 2 | 2 | 1 | 1 | 0 | 2 |
UCF starting lineup: 1. Eli Putnam (9) 2. Ryan Crile (DH) 3. Kyle Marsh (3) 4. Brennan Bozeman (6) 5. Kam Gellinger (5) 6. Bryce Peterson (7) 7. Matthew Mika (4) 8. Logan Heiser (2) Luke Hamblin (8)
UCF starting pitcher: Robby Howell (0-0)
Sienna starting lineup: Dan Swain (8) 2. Jordan Bishop (4) 3. Joe Drpich (3) 4. Alex Brickman (DH) 5. Kelly  Brian (5) 6. Phil Madonna (2) 7. Chris Davignon (7) 8. Zach Durfee (9) 9. Max Goione (6)
Sienna starting pitcher: Tommy Miller (0-0)