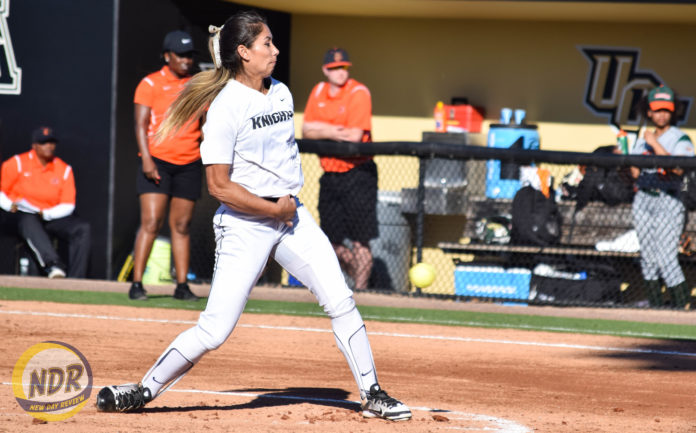 Game Recap
The University of Central Florida lost its second of two games at the Mary Nutter Classic against the University of California, Los Angeles. The Knights (3-4) lost to No. 8 UCLA (8-1) 1-0 at the Mary Nutter Classic in Palm Springs, Calif in front of an announced crowd of 126 Friday night. UCF beat the Cal Poly Mustangs in nine innings 2-1 earlier in the day.
Senior pitcher Manami Calixto (1-1) started her second game of the season, going 6.0 innings with five hits, no earned runs and three strikeouts. For the Bruins, Johanna Grauer went 7.0 innings with two hits, one walk and six strikeouts.
"[Manami] was able to work in the change-up, keeping them off balance," Knights head coach Renee Luers-Gillispie said after the game, per UCF Communications. "She just did a fantastic job on the mound. I have to say kudos to [catcher Autumn Gillespie]. She really stepped up, called both games and did a great job of studying the batters, understanding what we needed to do with each one."
The bottom of the fourth inning was when the lone run of the game was scored. UCLA capitalized on multiple UCF mistakes after the Bruins' Bubba Nickles hit a lead-off single. A fielding error by shortstop Brittany Solis allowed Nickles to advance to scoring position and Rachel Garcia to reach first. After a wild pitch by Calixto put runners on second and third, UCLA's Madeline Jelenicki singled to left field to drive in Nickles.
"It was a heartbreak against UCLA," Luers-Gillispie said. "We had every opportunity to win that game."
UCF had opportunities to score but ultimately left three runners stranded on base. Courtney Rotton couldn't reach home after her double to left field in the top of the second inning. Gillespie and center fielder Megan Greenwell struck out swinging on the next two at-bats.
The Knights had one final opportunity in the sixth inning to at least tie the game. Tiffany Lower came in to pinch run for Solis after she was walked. A passed ball allowed Lower to advance all the way to third. She ultimately was called out at home on a fielder's choice that let Linnea Goodman get to second. Third baseman Tamesha Glover flew out to left field to end the threat.
For Luers-Gillispie, the Knights got what they were looking for in the first two of four games in California. In addition to getting an extra-innings win, the Knights also got to face a top-10 team in the Bruins.
Player of the Game: Johanna Grauer
Grauer threw 98 times on Friday, allowing only two hits against UCF. Grauer is now 3-1 this year with her lone loss coming against the University of Kentucky.
What's next?
UCF continues play in the Mary Nutter Classic with games against the Loyola Marymount University at 6 p.m. and the University of California at 8:30 p.m. on Saturday.
Highlights
A K by @ManamiCg strands a UCLA runner at third, 0-0 T3#ChargeOn pic.twitter.com/e8asARylg1

— UCF Softball (@UCF_Softball) February 17, 2017
1st & 3rd? Not a problem for Autumn Gillespie. @UCF_Softball #MaryNutter pic.twitter.com/wopITrglJf

— FloSoftball (@FloSoftball) February 17, 2017
 NDR Notes
Grauer threw 32 more pitches that Calixto, outpitching Calixto 98-66.
In her second start and second outing, Calixto pitched a complete game, not allowing a single earned run.
Scoring
| | | |
| --- | --- | --- |
| | University of California, Los Angeles | University of Central Florida |
| Runs | 1 | 0 |
| Hits | 5 | 2 |
| Errors | 1 | 1 |
| Left on Base | 3 | 3 |
| | | | |
| --- | --- | --- | --- |
| Inning | Team | Play | Score |
| B4 | University of California, Los Angeles | Madeline Jelenicki singled to left field, RBI (0-0); Rachel Garcia advanced to third; Bubba Nickles scored, unearned | 1-0, UCLA |
Pitching
| | | | | | | | |
| --- | --- | --- | --- | --- | --- | --- | --- |
| Player | Team | IP | R | ER | H | BB | SO |
| Johanna Grauer (3-1) | University of California, Los Angeles | 7.0 | 0 | 0 | 2 | 1 | 6 |
| Manami Calixto (1-1) | | | | | | | |
Hitting
| | | | | | | | | |
| --- | --- | --- | --- | --- | --- | --- | --- | --- |
| Player | Team | AB | H | R | HR | RBI | BB | SO |
| Kylee Perez | University of California, Los Angeles | 3 | 2 | 0 | 0 | 0 | 0 | 0 |
| Bubba Nickles | University of California, Los Angeles | 3 | 1 | 1 | 0 | 0 | 0 | 0 |
| Madeline Jelenicki | University of California, Los Angeles | 1 | 1 | 0 | 0 | 1 | 0 | 0 |
| Cassady Brewer | University of Central Florida | 3 | 1 | 0 | 0 | 0 | 0 | 0 |
| Courtney Rotton | University of Central Florida | 3 | 1 | 0 | 0 | 0 | 0 | 0 |

UCLA starting lineup: 1. Delaney Spaulding (6) 2. Kylee Perez (4) 3. Bubba Nickles (5) 4. Rachel Garcia (DP) 5. Paige Halstead (2) 6. Madeline Jelenicki (9) 7. Brianna Tautalafua (3) 8. Gabrielle Maurice (8) 9. Zoe Shaw (7)
UCLA starting pitcher: Johanna Grauer (2-1)
UCF starting lineup: 1. Brittany Solis (6) 2. Linnea Goodman (7) 3. Tamesha Glover (5) 4. Cassady Brewer (4) 5. Courtney Rotton (DP) 6. Autumn Gillespie (2) 7. Megan Greenwell (8) Jazmine Esparza (3) Kyra Klarkowski (9)
UCF starting pitcher: Manami Calixto (1-0)