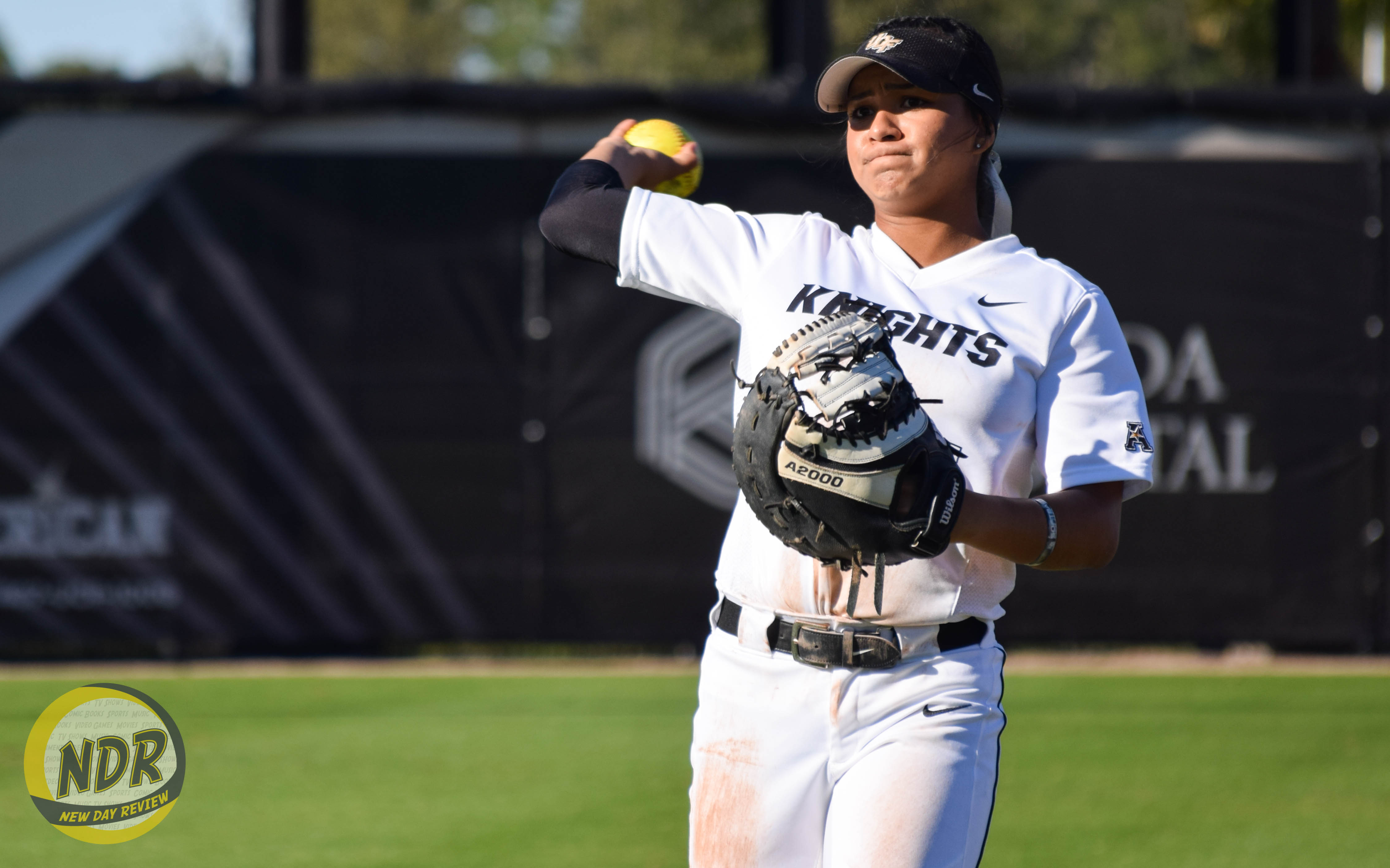 Game Recap
The University of Central Florida was pushed to the limit Friday morning. The Knights (3-3) defeated the Cal Poly Mustangs (4-2) 2-1 in nine innings at the Mary Nutter Classic in front of an announced crowd of 180.
Freshman pitcher Alea White (1-3) tallied her first win of the season after starting her career 0-3). She allowed no earned runs, three hits, five walks and struck out five in 9.0 innings pitched. Lindsey Chalmers (1-1) suffered her first loss, going 8.2 innings with three hits, six walks and nine strikeouts.
Both the Knights and Mustangs were scoreless until the eighth inning when both teams scored a run. It was the Knights' game to win, though, as they scored the walk-off run in the bottom of the ninth.
After a wild pitch sent a walked Megan Greenwell to second and first baseman Cassady Brewer to third, first baseman Jazmine Esparza stepped to the plate for her second at-bat after being walked in the seventh. On a 1-0 count, the freshman smacked a walk-off single to second base to score Brewer.
Cal Poly struck first in the eighth inning, though, when the Mustangs' junior Courtney Tyler hit a sacrifice fly to right field to bring home Amanda Sandoval for the game's first run. It was set up when Cal Poly infielder Chelsea Convissar laid down a sacrifice bunt to advance Sandoval from second to third base.
UCF responded with a run of their own in the bottom of the eighth to stay alive. In left fielder Linnea Goodman's fourth and final at-bat of the game, she singled up the middle on a 1-2 count to drive in designated player Courtney Rotton for the tying run.
Player of the Game: Alea White
White recorded her fourth start of the season, pitching her third-straight complete game. Her past two starts have been extra-inning bouts, as the Knights lost to the University of Pittsburgh 6-3 in eight innings on Sunday, Feb. 12.
What's next?
The Knights will take on the UCLA Bruins at 9 p.m.
Highlights
WALKOFF! @jme0713 comes through and we down Cal Poly, 2-1 (9 inn.) #ChargeOn #PlayGold #MaryNutter pic.twitter.com/AGHSdvGKgo

— UCF Softball (@UCF_Softball) February 17, 2017
NDR Notes
This is the second time a freshman has walked off for the Knights this season. Freshman Ali Little hit a walk-off RBI double to help the Knights win 10-2 in six innings over Florida A&M University on Friday, Feb. 10.
White pitched her second-straight complete game and made her fourth career start, earning her first win of the season.
Scoring
| | | | |
| --- | --- | --- | --- |
| Inning | Team | Play | Score |
| T8 | California Polytechnic State University | Courtney Tyler flew out to right field, sacrifice fly, RBI; Amanda Sandoval scored | 1-0, CP |
| B8 | University of Central Florida | Linnea Goodman singled up middle, advanced to second on throw, RBI; Courtney Rotton scored | 1-1, T |
| B9 | University of Central Florida | Jazmine Esparza singled to second base, RBI; Megan Greenwell advanced to third; Cassady Brewer scored | 2-1, UCF |
Statistics and Starting Lineups
Pitching
| | | | | | | | |
| --- | --- | --- | --- | --- | --- | --- | --- |
| Player | Team | IP | R | ER | H | BB | SO |
| Alea White (1-3) | University of Central Florida | 9.0 | 1 | 0 | 3 | 5 | 5 |
| Lindsey Chalmers (1-1) | California Polytechnic State University | 8.2 | 2 | 0 | 3 | 6 | 9 |
Hitting
| | | | | | | | | |
| --- | --- | --- | --- | --- | --- | --- | --- | --- |
| Player | Team | AB | H | R | HR | RBI | BB | SO |
| Jazmine Esparza | University of Central Florida | 1 | 1 | 0 | 0 | 1 | 1 | 0 |
| Linnea Goodman | University of Central Florida | 4 | 1 | 0 | 0 | 1 | 0 | 0 |
| Courtney Tyler | California Polytechnic State University | 3 | 0 | 0 | 0 | 1 | 3 | 0 |
UCF starting lineup: 1. Courtney Rotton (DP) 2. Linnea Goodman (7) 3. Tamesha Glover (5) 4. Brittany Solis (6) 5. Cassady Brewer (3) 6. Autumn Gillespie (2) 7. Willow Kalinen (8) 8. Kyra Klarkowski (9) 9. Aubrey Johnson (4)
UCF starting pitcher: Alea White (1-3)
Cal Poly starting lineup: 1. Amanda Sandoval (8) 2. Chelsea Convissar (6) 3. Stephanie Heyward (5) 4. Courtney Tyler (7) 5. Sierra Hyland (DP
Cal Poly starting pitcher: Lindsey Chalmers (1-1)