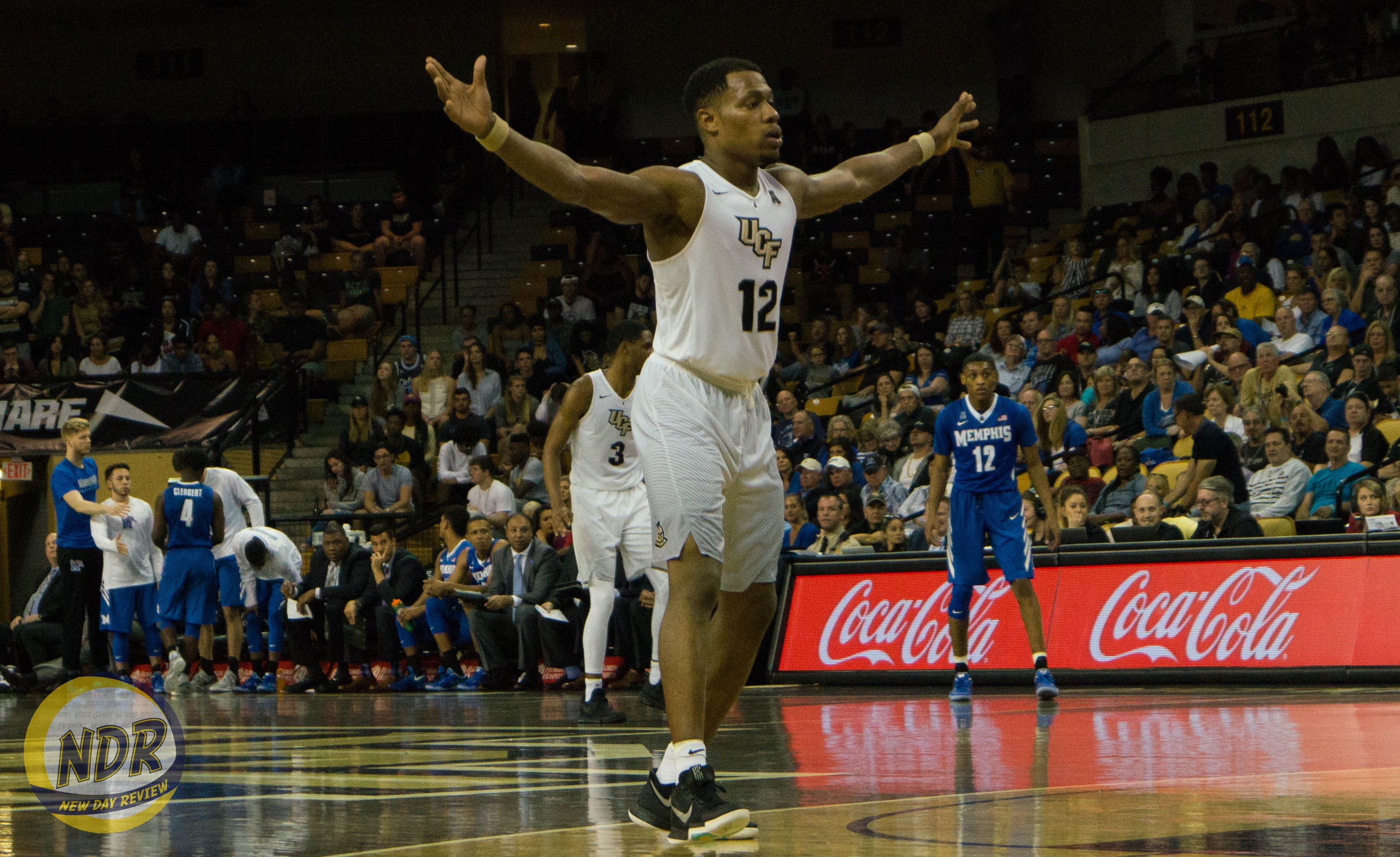 Game Recap
A four-game losing streak has seemed to be a bit of an anomaly for a University of Central Florida team that's had one of its most historic starts in school history. On paper, it looked like the Knights might suffer a fifth-straight loss to the University of Memphis, a school that the Knights were previously only 1-18 against.
On Saturday night, though, the Knights (15-8, 6-5 in American Athletic Conference) won its second-ever game against the Tigers (17-7, 7-4 in AAC) 72-57 at CFE Arena in front of an announced crowd of 5,463.
"It was a big win for us [and] not because of the school but because we had gained some momentum to start the conference [schedule], and then we lost momentum, lost some tough games, especially on the road," first-year Knights head coach Johnny Dawkins said after the game. "We had to rebound from that. And I thought our guys did a great job of bouncing back, and that helped their overall psyche going forward."
The Knights began to break away with a 9-3 run about seven minutes into the second half. Apart from an early second-half three by redshirt sophomore B.J. Taylor, the Knights went scoreless for the first 5:35. Then, redshirt junior A.J. Davis and redshirt senior Matt Williams went on their own 9-3 run.
Davis first sliced into the paint on consecutive possessions and finished with reverse layups. A Taylor steal then led to Williams' fifth and final three of the night. Davis capped off the run with one more inside score to give the Knights a 55-37 advantage, forcing Memphis to call a timeout.
"A.J., I like to talk about him. During one stretch, he had like three-straight layups where he was able to slash to the basket, get there, finish strong," Dawkins said. "And those are plays he's capable of making. I was just happy to see him get in a rhythm of being able to do that.
"Those are huge possessions for us because when you're having to take away B.J., you're having to take away Matt, you have to take away Tacko—so, often times, he'll find the ball in his hands, and I thought his decision-making and finishing at the basket was probably as good as it's been all year."
Ironically, it was free-throw shooting that closed out the game for the Knights. Taylor, who shot 4-for-10 from the charity stripe, drained his two free throws with 1:42 left in the game to give the Knights a 68-57 lead. That was followed by two made free throws by sophomore center Tacko Fall at the 1:04 mark and Davis at the 29-second mark. In total, though, the Knights shot just 50 percent from the line (18-for-36), which is well below their 67.3 percent season average.
"Our kids have been much better free-throw shooters than 18-for-36," Dawkins said, "That was, to me, just the pressures of haven't winning in a while. It reflected, it showed itself at the free-throw line. I think they were pressing—they cared so much about them that they put a little too much pressure themselves at the line."
UCF jumped out to an early double-digit lead while holding Memphis scoreless for the first five minutes. Williams went 2-for-3 from three-point range to start off his 20-point night. In the game-starting 14-2 run, UCF shot a 62.5 percent field-goal percentage while holding Memphis to just 1-for-8 from the field.
Despite Fall going only 1-for-2 from the free-throw line and recording a block in the early run, Dawkins said the hot start began with the 7-foot-6 center.
"Well, one, I think going to Tacko was working for us," Dawkins said. "I think he was really establishing himself low in the post. He had been avoiding fouls, and I told him, 'We just have to play. You can't worry about people calling fouls… But you can't be the only player out there that's not playing aggressive because everyone else on both teams are playing at a high level, and they're aggressive.'"
Fall wouldn't commit his first personal foul until the second half.
Player of the Game: Matt Williams
Williams torched the Tigers, scoring a game-high in points behind 5-for-8 three-point shooting and 5-for-7  from the charity stripe. He also recorded seven rebounds and two assists.
Dawkins didn't mince words when speaking about the Orlando, Fla., native.
"Matt was terrific all game long," Dawkins said. "I thought he just really established a presence for us out there, and he's one of the best shooters in our conference and in the country. I always say that, and he showed why again tonight."
What's next?
The Knights will travel to face the Cincinnati Bearcats who have won 14-straight games and are 10-0 in AAC play. That game will start at 9 p.m.
Back to UCF Defense
In Saturday's win, it appeared the Knights were unusually jumping to contest shots, whereas, in the past, their contentions have merely been grounded close-outs. Dawkins said that was a matter of just taking away the three-point shot for Memphis. For Dawkins and his squad, that's primarily because Fall is in the paint.
"We definitely want to take away the three because we have a guy that's in the paint that patrols it as well as anybody in the country," Dawkins said. "So we can take away your three, then that forces you into the paint, forces you to drive, and Tacko has to be ready to do his job. So that's been something that's actually been missing the last two or three weeks for us, where we've given up too high of percentage from the three-point line. That hadn't been our defense all year.
"So, we got back to UCF defense, so you know that made this coach very happy."
Memphis shot a season-low 30.2 percent from the field, including 21.7 percent from the three-point line.
Tacko Fall's New Moves
For his sixth and seventh points, Fall found himself deep in the paint when Williams delivered the ball to him. À la Hakeem Olajuwon, the Dakar, Senegal, native faked inside and pivoted for a hook shot. The Knights went right back to him on the next possession, and Fall went for the same move but missed.
"Those are moves I worked on all summer, but I just didn't use them because I never really had to," Fall said after the game. "But people are making adjustments playing me, so it's up to me to just change a little bit of the things that I do."
Fall finished the game with 15 points, nine rebounds and four blocks.
Foul Trouble Shortened Lengthy Defense
Late in the second half, 7-foot-6 Fall and 6-foot-9 Davis had both tallied four personal fouls. That led to Dawkins pulling two of his lengthiest defenders and replacing them with 6-foot-9 Chad Brown and 6-foot-8 Nick Banyard.
For Williams, the personnel didn't seem to matter; it was just about keeping Memphis uncomfortable.
"We switched our defenses. We went man. We went zone," Williams said after the game. "Kinda tried to keep giving Memphis different defenses so they wouldn't get comfortable [with] running one thing."
Highlights
A little left in the TANK!

66-55 Knights, 1:43 2nd pic.twitter.com/jTOyan0NRY

— UCF Men's Basketball (@UCF_MBB) February 5, 2017
AJ to the rack!

50-37 Knights, 13:30 2nd pic.twitter.com/LtM31KneHS

— UCF Men's Basketball (@UCF_MBB) February 4, 2017
Tacko ain't real life!

21-11 Knights. #ChargeOn pic.twitter.com/8oR39cMcb2

— UCF Men's Basketball (@UCF_MBB) February 4, 2017
BJ Buckets!

13-0 Knights, 15:45 1st pic.twitter.com/S1cGPUBLa4

— UCF Men's Basketball (@UCF_MBB) February 4, 2017
NDR Notes
Williams had his eighth game with five-plus three-pointers in the win.
UCF held Memphis to 30.2 percent field-goal percentage, the Tigers' lowest of the season.
Four Knights finished in double figures. Taylor had 16, Fall scored 15, and Davis tallied 11.
Entering Saturday's game, Williams was fourth in the nation with 3.8 three-pointers made per game.
Scoring
| | | | |
| --- | --- | --- | --- |
| | 1st Half | 2nd Half | Final |
| University of Central Florida | 43 | 29 | 72 |
| University of Memphis | 26 | 31 | 57 |
Statistics and Starting Lineups
Team Leaders
| | | |
| --- | --- | --- |
| | University of Central Florida | University of Memphis |
| Points | Matt Williams (20) | Dedric Lawson (28) |
| Rebounds | Tacko Fall (9) | K.J. Lawson (11) |
| Assists | A.J. Davis (4) | Jeremiah Martin (5) |
| Blocks | Tacko Fall (4) | Dedric Lawson (1) |
| Steals | B.J. Taylor (2) | Dedric Lawson (3) |
| Turnovers | A.J. Davis, Nick Banyard (4) | Markel Crawford (3) |
| Minutes | Matt Williams, B.J. Taylor (37) | Dedric Lawson (40) |
Team Statistics
| | | | | | |
| --- | --- | --- | --- | --- | --- |
| | Rebounds | Assists | Blocks | Steals | Turnovers |
| University of Central Florida | 40 | 14 | 5 | 4 | 16 |
| University of Memphis | 35 | 14 | 1 | 5 | 9 |
Shooting Percentages
| | | |
| --- | --- | --- |
| | University of Central Florida | University of Memphis |
| FG% | 53.5% | 30.2% |
| 3FG% | 50.0% | 21.7% |
| FT% | 50.0% | 87.5% |
UCF starting lineup: B.J. Taylor (G), Matt Williams (G), Tanksley Efianayi (F), A.J. Davis (F), Tacko Fall (C)
Memphis starting lineup: Jeremiah Martin (G), Markel Crawford (G), K.J. Lawson (G), Jimario Rivers (F), Dedric Lawson (F)