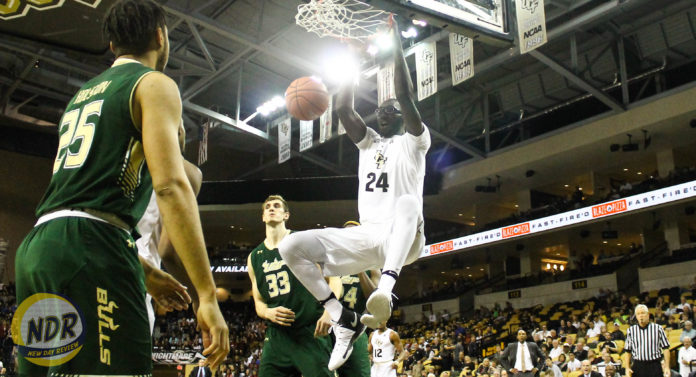 Notes & Quotes: UCF Men's Basketball (1/24)
ORLANDO, Fla. – CFE Arena has treated the University of Central nicely in the 2016-17 season. In fact, only one of the Knights' five losses has come at home. That came in a 58-49 loss to the Penn Quakers back in early December.
But on Wednesday, the Knights (14-5, 5-2 in American Athletic Conference) will be tested with one of the best teams in the AAC. Southern Methodist University (17-4, 7-1 in AAC) will come into CFE Arena boasting the No. 2 spot in the conference. For Knights head coach Johnny Dawkins, a win against SMU is about keeping up with the rest of the conference.
"We're competing to finish at the top of our conference," Dawkins said before practice Tuesday. "It's like all these other teams are. For us to do that, we have to keep pace. So this is an important game for us—keep building momentum and keep moving forward to try to be one of the best teams in our conference."
Fortunately for the Knights, sophomore Tacko Fall is getting back on track. Despite his team's 70-65 loss to the University of Memphis on Sunday, Fall recorded his eighth double-double of the season. He hadn't recorded a double-double since a 71-41 win over Bethune-Cookman University on Dec. 21, 2016.
"I thought we did a really good job of finding [Fall] when he was open in areas where he can be effective," Dawkins said about Fall's performance against Memphis. "I thought he did a very good job of really just keeping it simple around the basketball, getting really good low-post position, which was easier for us to deliver the ball to him for him to finish."
It's obvious that Fall has improved his game significantly since last season—the statistics don't lie. But for Dawkins, the next step in Fall's progression as a player resides in the 7-foot-6 center's ability to be consistent.
"Well, [it's] now starting to string some games together," Dawkins said. "That's the next big step for him is if that production was good, he can have that production a lot of nights. But it's a process to doing that. You have to learn how to do that every night against different defenses and different styles that teams are gonna throw at you."
The defensive end is where Fall has consistently thrived. His mere presence in the paint consistently throws off opposing players, forcing them to alter their shots. So far, he is averaging a team-high 2.4 blocks per game. The next-highest blocker is Chad Brown, who is averaging 0.6 blocks per game.
"[Defense] is gonna be very important tomorrow," Fall said before practice Monday. "If we get ourselves to stay very, very disciplined, it's good to play defense. But, also, you gotta play it the right way. So, things like that, you gotta be very disciplined."
Fall and company will have a tall task ahead of them, as they will have to defend against the Mustangs' Semi Ojeleye. The former Duke Blue Devil is averaging a team-high 17.7 points per game. His 6-foot-8, 230-pound frame will probably call for forward A.J. Davis to occasionally match up with him. Dawkins, though, isn't afraid to throw multiple defenders at Ojeleye.
"Semi is one of the best players in our conference," Dawkins said. "He's very efficient offensively. He's an unorthodox player. He's very versatile. Lot of times, he's playing the 5, but he'll step out and shoot the three. So he's a difficult cover. We have to make sure we're aware of where he is at all times, both for shooting and also for offensive rebounds… But it's gonna take a team effort. It's not gonna be one guy that really slows him down."
For Fall, he's an adamant believer in his team's defense—and with good reason, too. So far this season, the Knights have ranked No. 1 in opposing field-goal percentage (0.345).
"I would say as a whole team, we just kinda gotta keep doing what we've been doing," the Dakar, Senegal, native said. "We've been playing great defense, and that's what's gotten us this far. So we gotta keep it up 'cus defense starts everything. Like, you just get people out of their game just playing good defense."
Tip-off is set for 6 p.m. at CFE Arena on Wednesday night.