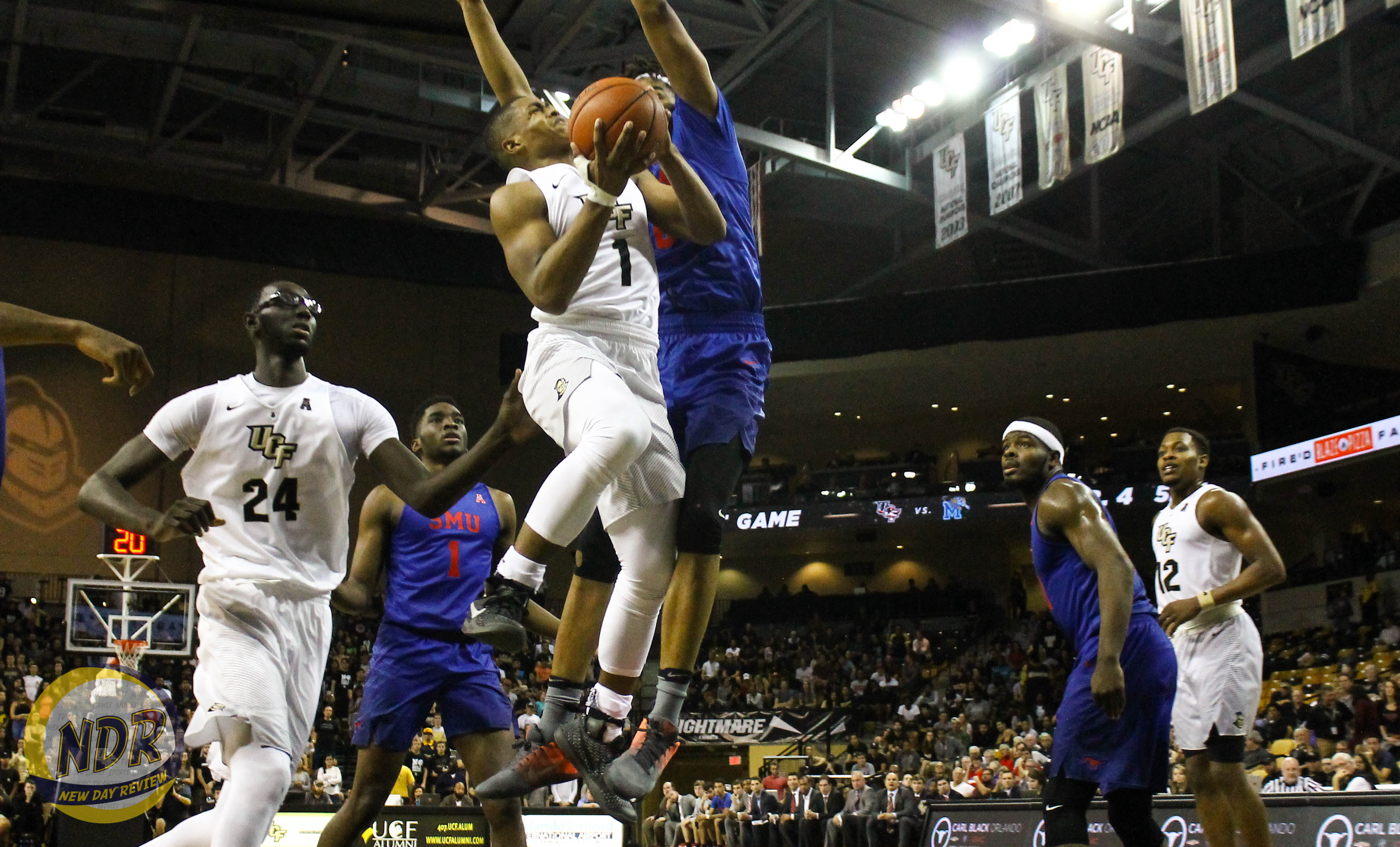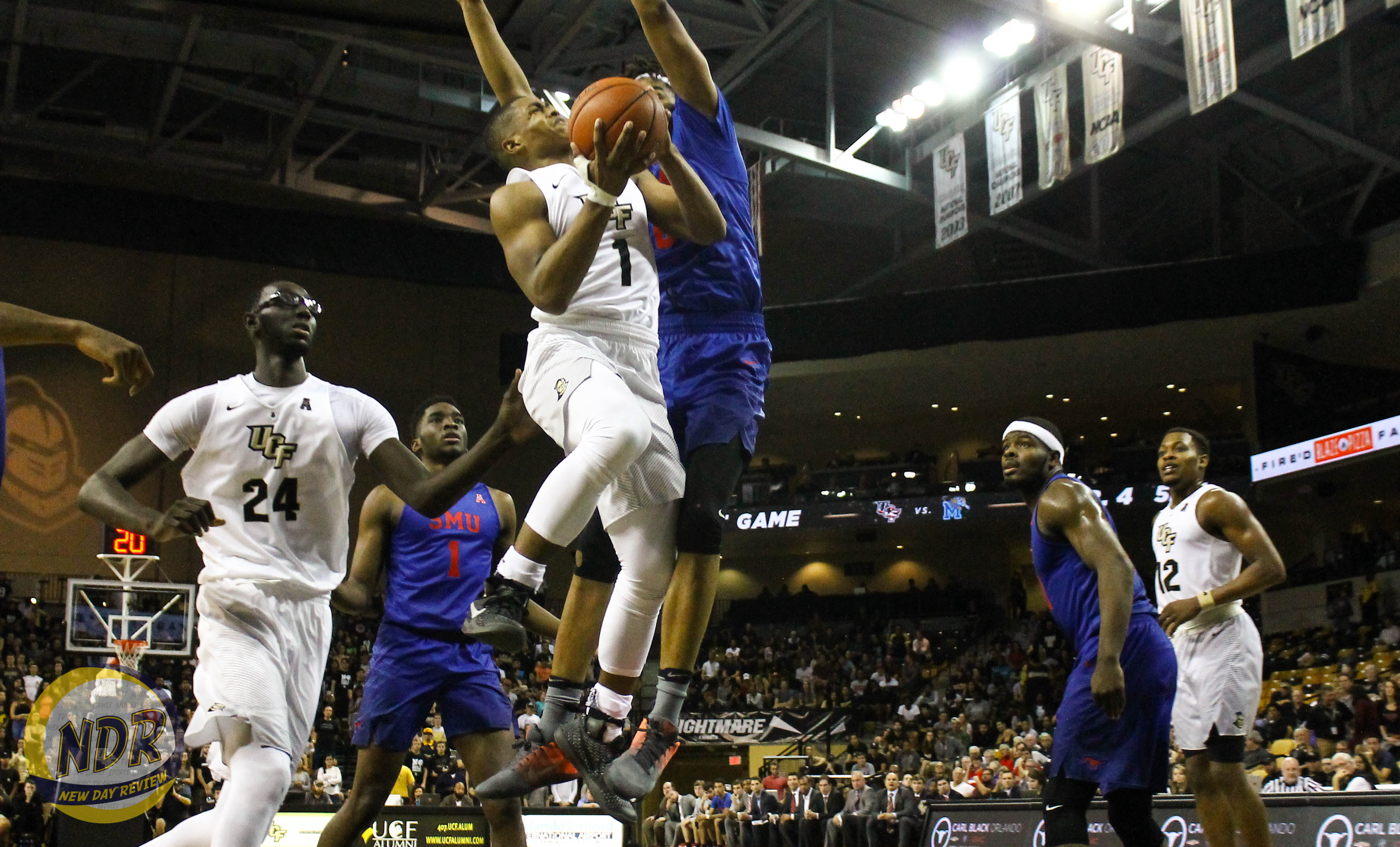 Game Recap
ORLANDO, Fla. – Redshirt sophomore B.J. Taylor's second-half heroics weren't enough for the University of Central Florida to overcome Southern Methodist University's insistent offense. Despite scoring 20 of his game-high 22 points in the second half, the Knights (14-6, 5-3 in American Athletic Conference) fell to the Mustangs (18-4, 8-1 in AAC) 65-60 at CFE Arena Wednesday night.
"I thought B.J. was just more assertive in the second half," UCF head coach Johnny Dawkins said after the game. "I think he didn't take any shots [around the seven-minute mark]. I'm like, 'What are you doing? You're one of our best offensive players. We need you to search yourself out here…' He did a good job of facilitating, but that's all he was doing was facilitating. And that's not who he is, and I'm trying to explain to him that he has to continue to find that balance of you're not a sole distributor, and you're not a sole scorer."
After the first half, Taylor found a rhythm in the second. It began around the 17-minute mark when he went on a personal 6-0 run to cut the Mustangs' lead to six after a three-pointer and an and-1 layup.
Down eight with less than 10 minutes remaining, Taylor continued his scoring effort. The Orlando, Fla., native drove into the paint for another and-1 and responded to Shake Milton's three with one of his own to keep SMU's lead at five.
Taylor finished the game with five assists, eight rebounds and shot 8-for-18 from the field, including 2-for-6 from three-point range.
"[Dawkins] told me to just be aggressive and be myself," Taylor said after the game. "Like I said, everybody has a role on the team, everybody has a job, and one of my jobs is to score the ball. So, second half, I tried to do that and help the team win."
The difference in the result came in the turnovers and assists categories. UCF turned the ball over 15 times compared to SMU's seven. SMU also out-assisted the Knights 21-7.
"Of course, as a competitor, [turnovers are] very frustrating," Dawkins said. "And I know we're capable of cutting these turnovers down. We just gotta keep working on execution, and I believe in our guys. We have good guys… It's a process for some of our guys. A number of them haven't been in these type of situations that often, and so we just have to continue to grow together."
Every time the Knights came close, the Mustangs' insisting offense kept the Knights at bay. After losing the lead at the 8:46 mark in the first half, UCF never led the rest of the way and only came within two.
In addition to Milton's team-high 19 points, Semi Ojeleye tallied 16 points and five rebounds in his 39 minutes of play. The 6-foot-7 junior occasionally found mismatches when both Chad Brown and Tacko Fall were in the game, as the forward stretched the floor with his three-point shooting.
Ojeleye finished the game 2-for-7 from beyond the arc.
"[SMU] surrounds their post player with four shooters," Dawkins said. "So when you do that, it's difficult for us to place Tacko and Chad out there because one of them's gotta guard a three-point shooter. In that case, Chad had to guard Semi Ojeleye, and that's a difficult cover because he's gonna be floating on the perimeter the whole time, and Chad's just not accustomed to guarding guys way out there on the extended possessions."
Player of the Game: Shake Milton
The SMU guard went back and forth with Taylor, shooting 6-for-13 from the field. He also knocked down two of his six three-point attempts and five of his six free throws.
What's next?
UCF will travel Saturday to play the University of Tulsa on Saturday at 1:30 p.m.
'Matt Needs to Grow'
Redshirt senior shooting guard Matt Williams started the game off hot, draining four straight triples midway through the first half after going 0-for-2 from beyond the arc. Unfortunately for the Knights, those would be his only field goals of the game. For Dawkins, that's just a matter of growth.
"You give [SMU] credit," Dawkins said. "I thought they did a really good job of finding him in transition. I thought they lost him early in the game a number of times, and we were able to get off to a good start. I thought when he came off screens initially, we were able to bring him off screens, and he was able to get shots. I thought their guys had a better sense of urgency chasing and wasn't giving him an uncontested shot.
"And then Matt needs to grow. Matt's growth is when they do take that away, Matt's a good enough player to put the ball on the floor and go to the basket."
Williams finished the game just 4-for-12 from the field in 40 minutes.
Fatiguing Knights
Wednesday night's game saw all five of the Knights' starters play at least 33 minutes. The three substitutes—Nick Banyard, Brown and Nathan Laing—didn't break double-digits in minutes. But Dawkins has been aware of this issue before. For the first-year Knights head coach, it won't be an excuse for losing games.
"You look at the box score. Look at what the SMU players played tonight," Dawkins said. "Everyone of their players of their starting lineup played 37, 38 minutes for the most part the entire game.
"So, that won't be our excuse. What we have to do is—we just have to execute better. Our guys are conditioned well enough, and I've never seen great players, as I've said before—I've never seen guys wanna come out of the basketball game."
Tanksley Efianayi played 35 minutes, A.J. Davis played 37, Fall played 33, and Taylor played 39.
Highlights
Tacko dunks so hard his goggles fall off! #ChargeOn pic.twitter.com/muFysy1nRQ

— UCF Men's Basketball (@UCF_MBB) January 25, 2017
Matt hit this and another!

14-10 Knights! pic.twitter.com/LbvnyppqL0

— UCF Men's Basketball (@UCF_MBB) January 25, 2017
We trail 53-48 and BJ's got 16.

Watch the final 9 minutes on ESPNEWS. #ChargeOn pic.twitter.com/020okoIIoy

— UCF Men's Basketball (@UCF_MBB) January 26, 2017
Two more! He's got 20. 60-56. 48 seconds. pic.twitter.com/VntjzF9IcR

— UCF Men's Basketball (@UCF_MBB) January 26, 2017
NDR Notes
Williams' first three-pointer of the night put him in sole possession of second-most career threes in UCF history. Jermaine Taylor is ranked No. 1 overall with 251.
Fall notched his ninth double-double of the season, finishing with 10 points, 12 rebounds and a game-high five blocks in 33 minutes.
On average, UCF holds teams to a nation-best 34.5 percent field-goal percentage. On Wednesday, the Knights allowed SMU to shoot 41 percent.
The Knights also hold teams to an average of 28.9 percent from three-point range. In the loss, SMU shot 36.4 percent from deep.
Following the loss to SMU, the Mustangs now hold a 9-6 advantage in the overall record and are on a six-game win streak against the Knights.
Scoring
| | | | |
| --- | --- | --- | --- |
| | 1st Half | 2nd Half | Final |
| University of Central Florida | 26 | 34 | 60 |
| Southern Methodist University | 35 | 30 | 65 |
Statistics and Starting Lineups
Team Leaders
| | | |
| --- | --- | --- |
| | University of Central Florida | Southern Methodist University |
| Points | B.J. Taylor (22) | Shake Milton (19) |
| Rebounds | Tacko Fall (12) | Ben Moore, Sterling Brown (7) |
| Assists | B.J. Taylor (5) | Ben Moore (6) |
| Blocks | Tacko Fall (5) | Ben Moore (2) |
| Steals | A.J. Davis, Matt Williams (1) | Shake Milton (3), Sterling Brown (3) |
| Turnovers | Tanksley Efianayi, A.J. Davis (3) | Ben Moore (4) |
| Minutes | Matt Williams (40) | Shake Milton, Semi Ojeleye (39) |
Team Statistics
| | | | | | |
| --- | --- | --- | --- | --- | --- |
| | Rebounds | Assists | Blocks | Steals | Turnovers |
| University of Central Florida | 36 | 7 | 5 | 2 | 15 |
| Southern Methodist University | 32 | 21 | 3 | 13 | 7 |
Shooting Percentages
| | | |
| --- | --- | --- |
| | University of Central Florida | Southern Methodist University |
| FG% | 42.6% | 41.0% |
| 3FG% | 31.8% | 36.4% |
| FT% | 87.5% | 70.0% |
UCF starting lineup: B.J. Taylor (G), Matt Williams (G), Tanksley Efianayi (F), A.J. Davis (F), Tacko Fall (C)
SMU starting lineup: Shake Milton (G), Sterling Brown (G), Ben Emelogu II (G), Ben Moore (F), Semi Ojeleye (F)