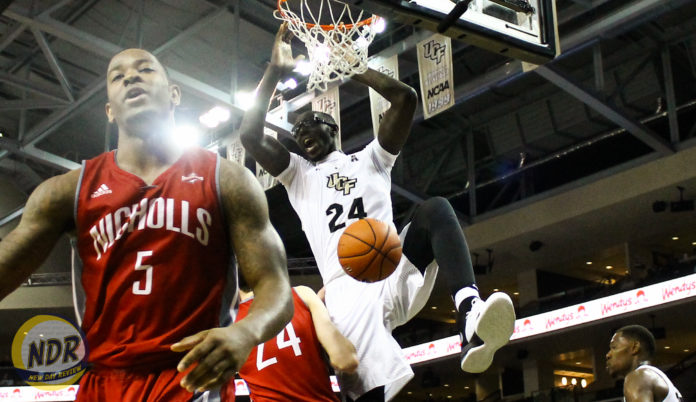 For a team that finished just 12-18 (6-12 in American Athletic Conference) a season ago, the future is looking bright. The University of Central Florida completed non-conference play at 9-3 following an overpowering 71-41 win over Bethune-Cookman University Wednesday night and enter a brief holiday break before beginning play in the AAC on Dec. 28. This is the best start for the Knights since entering the AAC.
But how exactly did the perennially bottom-dwelling Knights—who have had three consecutive 18-loss seasons in the AAC—elevate to this point? Well, simply put, it starts in the middle—literally.
True sophomore center Tacko Fall has improved his game to a point where he's no longer just a 7-foot-6 body under the basket. He's transformed himself into an in-game impact. The numbers say so, too.
| | | | | | | | | | | | |
| --- | --- | --- | --- | --- | --- | --- | --- | --- | --- | --- | --- |
| Season | G | Minutes | FG | FGA | FG% | FT | FTA | FT% | PPG | RPG | BPG |
| 2015-16 | 30 | 17.6 | 3.2 | 4.3 | 75% | 1.0 | 1.7 | 55.8% | 7.4 | 5.9 | 2.3 |
| 2016-17 | 12 | 27.9 | 6.9 | 8.3 | 83.8% | 2.1 | 4.8 | 43.1% | 15.9 | 12.3 | 2.6 |
Those improved numbers are a product of first-year UCF head coach Johnny Dawkins' desire and trust to run his team's offense through the Dakar, Senegal, native. Fall currently leads the nation in  field-goal percentage and is second in the nation in rebounding.
"We want to play through Tacko," Dawkins said after the Knights' win over Bethune-Cookman. "Tacko should get touches, Tacko should be ready to make plays for us. Whether scoring the basketball [or finding open shooters]…when he can do that for us, I think that makes us that much better."
It's not just Fall, though, that's made significant improvements to his game. Redshirt senior shooting guard Matt Williams has impressed through the first 12 games of the season, tallying a career-high 15.3 points per game this season so far. His previous career-high was 8.1 points per game last season.
For Williams, the numbers say the difference lies in his increased number of attempted threes per game this season. In the 2015-16 season, Williams took 5.6 three-pointers per game, making 32.9 percent of them. This season, the Orlando, Fla., native is taking 9.5 threes per game, finishing at a career-high 38.6 percent so far. Williams' improved shooting from beyond the arc was highlighted after he passed Mike O'Donnell for third-most career threes in UCF history.
"I try not to worry about it," Williams said after the win over Bethune-Cookman. "I try to just stay in the flow of the game. I try not to worry about my numbers from three points. I just realize that if I play the right way, play through my teammates, anything's attainable… I haven't really been trying to lock on it, but that's a big accomplishment for me and my team, you know?"
But all of the Knights' successes have been in non-conference games. When UCF plays Tulane University, the real test will begin.
"We're ready for it," Williams said. "We understanding that, now, we're 0-0. It's a new season for us. Non-conference, that was the first half of the season, and now we're playing the second part of the season. So, we're all gonna take a break, and we're gonna come back ready to compete."
Dawkins, who was an assistant coach at Atlantic Coast Conference powerhouse Duke University and a head coach for the Stanford Cardinal in the Pac-12, is interested in seeing how his injury-riddled team will stack up against the rest of the AAC.
"I'm excited to see where we are," Dawkins said. "This will be my first time going through conference play in the American, and it'd be good to try to—as we continue to get healthy—to see where we are. But I kind of like how we finished up the preseason. We faced some adversity, which all teams are going to face. I thought we handled that pretty well from the standpoint [that] we were able to bounce back and start to find our way. And now we're going to face conference play. So there's going to be new challenges."
As for Tulane, the Knights matched up with the Green Wave three times last season. Two bouts ended in Knights victories, but the lone loss was by two points in the AAC tournament at the Amway Center.