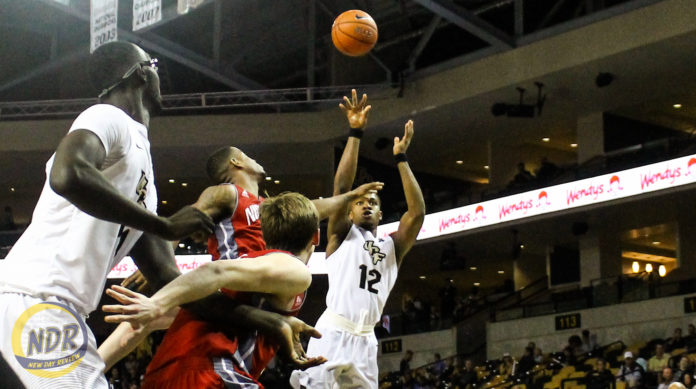 Game Recap
ORLANDO, Fla. – On paper, the University of Central Florida's size advantage was already more than overwhelming for Bethune-Cookman University. Whereas UCF has the towering Tacko Fall at 7-foot-6, the Wildcats' tallest players stand at only 6-foot-8. UCF's inside play coupled with Matt Williams' record-setting night helped the Knights (9-3) to a 71-41 win over the Wildcats (3-10) at CFE Arena Wednesday night.
"I thought it was one of our best defensive efforts this season," Knights head coach Johnny Dawkins said after the game about UCF holding the Wildcats to just 24.6 percent from the field. "In studying Bethune-Cookman and studying their players, I thought…our guys really did a great job of following the game plan and really did a good job of locking in defensively for the full 40 minutes."
When the Wildcats went on a 5-0 run—tied for their largest of the game—late in the first half that put them within seven, Dawkins called a timeout. The Knights would then go on a 9-2 run that put them up by double digits for the rest of the game.
The second half was much of the same story. UCF started the half with an 18-1 run that was led by three-point shooting by Matt Williams. No more than four minutes into the second half did Williams score consecutive three-pointers to put the Knights up 46-24.
"I just challenged our guys about our level of focus," Dawkins said. "That was something that is not acceptable based on how we want to play. On the offensive end, [we talked about] playing to our strengths. I thought we got away from what we were doing that was successful early during the game, and I thought defensively we had a little bit of a let-up.
"At halftime, we pretty just talked about sustaining that effort. We thought we did a good job defensively in the first half. We held them down below the average for halves, so we wanted to come out in the second half and really try to set the tone by coming out and establishing that same type of defensive intensity that we ended the half with, and I thought we did."
With Williams' fifth three-pointer of the night, the redshirt senior took sole possession of third all-time in career three-pointers, passing Mike O'Donnell's 195 threes. Williams finished the game with 17 points and 5-for-11 from beyond the arc.
"I try not to worry about it," Williams said after the game. "I try to just stay in the flow of the game. I try not to worry about my numbers from three points. I just realize that if I play the right way, play through my teammates, anything's attainable… I haven't really been trying to lock on it, but that's a big accomplishment for me and my team, you know?"
Sophomore center Tacko Fall's presence wasn't forgotten either. Though it took almost two and a half minutes for Fall to get his first points, the big man finished with game-highs in points (20) and rebounds (12) en route to his seventh double-double.
"We want to play through Tacko," Dawkins said. "Tacko should get touches, Tacko should be ready to make plays for us. Whether scoring the basketball, as he did today—when they double-teamed, he found open shooters. When he can do that for us, I think that makes us that much better."
Player of the Game: Matt Williams
Williams torched the Wildcats from beyond the arc. His record night helped the Knights to their second-largest win of the season. Williams finished 6-for-13 from the field with 17 points and seven rebounds in 31 minutes.
What's next?
UCF begins American Athletic Conference play with a visit to the Tulane Green Wave on Wednesday, Dec. 28 at 7 p.m. That game will be broadcast on ESPN3.
Scoring
| | | |
| --- | --- | --- |
|   | 1st Half | 2nd Half |
| University of Central Florida | 38 | 33 |
| Bethune-Cookman University | 24 | 17 |
Statistics and Starting Lineups
Team Leaders
| | | |
| --- | --- | --- |
|   | University of Central Florida | Bethune-Cookman University |
| Points | Tacko Fall (20) | Jeffrey Altidort (11) |
| Rebounds | Tacko Fall (12) | Diamante Lewis (5) |
| Assists | Nick Banyard (6) | Diamante Lewis (2) |
| Blocks | Tacko Fall (2) | n/a |
| Steals | Chad Brown (1) | Diamante Lewis (1) |
| Turnovers | Nathan Laing (4) | Diamante Lewis (2) |
| Minutes | A.J. Davis (32) | Quinton Forrest (37) |
Team Statistics
| | | | | | | |
| --- | --- | --- | --- | --- | --- | --- |
| | Points | Rebounds | Assists | Blocks | Steals | Turnovers |
| University of Central Florida | 71 | 53 | 18 | 3 | 1 | 12 |
| Bethune-Cookman University | 41 | 22 | 6 | 0 | 1 | 4 |
Shooting Percentages
| | | |
| --- | --- | --- |
| | University of Central Florida | Bethune-Cookman University |
| FG% | 50.9% | 24.6% |
| 3FG% | 26.1% | 17.4% |
| FT% | 50.0% | 64.3% |
UCF starting lineup: Nathan Laing (G), Matt Williams (G), A.J. Davis (F), Tank Efianayi (F), Tacko Fall (C)
Bethune-Cookman starting lineup: Diamante Lewis (G), Brandon Tabb (G), Quentin Forrest (G), Reggie Baker (G), Brandon Suggs (F)