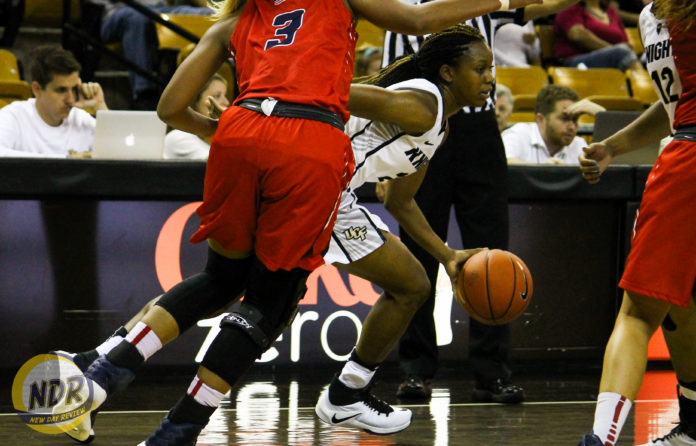 Game Recap
There's a reason why Zykira Lewis is the University of Central Florida's fifth-highest scorer in school history. In Wednesday's win over Davidson, she showed why. The senior guard posted 26 points in a 57-38 Knights (3-0) win over Davidson (0-3) at John M. Belk Arena.
It was with 3:22 left in the third quarter when the Knights went on their game-deciding run. UCF led 29-25 until Lewis drained consecutive three-pointers on two Korneila Wright assists. Kayla Thigpen capped the run with a layup.
UCF sealed the deal in the fourth quarter when it took a 44-29 lead before scoreless droughts by both teams took place from the 7:01 mark to the 3:55 mark. The Knights finished the game on a 13-8 run.
Knights head coach Katie Abrahamson-Henderson had been preaching a strong defensive mindset since becoming the head coach this past offseason. She got her wish Wednesday in one of UCF's best defensive performances all season. UCF held Davidson to eight and nine points in the first and second quarters, respectively.
Lewis also contributed mightily on the defensive end, tallying a game-high seven steals. Thigpen also notched three steals.
Player of the Game: Zykira Lewis
Lewis' point total was the most by any Knight all season. In fact, it was the most points by a Knight since last season's 65-62 win over the University of Houston when Aliyah Gregory scored 33 points in 37 minutes.
The Bartow, Fla., native was instrumental in leading the Knights to victory with her timeliness. Her consecutive triples helped give the Knights a comfortable lead over a team that had lost two straight before Wednesday's matchup.
Lewis finished the game 11-for-19 from the field—including 3-for-8 from beyond the arc—with two rebounds and two assists.
What's next?
The Knights return to CFE Arena to play the Virginia Tech Hokies on Saturday at 2 p.m.
No Offensive Rebounds for Joslyn Massey
After reeling in 18 offensive rebounds—including 11 in the season-opener against FIU—redshirt senior Joslyn Massey was unable to record an offensive board in the win. It was Fifi Ndour who led in that category Wednesday night. Ndour had three offensive rebounds to go with four defensive ones.
3-point Shooting Increases
After Sunday's home-opening win over the University of South Alabama, Abrahamson-Henderson said she wants her team to shoot as few three-pointers as possible. In that 70-58 win, the Knights shot 4-for-10 from long range.
"I never wanna shoot threes ever in my life. I'm like old school. I never want to shoot threes," the head coach said after Sunday's game. "But if they're wide open, and they're hitting them, then we can shoot them."
In Wednesday's game, the Knights shot 3-for-12 from three-point range. All long-range shots came from Lewis.
Statistics and Starting Lineups
Team Leaders
| | | |
| --- | --- | --- |
| | Davidson College | University of Central Florida |
| Points | Chloe Johnson (11) | Zykira Lewis (26) |
| Rebounds | Mackenzie Latt (6) | Fifi Ndour (7) |
| Assists | Mackenzie Latt, Kayla Seymour (3) | Korneila Wright (4) |
| Blocks | Rachel Piles (3) | Nyala Shuler (1) |
| Steals | Mackenzie Latt, Rachel Piles, Kayla Seymour (3) | Zykira Lewis (7) |
| Turnovers | Chloe Johnson (6) | Zykira Lewis, Fifi Ndour (6) |
| Minutes | Chloe Johnson (35) | Fifi Ndour (36) |
Team Statistics
| | | | | | | |
| --- | --- | --- | --- | --- | --- | --- |
| | Points | Rebounds | Assists | Blocks | Steals | Turnovers |
| Davidson College | 38 | 35 | 9 | 6 | 13 | 26 |
| University of Central Florida | 57 | 37 | 10 | 1 | 15 | 21 |
Shooting Percentages
| | | |
| --- | --- | --- |
| | Davidson College | University of Central Florida |
| FG% | 29.4% | 40.7% |
| 3FG% | 12.5% | 25.0% |
| FT% | 63.6% | 71.4% |
Davidson starting lineup: Chloe Johnson (G), Justine Lyon (G), Kayla Seymour (G), Mackenzie Latt (F), Rachel Piles (F)
UCF starting lineup: Ashley Polacek (G), Nyala Shuler (F), Zykira Lewis (G), Fifi Ndour (F), Omokore Tolulope (F)