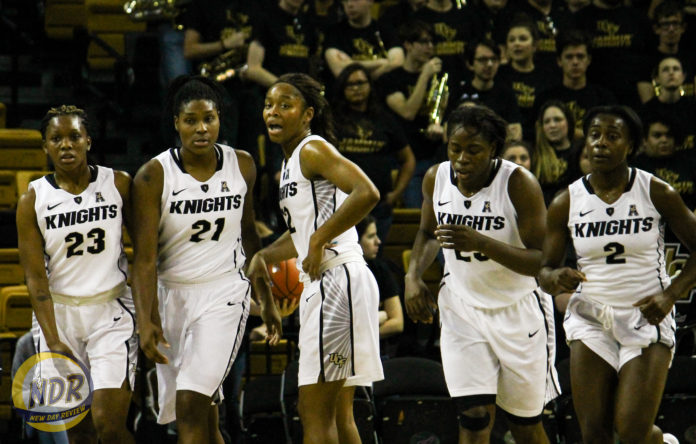 The University of Central Florida has had a hot start to their season, downing its first two opponents by double digits. On Wednesday, the Knights (2-0, 0-0 in American Athletic Conference) will travel to North Carolina to take on Davidson College (0-2) in the host team's home-opener.
Davidson began its season on a two-game road trip that saw the Wildcats lose to No. 22 Michigan State University 70-34 and the Western Michigan Broncos 76-63. As for the Knights' offense, that's about what they've averaged through their first two games.
In UCF's season-opener against Florida International University, the Knights won 69-52. Then, in the team's home-opener against the South Alabama Jaguars, UCF won 70-58. The Knights' victories have been largely due in part to UCF's ability to rebound. In both victories combined, the Knights outrebounded their opponents 92-43. In Davidson's two losses, the Wildcats have been outrebounded 86-70.
The rebounding effort for UCF has been led by Joslyn Massey, who recorded game-highs in rebounds in the team's first two games. Against FIU, Massey notched a double-double with 11 points and 11 rebounds (all offensive). In the home-opening win over the Jaguars, Massey tallied nine rebounds (seven offensive, two defensive).
As for the Knights' scoring leaders, Fifi Ndour has led the way in that category. The Dakar, Senegal, native posted team-high 14 points against FIU and a career-high 19 points in the win over South Alabama. She's shooting 51.7 percent (15-for-29) from the field, 16.5 points per game in 26 minutes per game.
In addition to the veterans' good performances so far, though, UCF has also seen good production from true freshman Korneila Wright. The four-star recruit posted a near double-double in her first appearance, tallying nine points and nine rebounds in 32 minutes coming off the bench. She then started the next game against South Alabama for an injured Aliyah Gregory. However, she fouled out after only recording three points, three rebounds and two assists in 24 minutes of play.
UCF will play Davidson Wednesday night at 7 p.m.