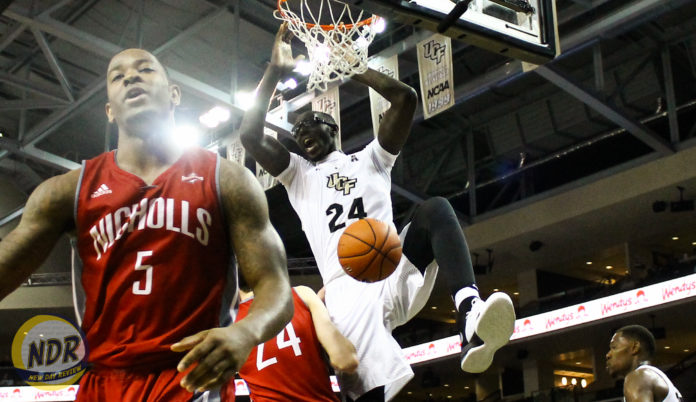 Game Recap
ORLANDO, Fla. – Johnny Dawkins kept the University of Central Florida's new era in sports rolling with a debut victory. On Monday, the Knights (1-0, 0-0 in AAC) defeated Nicholls State University (1-1) 80-56 behind hot three-point shooting and stalwart defending at CFE Arena.
The Knights trailed 5-2 early in the first quarter but would go on an 8-0 run that kept them in the lead or tied for the remainder of the game. It started with back-to-back triples by Matt Williams, who finished the game 6-for-11 from beyond the arc. Nick Banyard capped the run with a short jumper from the baseline.
"I just wanted to see us kinda calm down, so I talked to our team, 'Just settle down. Get the jitters out the first four minutes, six minutes. It's gonna be that way,'" Dawkins said after the game. "And I thought they did. I thought they loosened up and started playing the way they practiced."
Williams' hot hand from three epitomized the way the Knights would attack for the entire game. The Knights shot 4-for-13 from three in the first half and 5-for-11 in the second half.
"[Coach Dawkins] told me, 'Keep shooting. Keep going. You miss two, so what? Miss three,'" Williams recalled after the game. "So once I hit one, I kinda felt good. I felt like the next one was going in, and the next one, and the next one."
Williams finished with four rebounds, four assists and a game-high 20 points.
On the other end, it was interior defense that helped UCF retain the undying lead. Big men Tacko Fall and Chad Brown tallied four and two blocks, respectively. At the 7:52 mark in the first half, Brown got his first block when he met Ja'dante' Frye at the rim on a would-be lay-up. On the Colonels' next defensive possession, Fall slapped Adam Ward's jumper into the ground.
"The coaches have put a lot of time for us," Fall said after the game. "The main thing was to not get into foul trouble because there's only really the two of us. So we did a lot of drills where we had guys just coming at us all the time, so I think those kinds of things really helped."
Fall tallied his fourth-career double-double, notching 16 points and a game-high 16 rebounds in 25 minutes.
The Knights held the Colonels to 28.4 percent from the field. For Dawkins, who has been specifically focusing on defense since he arrived, contesting shots was key to the team's performance.
"We don't want any uncontested shots. That's our goal," Dawkins said. "So I'll be counting them tonight when I leave here when we watch this tape about how many we gave up. Because we definitely gave up a few… Our guys have to understand the value of pressuring guys. They're a good shooting basketball team.
"Really, really proud of our overall defensive effort and definitely contested most of the shots."
Nicholls State shot just 7-for-31 from three, including a 2-for-16 effort in the second half.
Player of the Game: Tacko Fall
Fall noticeably didn't get many touches in the opening minutes despite slamming home the first score of the season for the Knights. But in the second half, the Dakar, Senegal, native found significantly more touches, going 6-for-7 from the field after only going 2-for-4 in the first half.
One of the most momentous plays came at the midway point of the second half.
With the game still in question and the score at 54-49, walk-on point guard Nathan Laing drove baseline from the right, drawing the defense and connecting on an alley-oop with Fall.
"I felt very comfortable," Fall said. "From last year, I think I made a big jump, holding a good position, playing angles, being patient on the post, and when you have guys like Matt that can shoot, people really can't help off that. So most of the time, I will be one-on-one. If they help, Matt is right there. You have B.J., crafty, he can get to the paint whenever he wants. So, playing with people like that makes it even better."
What's next?
The Knights travel to Charleston, S.C., for the Gildan Charleston Classic where they will first face the Mississippi State Bulldogs on Thursday at 5 p.m. On Friday, they will play the winner of the Boise State Broncos-Charleston Cougars matchup. UCF's matchup on Sunday is to be determined.
No A.J. Davis, No Problem
Redshirt junior A.J. Davis did not play in the Knights' season- and home-opener and is out indefinitely, according to a report by FanRagSports.com's Jon Rothstein. Last season for UCF, Davis posted team-highs in points per game (12.0) and rebounds per game (6.0).
In his stead, senior Tank Efianayi and Banyard played extensive minutes, recording 37 and 36 minutes, respectively. Efianayi's near double-double was a good sign for Dawkins.
"I'm happy for Tank," Dawkins said. "Tank's been someone in practice that we've been kinda pushing. We see more in [him]. [He] can give us more. And so I thought tonight was a good step forward for him…just confidence-wise because now he sees that he can do more."
Efianayi finished with 16 points, nine rebounds, three assists, a block and two steals.
As for Banyard, it's been about fitting into a new school with a new team. UCF is Banyard's third school. He previously played for Illinois State University and the University of New Mexico. For Williams, it's been about welcoming the newcomer.
"In practice, we spent a lot of time installing confidence in those guys, especially Nick," Williams said. "He's a newcoming guy. We just tell him like, 'We love you here.' We're just gonna let you mesh in with us… We accepted him since the day he came, so we just let him know that we all one team, one family, and we want you here. So, you can see in the confidence he had a good game."
Banyard finished with 10 points, 12 rebounds and three assists for the Knights.
Statistics and Starting Lineups
Team Leaders
| | | |
| --- | --- | --- |
|   | University of Central Florida | Nicholls State University |
| Points | Matt Williams (20) | Jonathan Bell (15) |
| Rebounds | Tacko Fall (16) | Jonathan Bell (12) |
| Assists | B.J. Taylor (5) | Tre O'Neal (4) |
| Blocks | Tacko Fall (4) | Liam Thomas (3) |
| Steals | Tank Efianayi (2) | Liam Thomas, Jahvaughn Powell (2) |
| Turnovers | Tacko Fall, Matt Williams (4) | Ja'Dante' Frye (3) |
| Minutes | Tank Efianayi, Matt Williams (37) | Jonathan Bell (37) |
Team Statistics
| | | | | | | |
| --- | --- | --- | --- | --- | --- | --- |
| | Points | Rebounds | Assists | Blocks | Steals | Turnovers |
| University of Central Florida | 80 | 59 | 17 | 7 | 3 | 16 |
| Nicholls State University | 56 | 36 | 10 | 5 | 8 | 9 |
Shooting Percentages
| | | |
| --- | --- | --- |
| | University of Central Florida | Nicholls State University |
| FG% | 45.3% | 28.4% |
| 3FG% | 37.5% | 22.6% |
| FT% | 72.2% | 70.0% |
UCF starting lineup: B.J. Taylor (G), Matt Williams (G), Nick Banyard (F), Tank Efianayi (F), Tacko Fall (C)
Nicholls State starting lineup: Tre O'Neal (G), Jonathan Bell (G), Jahvaughn Powell (G), Ja'Dante' Frye (F), Liam Thomas (C)