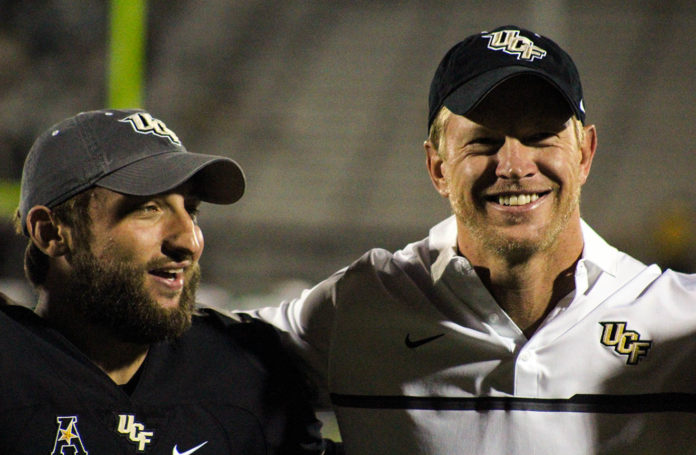 ORLANDO, Fla. – There's no denying how much it means for the University of Central Florida (5-4, 3-2 in American Athletic Conference) to find itself back in the bowl picture. After a 37-6 rout of Tulane University on Saturday, the Knights are one win away from bowl eligibility.
"I think it'd be great for this program to get back to a bowl game," UCF head coach Scott Frost said. "That's where we should be as a program is in a bowl game every year with everything we have to offer here at UCF."
While Frost has introduced a new identity predicated on speed and tempo, he didn't see how fast his team would be in terms of revitalizing the program. Last year, the Knights didn't win a single game; now, they are on the precipice of playing in another bowl game.
"I didn't honestly know going into the year how quickly we'd be able to accomplish some of our goals and make that improvement turn into wins," Frost said in a game-week press conference on Oct. 24. "We've made a lot more progress than maybe I've even thought, to the point our record is really good for what our expectations were going into the year."
Now, one of those goals is well within reach. With a win in one of its next three games, UCF can clinch its eighth bowl game in program history.
A return to bowl play would restore the Knights back into national relevancy by joining a group of six bowl-eligible AAC schools, which includes Navy, University of Tulsa, University of South Florida, Temple University, University of Houston and the University of Memphis.
It's been two years since the Knights' last bowl appearance in 2014, when UCF lost 34-27 to North Carolina State at the St. Petersburg Bowl. It was the first of many losses that commenced a collapse in the 2015 season. It ultimately drew former head coach George O'Leary out by Week 8, and one month later, the university turned to Frost to lead the Knights into a new era.
"We've had to remain hungry, but we've been through it all," redshirt senior defensive back Drico Johnson said. "We've been through winning seasons. We went through last year [where] we lost every game, [and] I've won a big bowl game… We've been around to see how to win, how to lose… We just are putting it all together now."
As usual, the UCF coaching staff is treating Saturday's game against the University of Cincinnati just like any other opponent. For Frost, it's something he hasn't even talked about with his team.
"We haven't talked about bowl eligibility, and we won't," Frost said. "We're just focused on this week… That's definitely something we'd like to accomplish, but we're not going to focus on it too much."
However, make no mistake, the thought will be in the back of players' minds. That holds especially true for a senior group that would like nothing more than to cap off their UCF careers with a postseason win.
It would be a great feeling to go out my senior year in a bowl game [and] spend a couple extra weeks with my teammates before I leave," Johnson said. "[So we're] trying to stay focused and win the rest of these games."
With a sixth win, Frost would become the second coach in UCF history to lead his team to a bowl game. But when asked about the level of personal impact he would gain, Frost deferred all the recognition back to his players.
"I'm here to serve the players," he said. "I want what's best for those guys. It's my job to do everything I can to make them as successful as they can be. I think a bowl game would be a great reward for the work they've put in, but I'm not looking at this as far as any personal accomplishments."
Players like redshirt senior linebacker Mark Rucker are hoping to extend their season by making their last UCF memory shine.
"Getting that big ring; I want four rings now," he said after practice on Oct. 12. "I got three already, now I want four, and I just want to put them up on my wall."
Kickoff against Cincinnati is slated for noon on Saturday at Bright House Networks Stadium and will be broadcast on ESPNU. After Cincinnati, the Knights will host Tulsa for Senior Day on Nov. 19 before closing their season at USF on Nov. 26.