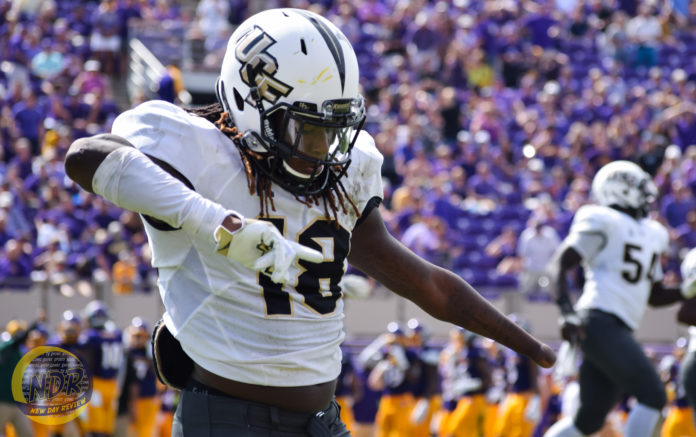 There wasn't much conversation about the University of Central Florida (5-4, 3-2 in American Athletic Conference) striving to reach a bowl game leading up to this season. Instead, the noise centered around UCF head coach Scott Frost, who inherited a team that lost every game in 2015, and the overhaul of his new high-tempo offense.
But the past couple of weeks have shown a resilient Knights team that has teetered on the edge of being .500 and not. Last week, the Knights jumped to a 37-6 win over Tulane University behind a school-record three defensive touchdowns after going 1-2 in their previous three games.
UCF's win against the Green Wave moved the Knights to a win away from clinching a bowl game.
"I know coming off the season we had, a lot of people would want to see us in a bowl game," senior defensive back Shaquill Griffin said. "It's something that we think about, but right now we're just trying to take it one game at a time. That's our main focus."
While the one-game-at-a-time approach has been a consistent theme from players to coaches, Frost noticed a different mood in the past couple games.
"I kind of got the feeling at a couple of our other games that there was almost a feeling of dread in guys," Frost said. "The message for our guys was to have fun and enjoy playing football."
The Knights are aiming to carry their winning spirits over to their last three regular season games, beginning with a shot at revenge on Saturday hosting the University of Cincinnati (4-5, 1-4 in AAC).
Last season, the Bearcats pummeled UCF 52-7 on 726 total yards. This year, Cincinnati enters losing four of its last five games while maintaining a drought of not scoring a touchdown through six straight quarters.
"Sometimes when you get on a roll, things go really well, and it [can] go the other way too," Frost said. "They've moved the ball really well, if you look at them statistically. They're still playing well. It just hasn't translated into points."
That drought could continue against the Knights, who forced five turnovers against Tulane. UCF leads the American and is No. 10 nationally in yards per play allowed (4.61). The unit is anchored by redshirt junior linebacker Shaquem Griffin, who's tied for the conference lead in sacks (8.5).
"[The defense] played an amazing game [against Tulane]," senior offensive lineman Jason Rae said. "They kept us off the field in the second half, literally. It's awesome knowing that they have our back."
The Knights' offense is hoping to return the favor by extending their drives to score more points and revert back to their season averages—No. 50 nationally in scoring offense (31.8 points per game) and No. 70 in rushing yards per game (168.4). Against Tulane, UCF totaled 16 points on offense and topped 100 yards rushing for the first time since Oct. 1.
And catering to a season full of surprises, the biggest twist is the most efficient defense in the AAC (ranked 16th nationally in efficiency) has overshadowed a highly touted offense that's continuing to sort out its struggles (102nd), according to ESPN.
"Believe it or not, I think our offense played as well as we've played in a while," Frost said. "We killed a couple drives with a couple high throws, a missed block here… We wanted to be efficient on as many drives as we could. Wish we could've finished more of them."
But to play more efficiently, true freshman quarterback McKenzie Milton must learn to protect the ball better. In his last two starts, the Hawaii native has thrown for three interceptions and has fumbled once. He now faces a Bearcats defense that's tied for the second-most interceptions in the country (15).
"I think they're a dangerous team, given their record," Frost said. "Very talented team on both sides of the ball. We're going to have our hands full again."
On Saturday, the Knights will be tasked with containing senior quarterback Gunner Kiel, who last season torched the Knights on one of the most efficient games played by any FBS player in the last 20 years. Kiel finished a perfect 15-of-15 for 319 yards and five touchdowns.
"This is a brand new year," said senior defensive back Drico Johnson, who earned Bronko Nagurski National Defensive Player of the Week honors. "It's a totally different defense, and there's a lot of different players that weren't playing… We want to take advantage of [the Bearcats' struggles] and do what we can do to win this game."
Cincinnati leads the all-time series 1-0. Kickoff is slated for noon on Saturday at Bright House Networks Stadium, and it will be broadcast on ESPNU.