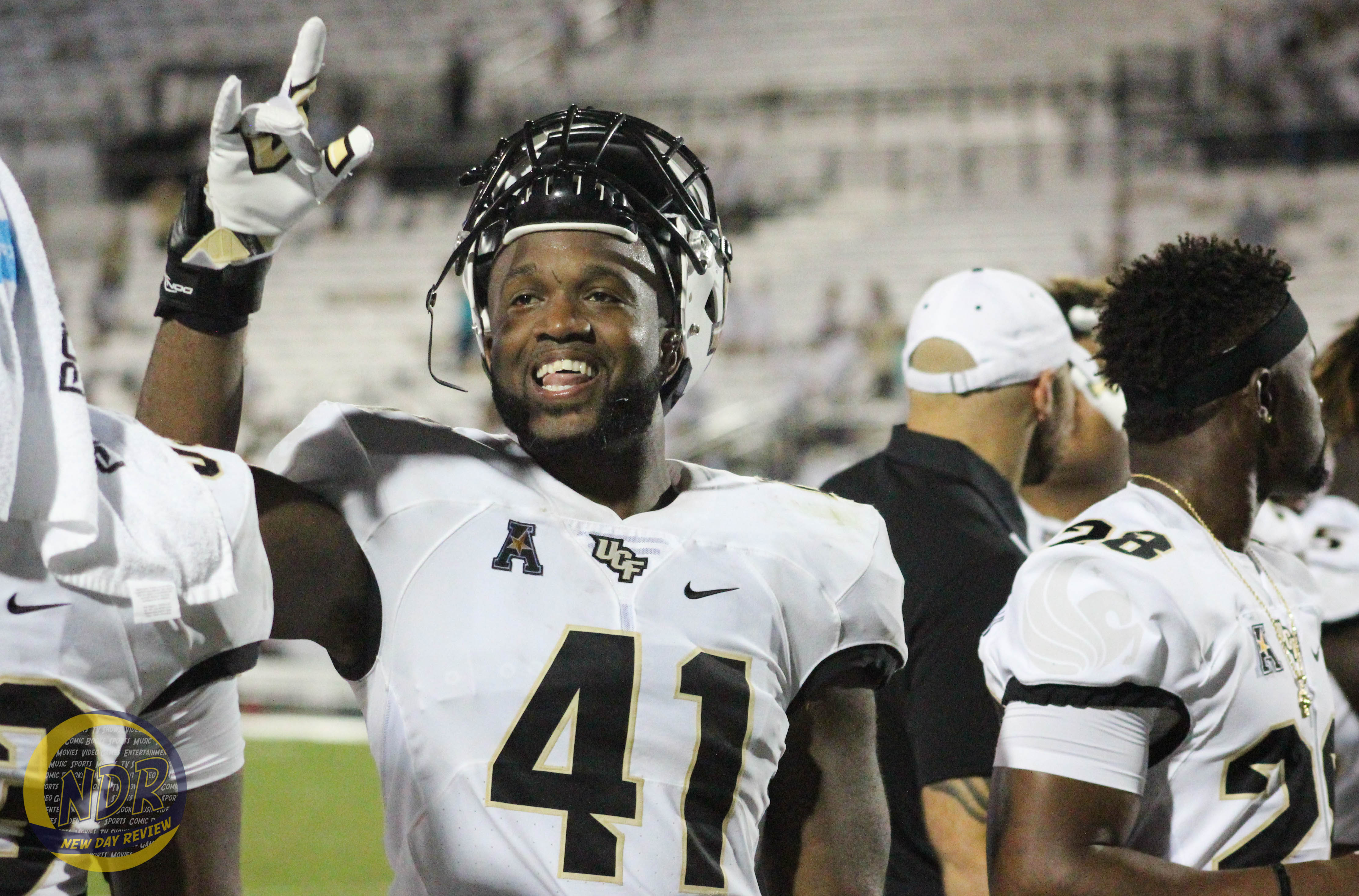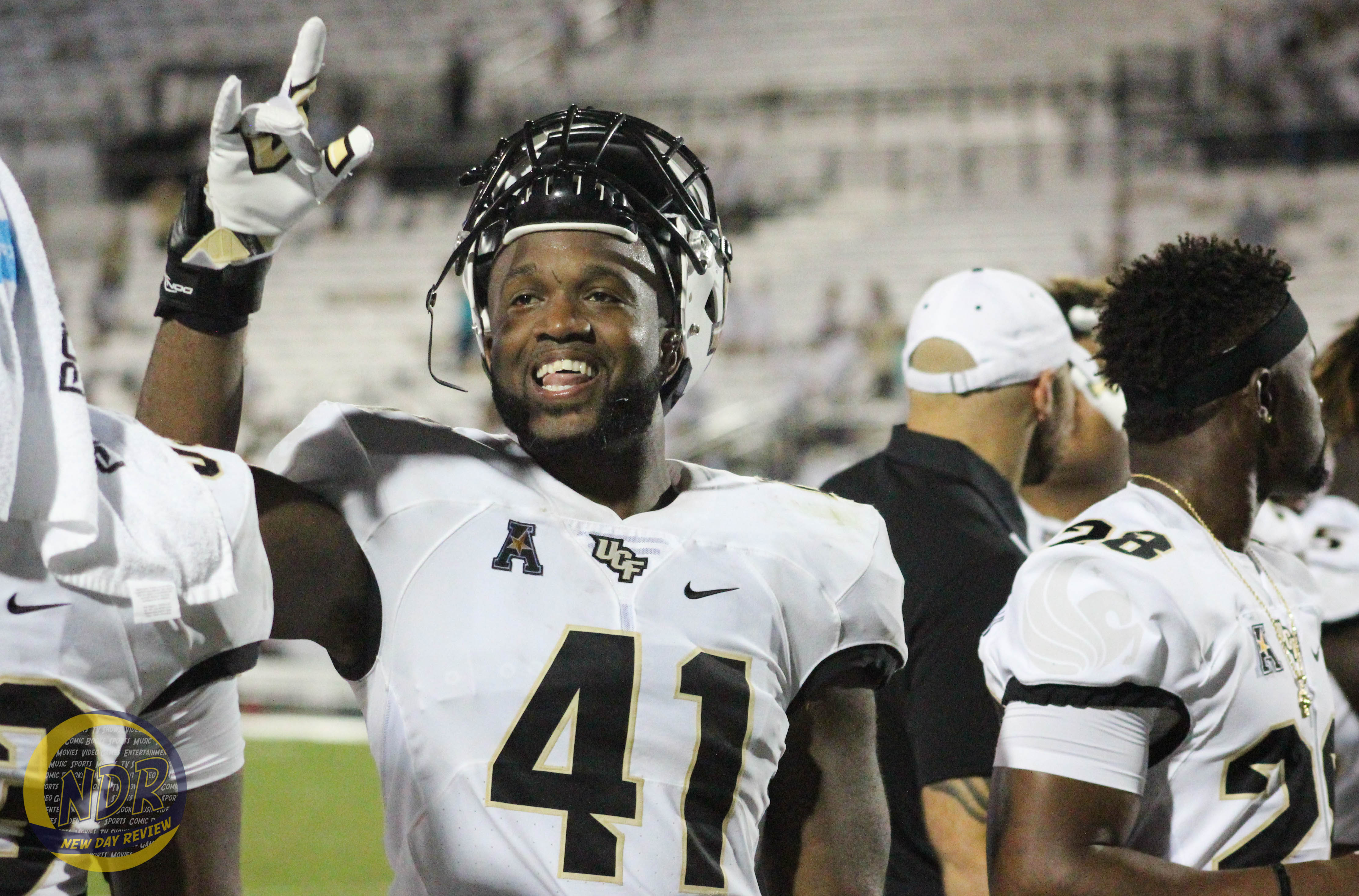 1. The Calm Before the Storm
While most athletes like to hype themselves up before a game by playing music from hip-hop or rock-and-roll artists, redshirt senior linebacker Demeitre Brim prefers to keep himself relaxed by listening to gospel music or R&B.
"I remember one time [in high school] I was listening to rap music before a game, I got so hyped," Brim said. "And by the time kickoff started, I couldn't even breathe."
The 6-foot-3, 225-pound linebacker has since toned his music choices down a few notch with a playlist that now mostly consists of instrumentals, void of lyrics.
"It kind of just relaxes my mind," Brim said. "I try not to get too hyped before a game because I get tired really quick."
2. More Than Me
Brim helped Victory Christion Academy in Lakeland, Fla., to the state semifinals as the starting quarterback. It was his first year at Victory Christian.
"It was just a big momentum builder for our school," he said. "We had garnered a lot of attention from everybody. That's when a lot of players started getting recruited."
Brim left with a team record of 21-2 while earning Associated Press All-State Second Team and Polk County Player of the Year honors in 2010 and 2011.
"It was more than about myself," he said. "It was about trying to put everybody else [on] my team to have opportunities to get recruited."
3. Following Kwon Alexander
In the National Football League, Brim has been monitoring Tampa Bay Buccaneers middle linebacker Kwon Alexander, modeling parts of his game after him. Alexander, a fourth-round draft pick, leads the Bucs with 43 combined tackles and is tied for a team-high in sacks (two).
"He's physical, he's fast. He plays with a lot of intensity from sideline to sideline. I try to mimic my game after that," Brim said. "Just seeing what those before me, those who were in that position, how they got there."
4. The Voice on and off the Field
On the field, Brim is the defense's voice, calling out defensive adjustments in the heat of a game. Off the field, he's a former All-State singer.
Growing up in a family where his mother, Cathy, is a pastor and his father, Daren, is a deacon, Brim participated in his church's choir when he was little. In middle school and high school, he earned his All-State singing status. He also plays the keyboard.
"I've played all my life. I play by ear," Brim said. "I pick up on things and get to playing."
His inspiration mostly derives from his pre-game music he listens to on his phone. He still attends church every Sunday, and if he can't make it back home with his family, he goes to Deeper Fellowship Church, led by pastor William McDowell.
"I'm big into church. I just like to stay committed to church and just do things for church," Brim said. "I'm always trying to stay around it, keep myself grounded and humble and give thanks to God for everything he's done for me."
Brim said his favorite part of a church service is praise and worship.
"[It just helps take] my mind off everything in the world," Brim said. "Sometimes we can slip away from everything. On the field, we make mistakes. We do our things, but once I get in [church], the atmosphere kind of just takes me back to where my mind should really be at."
5. From Taking Hits to Delivering Them
When Brim was 8 years old, he knew almost instantly that football was the sport for him. His first time playing saw him line up at quarterback, which continued throughout his high-school career. In his senior year, he saw time as as a safety, recording 28 tackles, four interceptions and a forced fumble.
"I was kind of a dominant player… I kind of had that 'it' factor," Brim said. "I saw my athletic potential, and everybody saw [it, too]. I just decided to pursue it, and it got me where I'm at, so I'm thankful."
As a senior, Brim rushed for 1,241 yards while also passing for 607 yards, racking up a combined 20 touchdowns. But college coaches began to recruit him as a linebacker, where he eventually transitioned into when he enrolled at the University of Virginia before transferring to the University of Central Florida in 2014.
"It was kind of tough," Brim said. "It was a transition for me. I didn't really wanna go to the defensive side of the ball when I got to college. But that's kind of what everybody was recruiting me for. So, I just took it and ran with it."