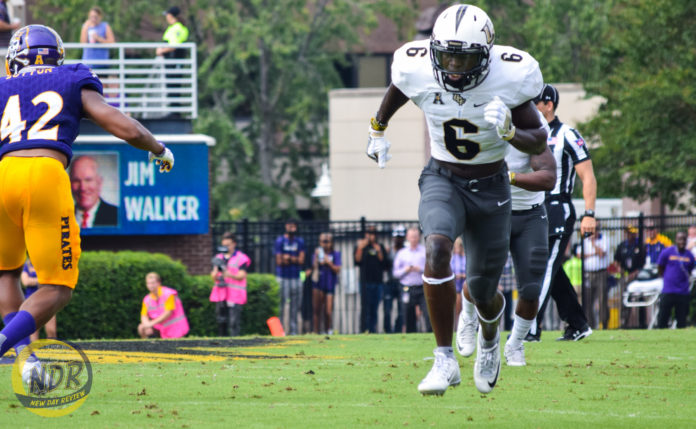 The University of Central Florida will be traveling to Hartford, Conn., without two offensive starters during their Civil Conflict showdown against the University of Connecticut Saturday.
UCF head coach Scott Frost confirmed Thursday that sophomore wide receiver Tristan Payton will serve a one-game suspension due to an undisclosed violation of team rules. Sophomore left guard Tyler Hudanick will miss the remainder of the season with an injury, according to a report by the Orlando Sentinel's Shannon Green.
Frost did not specify which violation Payton was suspended for, but according to Green and UCFSports.com's Brandon Helwig, the decision came as a result of Payton's on-field conduct during Saturday's 26-25 loss to Temple.
Scott Frost also confirmed UCF WR Tristan Payton has been suspended for the week against UConn. He's expected to return next week.

— Shannon Green (@osknights) October 20, 2016
Per Helwig:
Payton was said to be berating teammates and coaches on the sideline, upset over a lack of playing time and touches, and was sent to the locker room and told to leave.

This is not an isolated incident. I heard he also made a spectacle in the aftermath of the Maryland game. I don't think he's a very popular player on the team. It will take a major attitude readjustment, otherwise I have my doubts he'll be at UCF much longer.
Through six games, Payton has 55 receiving yards on six catches. He also has a team-high eight kickoff returns for 155 yards.
Abiding by his own policy of not discussing injuries, Frost did not specify what injury Hudanick sustained against Temple. However, it appeared Hudanick suffered a left-knee injury in the first quarter.
Hudanick, who started at left guard for five consecutive games, is expected to be replaced by senior offensive lineman Chester Brown. Redshirt junior Tate Hernly, senior Micah Anderson and junior Chavis Dickey could also rotate in the position, as well.
The Knights will travel to play the Huskies on Saturday at noon.