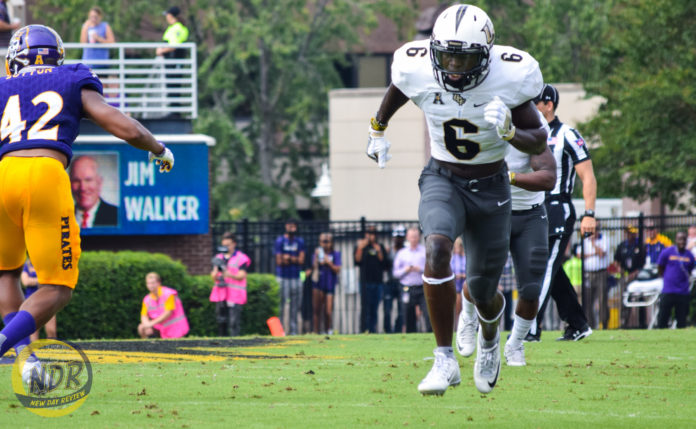 (Photo by Victor Tan / New Day Review)
ORLANDO, Fla. – Since returning from a six-game suspension, former wide receiver Tristan Payton has changed positions. In fact, the four-star recruit out of First Coast High School in Jacksonville is no longer on offense. Payton was moved to defensive back and, according to coaches, has embraced it completely.
"He was 100-percent great with it. You know, he talked to [offensive coordinator and wide-receivers coach Troy Walters] and myself and, you know, basically said, 'Where can I help the team the most?'" defensive coordinator Erik Chinander recalled after practice on Oct. 31. "He did an unbelievable job on scout team. He's done an unbelievable job on special teams, and now he—I think he really enjoys defense. I think he really does.
"I think he's kind of got the defensive mentality even when he was playing receiver, you know? He wanted the ball; he wanted some contact. So I think he feels at home."
Prior to his end-of-season suspension for failing an NCAA drug test, Payton showed promise as a multifaceted threat. In addition to reeling in 33 passes for 396 yards and two touchdowns in his first two seasons, Payton also regularly returned kickoffs for the Knights, averaging 22.8 yards per return on 40 returns. In last season's loss to the USF Bulls, he also threw a team-long 72-yard touchdown pass.
But his receiver skills will serve him best in his new position. For defensive-backs coach Travis Fisher, that gives Payton an edge on opposing receivers.
"Tristan hasn't been with us for long, but he's been good in the room," Fisher said after practice on Oct. 31. "He's been a gift in the room. Obviously, playing receiver, a lot of things that he can do as a DB, it comes from his ability to play receiver. Understanding routes, understanding what receivers are trying to do to him—he's good at that…
"Obviously, he can catch. So it makes that DB deal where guys can't really catch—he makes that change a little bit. So he can get his hands on the ball. He can actually catch that rock and go the other way with it."
Payton was moved to defense because the wide-receiver corps had played well to start the season, according to Chinander. Now, Payton faces difficulty finding the field on a solidified secondary, too, as natural DB Nevelle Clarke also returns from the same suspension as Payton.
But Payton is finding other ways to contribute. Payton was the Knights' special-teams player of the week in his first game back in a record-setting 73-33 win over the Austin Peay Governors. That sort of effort's made an impression on second-year UCF head coach Scott Frost.
"Right now, we have T.P. on defense. He was our special-teams player of the week," Frost said at the team's game-week presser on Oct. 30. "Thought he played really well on teams, and that's great to see him stick it out through what he had to go through and come back and accept that role. So we'll see where he goes from there, but I'm happy for both [Payton and Clarke].
"I was disappointed in 'em for making a decision that got 'em in trouble, but, you know, they had to stick it out through a lot of things in the wake of that, and both kids have come through it and, now, are ready to start moving their careers forward again."
While he has excelled on special teams, Payton won't be limited to just one player per drive. He's in a new environment, on the other side of the ball, and needs time to learn. Chinander sees potential in his physicality and smarts. As for Fisher, his idea is further along.
"I think he's a violent, physical player, and I think he's a smart player, and I think he just fits in with what we do on our defense," Chinander said. "He fits in with the guys; he fits in with the coaches, so we just said, 'Hey, let us give him a try and see what he does,' and he's done awesome so far.
"He's gotta learn a little bit—just the calls and all that kind—he's a smart football player, but he's gotta learn the calls and the coverages and all that. But he's done awesome. And I'm looking forward to coaching him for the next year."
Said Fisher on Payton's position: "He's gonna add depth to the safeties position. Off that, you can put him at corner. You can put him at Nickel. I really like him at Nickel. Obviously, special teams, right now. He's playing a lot of special teams. Very physical and very fast and very hungry. So then you got a guy that's coming in that's very hungry—wanna play, wanna help his team, is buying in. You know, can't ask more from him."
The Knights host the UConn Huskies on Saturday at noon for their second-to-last home game of 2017. ESPNU will broadcast the game.
---
Payton couldn't be reached in time for this story.
---
For more on the Knights, as they prepare for UConn, follow Victor Tan on Twitter at @NDR_VictorTan.