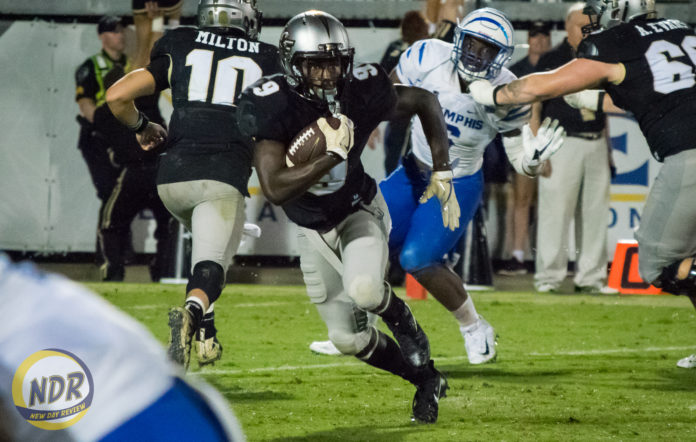 (Photo by Adrian J. Hernandez / New Day Review)
ORLANDO, Fla. – Then-starting running back Jawon Hamilton was poised for a career season after getting the starting nod from the University of Central Florida staff. Two carries into a 38-10 win over the University of Maryland on Sept. 23, though, Hamilton suffered a season-ending injury. Fortunately for the Knights, depth hasn't been an issue in 2017.
In Hamilton's stead, Adrian Killins and Taj McGowan have carried the running game, as true freshmen Otis Anderson and Greg McCrae have contributed steadily as well. Killins, however, is having the best season of the four running backs, rushing for career-highs in yards and touchdowns. His 575 rushing yards in eight games has already surpassed UCF's leading rusher from last season, Hamilton, and his 495 yards in 13 games.
Despite UCF being able to turn to four different backs, it's in Killins the Knights have invested the most. His 8.38 carries per game leads the Knights, as his rushing-yards total dwarfs quarterback McKenzie Milton and his second-place 298 yards. For UCF to call upon him in its most dire moments motivates Killins.
"It's great. Knowing that sometimes in this offense, Coach Frost, he counts on a lot of guys to make big plays," Killins said after practice on Nov. 6. "So, when your number's called and you get the ball in your hands, we just try to do the best thing we can do to make big plays and make touchdowns."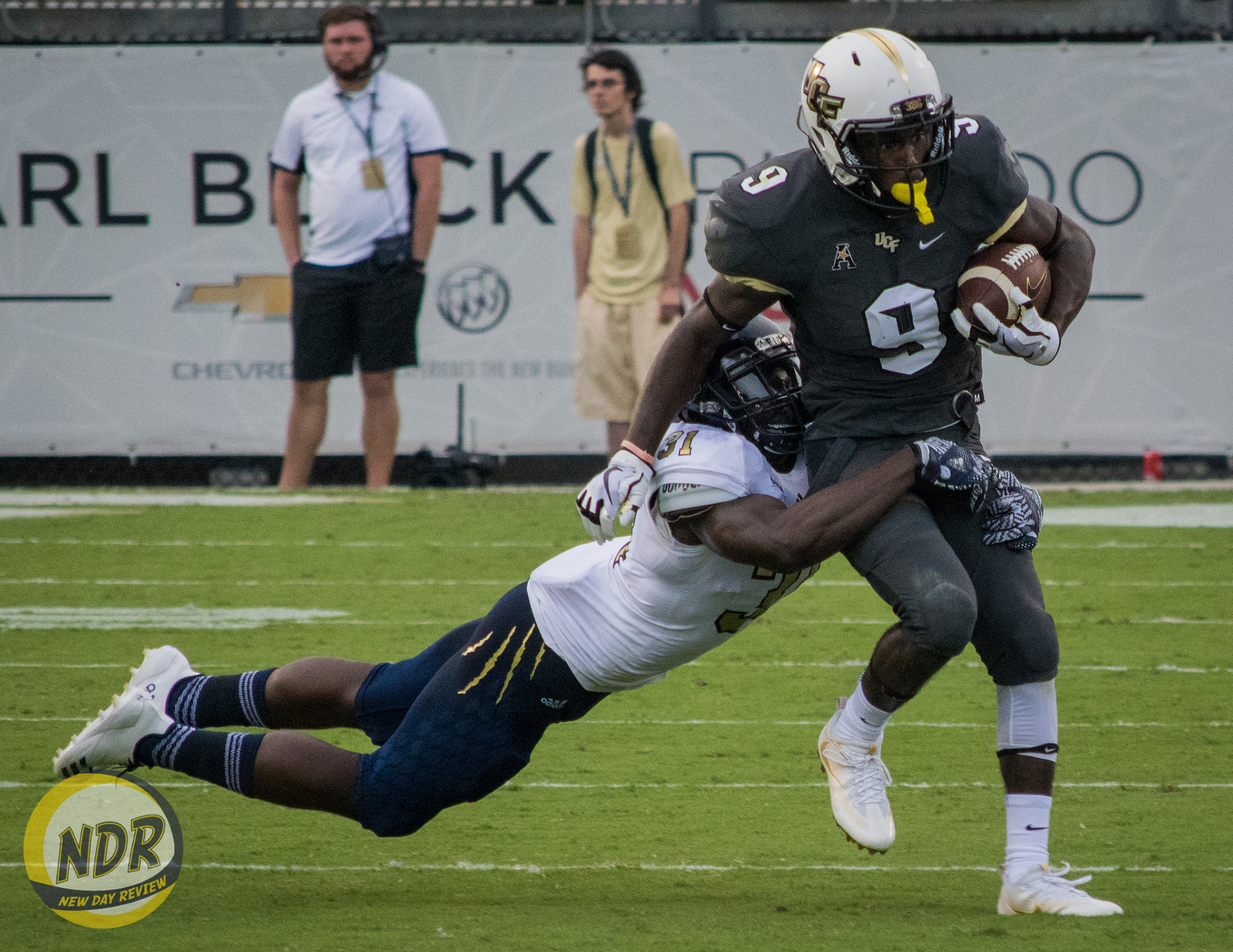 Though the Knights have played just two competitive games this season, Killins has been clutch in both. In a 31-21 win over the Navy Midshipmen on Oct. 21 in what was then the Knights' closest game, Killins responded to two Navy scores with touchdowns of his own.
Midway through the first quarter, Navy executed a 12-play, 92-yard drive in almost 6:30. On the ensuing Knights possession, Killins capped a five-play drive with a 15-yard touchdown, as he carried a defender into the end zone to take a 14-7 lead. Navy opened the third quarter with a rare 75-yard passing touchdown to tie the game, but Killins responded with his own 79-yard sprint to the end zone on the first play of UCF's next drive to take back the lead.
In UCF's only one-possession win of the season against the SMU Mustangs, Killins also had clutch scores. SMU tied the game at 14-14 after a Milton pick-six, but a 34-yard Killins run helped UCF reclaim the lead two possessions later. Early in the third quarter, Killins struck again with a 64-yard burst to take a 28-17 lead.
"There's a lot of fast guys out—well, there's not a lot of fast guys—not a lot of guys as fast as A.K., but there's a lot of people who can run," Knights head coach Scott Frost said at the team's game-week presser on Nov. 6. "A.K.'s a great football player, too. And he uses his speed, obviously, but that one long run he had [against SMU], you know, he had to make a couple really nice cuts. He had to break a couple tackles. I think that's where he's improved.
"It's not just about speed this year. He's making good decisions, good cuts. He's running strong; he's breaking tackles. He's just a really good football player, and I think he's continued to improve through every week this season."
Killins' small stature is not to be underestimated. Listed at just 5-foot-8, 158 pounds, Killins is the smallest player on the team. His play doesn't show that, however, as he leads all Knights rushers in rushing yards per game (71.88), carries per game (8.38) and yards per game (8.58). Beyond his physical and skills improvement, Killins' position coach, Ryan Held, sees an improvement in Killins' mental game as well.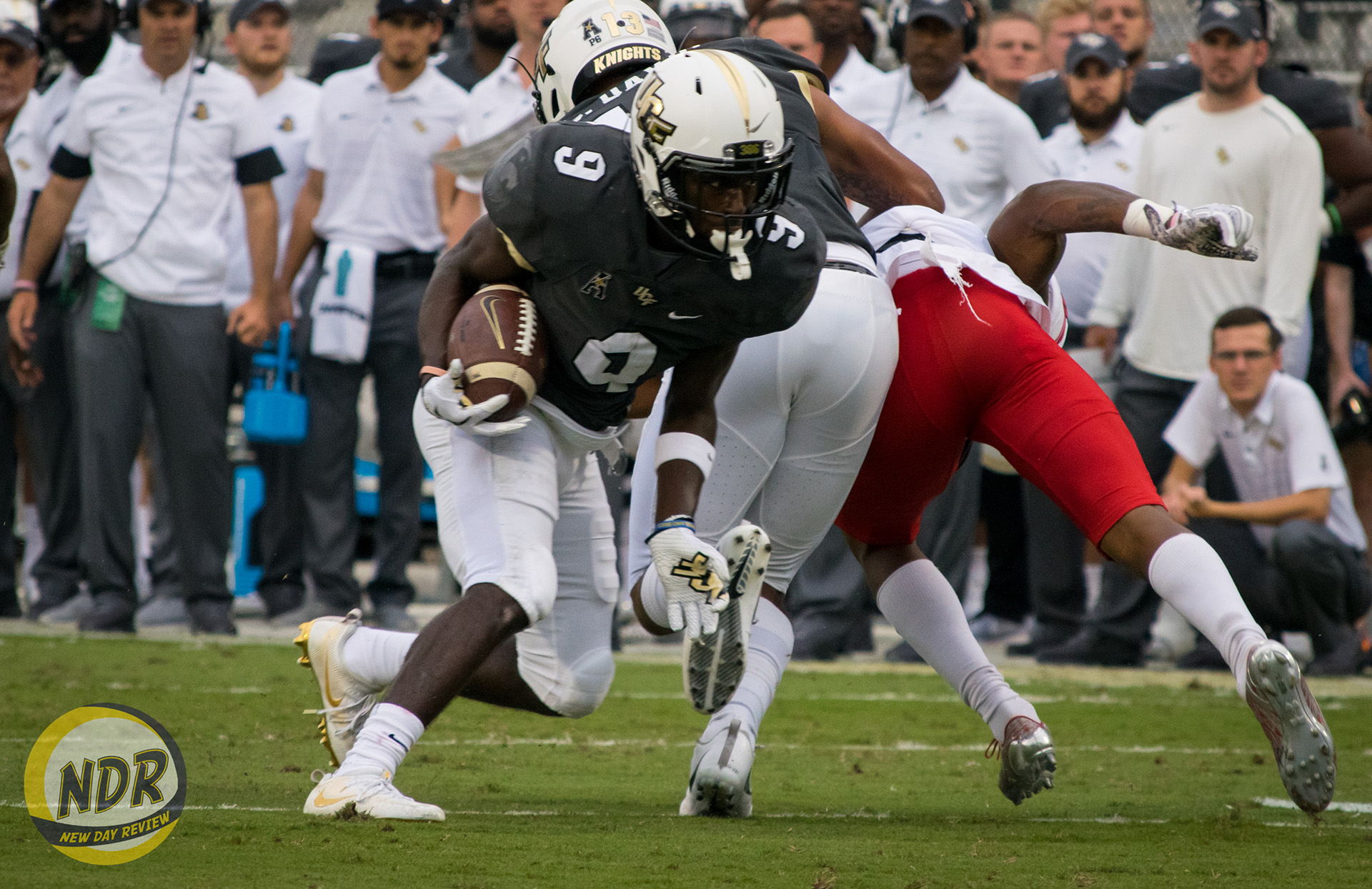 "A.K. has made a lot of improvements from last year to this year just on understanding the offense and getting a feel of how the blocking is up front," Held said after practice on Nov. 7. "He's always had the speed, but now he can get more of the mental piece of it and seeing the whole picture of how it'll work, which he's been able to take advantage of on a lot of these bigger plays."
The Daytona Beach native isn't without necessary areas of improvement, though. Held said he wants to see Killins improve his route-running. So far this season, Killins has caught 16 passes for 132 yards and one touchdown for an average of 8.3 receiving yards per play. While he hasn't out-gained his 198-yard and two-touchdown totals from 2016, yet, he is on pace to do so.
"He's just improved everything. I'd like to see him keep working on his route-running," Held said. "That's an area of improvement, you know, him and I are talking about because I think, for him, to keep progressing as an elite running back, I think that's the one thing that he still needs to keep improving on."
UCF and Killins return to action on Saturday against the UConn Huskies for a noon game and the Knights' second-to-last home game of the season. The game will be broadcast on ESPNU.
---
For more on the Knights, as they prepare for the Huskies, follow Victor Tan on Twitter at @NDR_VictorTan.