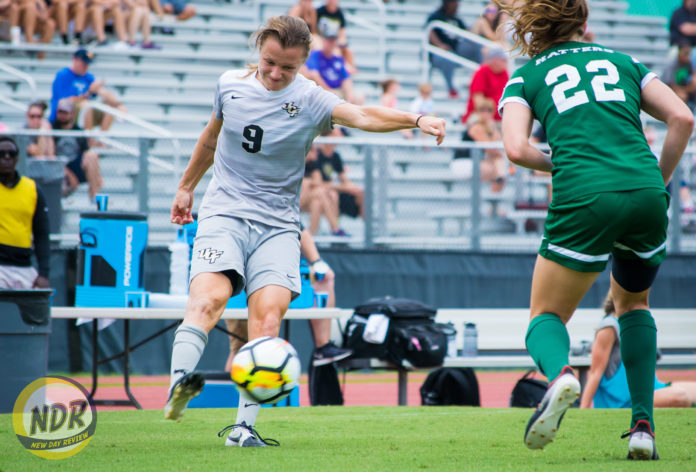 (Photo by Victor Tan / New Day Review)
ORLANDO, Fla. – UCF Knights midfielder Kayla Adamek isn't the most vocal player on the team, but that's okay. If anyone epitomized the adage, "Actions speak louder than words," it was Adamek. As the only redshirt senior on the team and UCF's most experienced player, she has captained the Knights to a No. 2 seed in the 2017 NCAA Tournament and an intact, 16-game unbeaten streak.
In what fifth-year UCF head coach Tiffany Roberts Sahaydak calls Adamek's best season, the Canadian international was named the 2017 American Athletic Conference Midfielder of the Year and is second in goals with 10 this season.
Adamek's quiet demeanor, however, made Roberts Sahaydak unsure of whether Adamek even wanted to be a captain this season. Throughout their experiences spanning a five-year relationship, Roberts Sahaydak said this was a defining moment for Adamek.
"I wasn't sure she wanted to be a captain because she is so quiet, and she isn't one to speak up," Roberts Sahaydak said after training on Nov. 9. "So, when I actually asked her if she wanted to be one—'cause her teammates actually suggested that she be one—she wanted the job right away.
"And it actually surprised me. So, I thought that that was a special moment for us because it was just us both realizing she really had stepped into this leadership role where her teammates really have a lot of respect for her and her coaching staff, too. And I think she was really proud of that moment."
Proud of that moment, Adamek was. It made her emotional—almost to the point of tears, in fact. That's because this was a bond that began in both their first years at UCF in 2013. Since then, Adamek gained an appreciation and a respect for Roberts Sahaydak, a World Cup winner and a two-time NCAA championship.
"Yeah, I mean, we have a pretty special relationship. Like, we kinda came into a new environment together, and we've kind of grown through it, and I've seen how Tiff has, like, implemented this culture, and I feel like each year, it grows," Adamek said after training on Nov. 9. "And, I mean, she's someone special to me, and, I mean, she's like family."
It wasn't the accolades and the big-stage victories that drew Adamek to Roberts Sahaydak, though. The lure of the UCF boss derives from her familial approach that she has used in guiding Adamek through a season-ending injury in 2014 and coaching the team to four NCAA tournament berths and four conference titles in just five seasons.
"It probably goes back to the team culture that she set up. One of the biggest things that always sticks with me is she says, 'Be your best,'" Adamek said. "And, I mean, that's kind of stuck with me the most 'cause I always wanna strive to be my best for this team, and another thing is that she always wants us to be a family, and I think that's what's most important, and that's why our team is so close together, and that's why we wanna win."
Adamek's leadership is contagious. It's a quality that makes her a teammate others want to play with. Senior Morgan Ferrara, UCF's leading scorer with 13 goals this season, even considers it an honor.
"It's an honor to play by her. I say that every time someone asks about her. She's a great player. She's a hard worker. She's so fit. I always say, 'If I was as fit as Kayla—'" Ferrara said laughing after training on Nov. 9. "But she's so much fun. She's a great leader, and I love playing with her."
Now, entering her final NCAA tournament, Adamek is looking to attain a national title in her last season with Roberts Sahaydak and one of the best UCF teams both have been a part of. But even if she doesn't end her collegiate career with one, her head coach knows she's left a legacy worthy of future players to follow.
"I think Kayla has definitely left a strong legacy," Roberts Sahaydak said. "Her legacy that she's leaving is about resiliency. She's come back from injuries over time, and she's had her strongest season yet her senior year. So, she's a quiet worker and a quiet leader, but she leads by example, and it's just a very strong way of leading, and her teammates have a lot of respect for her."
The Knights host Washington State University in the first round of the tournament on Saturday at 7 p.m. at the UCF Soccer & Track Complex.
---
For more on the Knights, as they prepare for the Cougars and the first round of the NCAA tournament, follow Victor Tan on Twitter at @NDR_VictorTan.