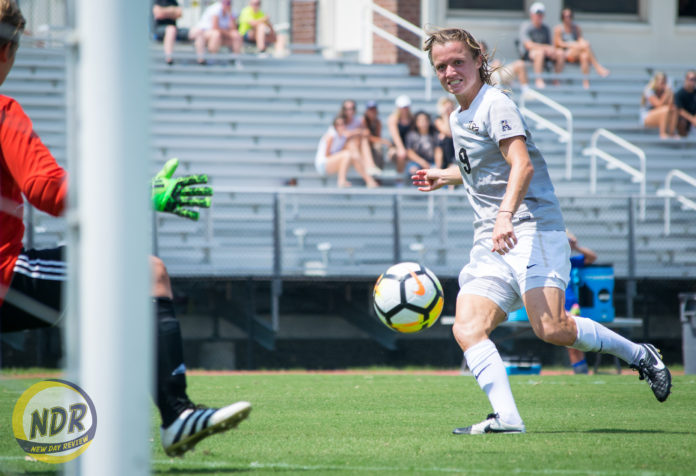 (Photo by Victor Tan / New Day Review)
ORLANDO, Fla. – Over the past four days, the Knights have experienced a roller coaster of emotional highs and lows. On Nov. 4, UCF lost to the USF Bulls on penalty kicks after drawing 0-0 through two overtime periods in the American Athletic Conference tournament final. One day later, the Knights saw their school's name etched in the No. 2-seed spot for the upcoming 2017 NCAA Tournament.
Undeterred and refocused, the Knights, now, turn their attention toward the Washington State Cougars in the first round. That begins with a new mentality, one that has the team approach the upcoming postseason tournament as an entirely new season.
"We're really proud of what we've accomplished, and we are, you know, reflecting on that, but, at the same time, it's time to refocus," fifth-year Knights head coach Tiffany Roberts Sahaydak said after training Thursday. "So, the season goals, you know, they've come and gone, really, and it's a new season, the way we're looking at it. And now it's really one game at a time.
"So, this game coming up against Washington State—it's, you know, it's just that time; it's that day; it's that game. And we don't really wanna look further than that."
Midfielder Kayla Adamek enters her final NCAA tournament after joining Roberts Sahaydak in each of her teams' three previous appearances. Adamek has also been a part of four conference titles with Roberts Sahaydak, but, for her, the best part of every soccer season is now.
"It's, like, what we look forward to most," Adamek said after training Thursday. "I mean, winning conferences and stuff like that is fun, but, like, we really wanna win a national championship. So, like, there's a lot of nerves going into it 'cause, like, it's do-or-die. So, we're all pretty excited and just waiting for Saturday to come."
As a team, UCF has dominated virtually all season. Save for a season-opening, 2-0 loss to the then-No. 4 South Carolina Gamecocks, the Knights' record is nearly unblemished. Since that loss, UCF has enjoyed a 16-game unbeaten streak, out-scoring opponents 43-5 and recording eight clean sheets.
If the Knights advance past the second round, they will have tied their own single-season unbeaten-streak record at 18 and have a chance at setting a new one. That record, however, will always come second to Roberts Sahaydak's team's goal of being crowned national champions.
"You know, [the unbeaten streak record] is actually not [on our minds]," Roberts Sahaydak said. "We are happy that, you know, we're getting close to that, but we already have enough pressure. We don't wanna worry about, like, one more record that can be broken. We just really wanna go far in the NCAA tournament, and, if that ends up happening and that's a product of it, then that's wonderful."
Said forward Morgan Ferrara on the unbeaten streak's significance after training Thursday: "I mean, we try not to pay attention to that stuff. Obviously, it's a big deal. I think the No. 2 seed was a huge deal, but we really just try to focus on taking it game by game and not worry about that stuff and let those things fall where they may."
Adamek, on the other hand, was a part of that 18-game unbeaten streak back in her freshman season. UCF won the first-ever AAC tournament but ultimately fell to the St. John's Red Storm 3-1 in the first round in 2013. The lone redshirt senior on UCF's 2017 squad believes that facing that sort of adversity against St. John's has helped her prepare for the Cougars.
"Yeah, [the unbeaten streak record] is [on my mind]," Adamek said. "I mean, back my freshman year, like, we went 18-0 but then we got shocked in the tournament. So I think it's good that we fought through some adversity, and I think it'll help us in the tournament, and, hopefully, we can beat that streak."
Adamek, Ferrara, Roberts Sahaydak and the rest of the Knights will have a chance at extending UCF's streak to 17 games unbeaten on Saturday at 7 p.m. at the UCF Soccer & Track Complex.
Tiffany Roberts Sahaydak Is Hopeful Carrie Lawrence Will Return During 2017 NCAA Tournament
Midfielder Carrie Lawrence suffered a game-ending leg injury in a 3-0 win over the Memphis Tigers in the semifinals of the 2017 AAC Tournament. She didn't play in the final against USF, as Lauren Nemeroff started in her stead. Emily Tipton also subbed into the role against USF.
As for Lawrence's status for the first round against Washington State, it's unlikely she will play. Roberts Sahaydak said Lawrence is healing and hopes to have her back sometime during the tournament.
"Yeah, Carrie Lawrence is rehabbing very aggressively, so we hope that we'll get her back while we're in the tournament," Roberts Sahaydak said. "You know, this upcoming game, I'm not sure about, but, hopefully, we're gonna advance and we're gonna have her for the first of the tournament."
Nemeroff is likely to reprise her role as Lawrence's starting replacement, according to Roeberts Sahaydak.
---
For more on the Knights, as they prepare for their fourth NCAA tournament appearance in five seasons, follow Victor Tan on Twitter at @NDR_VictorTan.