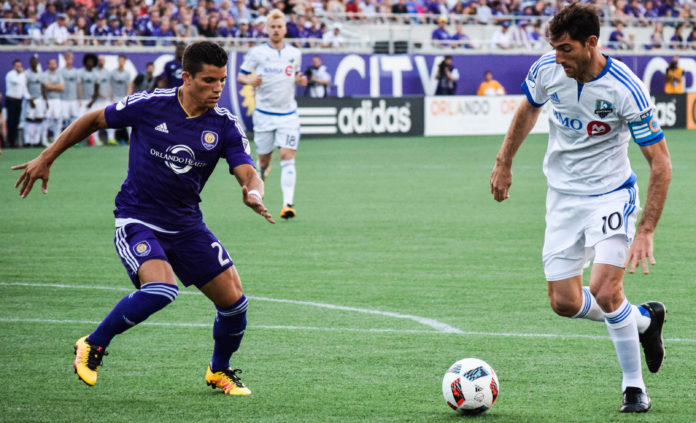 Notes & Quotes: Orlando City SC (9/2)
The coveted 10-day break that Orlando City SC had been looking forward to has finally come to an end. Following a week of three games where Orlando City extracted four points against top-three teams in both conferences, the Lions will now embark on a pivotal two-game road trip beginning with the Montreal Impact and ending with the Los Angeles Galaxy.
And, for the Lions, that dream of making Major League Soccer playoffs is just within reach, as they trail No. 6 D.C. United by only one point with one less game played. On Wednesday, Orlando City will have a chance to at least tie D.C. with a draw or surpass them with a win.
For defender Luke Boden, though, making the playoffs is a one-game-at-a-time process.
"Training's definitely not softening up," Boden said after training on Friday, Sept. 2. "You've seen training today, and it was a really tough session, and that shows we want to push, we want to push on and be fitter and stronger than the next team we'll play against and make the push for the playoffs.
"We'll take it a game at a time and see what happens."
If it wasn't already difficult enough for Orlando City to travel, as indicative by their 1-5-6 road record, things got a little harder when forward Cyle Larin and midfielder Kevin Molino were called up to their national-team squads for World Cup qualifying matches on Aug. 30. But City head coach Jason Kreis said his team has the personnel to make up for his two leading goalscorers, who have combined for 22 of the team's 41 goals this season.
"We believe that we have other players that are attackingly gifted players, and they're guys that can score goals," Kreis said after training on Friday, Sept. 2. "And so there will be a player or two who will get an opportunity to step in the starting lineup and show what they're worth."
Among those players are Júlio Baptista and Carlos Rivas. Baptista has notched three goals in 17 appearances (five starts) while Rivas has recorded one goal in 14 appearances (four starts). In addition to their scoring opportunities, the two have tallied two assists each. Fortunately for Orlando City, Larin and Molino will both travel to face the Galaxy on Sunday, Sept. 11.
While the attacking front may lose potency on Wednesday, the back-line might be bolstered with the return of defenders Seb Hines and Rafael Ramos. Hines left the 2-1 loss to Toronto FC on Wednesday, Aug. 24 in the 82nd minute with a knee injury while Ramos has been out with a hamstring injury since June 29.
Kreis said both players should be physically ready for Wednesday's match.
For Kreis, Montreal's Didier Drogba and Ignacio Piatti pose formidable offensive threats. Though, he now feels his team is conditioned enough to handle that kind of opposition.
"We know that playing against those players for the past several weeks, we've had some issues," Kreis said. "We've had some good performances, and we've had some bad. The good thing is I think now we have the requisite amount of experiences—both positive and negative—that we should be in a good place to handle a [Drogba and Piatti]."
Montreal has scored 40 goals this season, 14 by Piatti and eight by Drogba. They are 6-3-4 at home this season.
The momentum from City's recent three-game stretch has transferred into optimism for Kreis heading into Wednesday's bout.
"[W]e're putting together a number of good performances in a row, and if we can turn those good performances into points, into maybe a win on the road, that would be fantastic," Kreis said. "And I think we can do it."
Kickoff for Wednesday's match against Montreal is 7:30 p.m.
(Featured photo by Victor Tan / New Day Review)