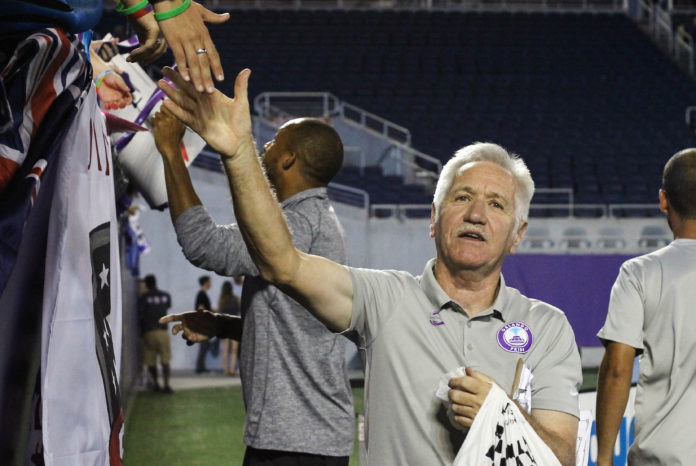 Notes & Quotes: Orlando Pride (9/6)
The end is nigh. Yes, the Orlando Pride's inaugural season in the National Women's Soccer League is slowly coming to a halt. But it's not really the end of the world for the first-year squad. Pride head coach Tom Sermanni and his team still have three more regular-season games left, and, for Sermanni, it's about, first, finishing strong this season and, second, preparing for the next one.
That begins with a home-and-home series against No. 6 Sky Blue FC on Wednesday beginning in New Jersey at 7 p.m.
Apart from any end-of-the-season successes, though, Sermanni said there's certainly still something to play for: the fans.
"It's about a real connection, particularly at this club, between the supporters and the team," Sermanni said after training Tuesday. "So it's almost like family in a sense… And I think it's important for the players that the fans stay loyal and faithful to them, and it's important for the fans that they know they've got a good group of players that are really focused and want to go out there committed to the club and do the best for them.
"The fans are the life blood of any team. Take the fans away, you might as well shut the door."
But looking to Wednesday's match, the Pride will face a team that Sermanni said is not a star-studded one; rather, they are one that is established on team effort.
"They've got some real-quality, experienced leadership in Christie Rampone and Kelley O'Hara," Sermanni said. "They're very much a team that works hard for each other."
When it comes to goals, Sky Blue is middle-of-the-road, scoring the fifth-most goals in the NWSL with 20. They have four players who have scored three goals, but their defense, like most of the bottom half of the league, has allowed more goals than they've scored. Sky Blue is tied with the Pride for the second-most goals allowed with 25. The Boston Breakers have allowed a league-leading 37 goals.
While the season isn't over yet, Sermanni hasn't held back on any of his criticism for his team's first season. The main factor for this team's success, or lack thereof, this season has been rooted in a lack of consistency in the team's lineup.
"When you bring a new team together, there's a lot of 'don't knows,'" Sermanni said. "And it would be false of me to say any different that we're doing a rotation because that's what I believe in because it's not necessarily what I believe in. Where you do want to get to with a team is a situation where when you do make rotations that they're seamless."
Ultimately, though, these final games come down to playing for the fans and helping carry over the momentum from the first year into the following years.
"We're very lucky in that we got that set of fans, and it's very important that they see that we got a team that goes out there whether that we win, lose or draw, that's leaving every drop of sweat on the field," Sermanni said. "And I think in fairness to our team and our players, the commitment has been first class."
(Featured photo by Daniel Castrillon / New Day Review)