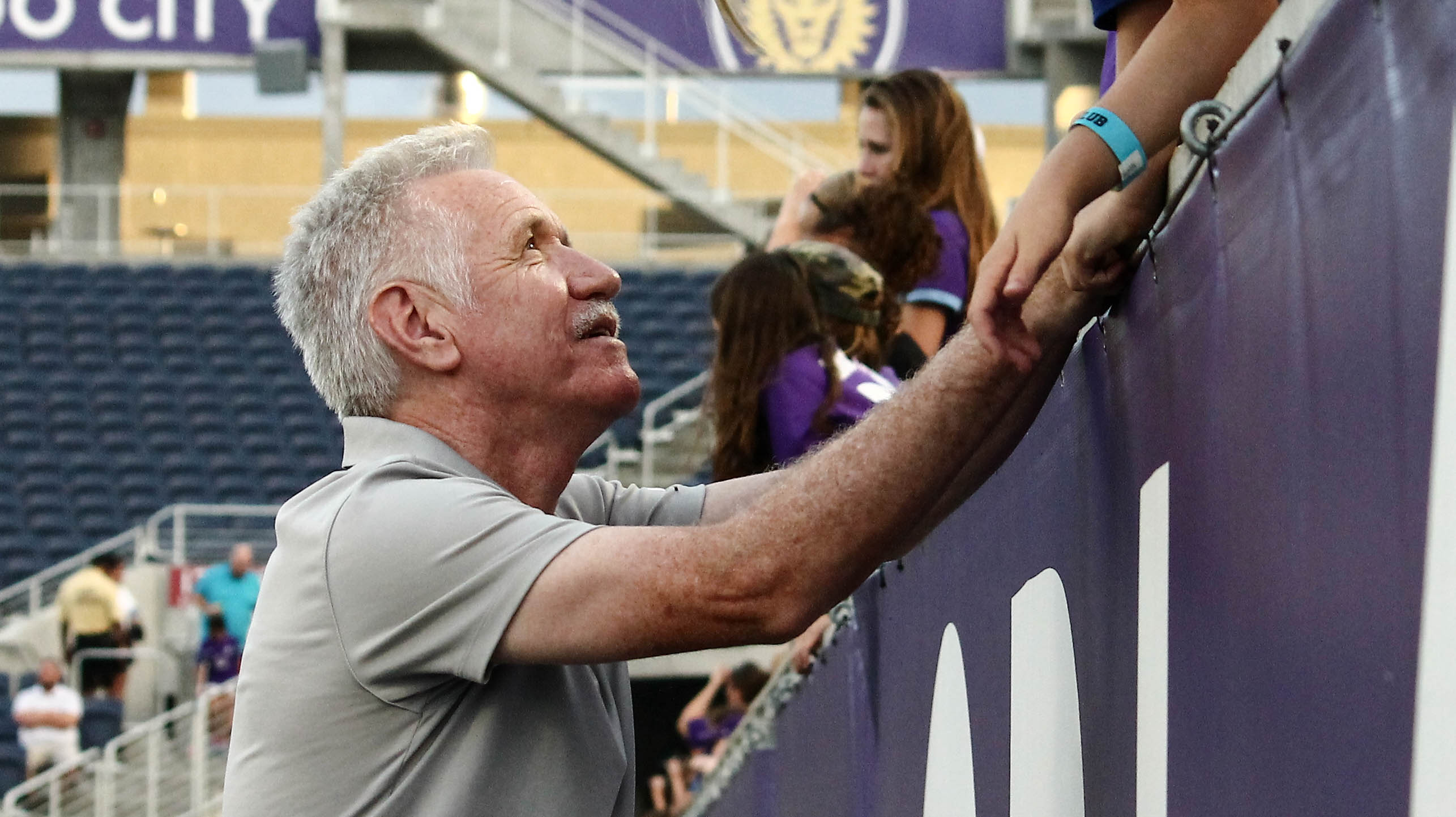 Sept. 6, 2016 at Sylvan Lake Park
Availability: HC Tom Sermanni
HC Tom Sermanni
The Orlando Pride fell to the Houston Dash 4-2 on Saturday.
The people have been great in training. I think we've been through a tough time results-wise, which is frustrating for everybody, players and staff and everybody. But that happens in soccer, and the key thing is for me and for players is make sure is we turn up every day enthusiastic, loving our job and ready to do the job and get ready for the next game.
The 2016 season is Orlando's first in the National Women's Soccer League.
I think you learn from every game, and particularly when you've got a new team. And, to be fair, that's been one of the challenges this year is the fact of having a new team, a new group of players together. [T]here's been a lack of consistency in our selection, there's been a lack of consistency in our system, if you like, and part of that is down to the fact that we're learning about players, we're learning about how the team gels together, how different players gel together, and that's been an ongoing process this season.
Throughout the season, Pride head coach Tom Sermanni has highlighted a lack of consistency in his starting lineup has been a determining factor going into matches against teams that have had consistent lineups all season.
When you bring a new team together, there's a lot of "don't knows." And it would be false of me to say any different that we're doing a rotation because that's what I believe in because it's not necessarily what I believe in. Where you do want to get to with a team is a situation where when you do make rotations that they're seamless. You can get to stage where you might tweak system, you might tweak the personnel that plays, and you don't see a difference when they get on the field. We haven't reached that stage yet. And if I had gotten into Week 1 of the season, Week 2 or Week 3 or Week 4, and got, what I call, a really settled starting 11 that were performing consistently, then I'd have probably kept that starting 11. So, it's been a season where, from a staff point of view, we've been trying to find out things about players as we're going along. Part of the problem I think we had is we had such a short—there's been two issues that have impacted that this year: one was the very short preseason, and that's extremely difficult when you bring a brand new group of players together, and second has been the international calendar, which is [an] impact, not just because of the Olympics, but in preseason and during the season because we've had those international call-ups that's also impacted selection.
With the loss to the Dash on Saturday, the Pride were officially eliminated from a playoff spot in their inaugural season.
Well, you go from week to week, but you're still looking ahead, and part of that might be the fact that I've been coaching national teams the last 10 or 11 years before I took this job where you're constantly—when you finish the Olympics, you're looking at the next World Cup. So you're always doing the balance of the immediate and, to an extent, the longer term. Club football is a little harder to look longer term because of the nature of the job. But we're certainly looking ahead at next season and making sure we finish this season strongly.

Of course there is [a lot to play for]. It's about a real connection, particularly at this club, between the supporters and the team. So it's almost like family, in a sense. So, it's like anything. When you take the family analogy, things don't always go smoothly… And I think it's important for the players that the fans stay loyal and faithful to them, and it's important for the fans that they know they've got a good group of players that are really focused and want to go out there committed to the club and do the best for them. The fans are the life blood of any team. Take the fans away, you might as well shut the door. That connection is really important. And in a sense, it's almost more important that things aren't going well. You see teams, and you get different sets of fans where you look throughout the world where if things aren't going well, they're certainly disgruntled and walking out the stadium. And then you got other clubs where fans are there to the bitter end, supporting the team. We're very lucky in that we got that set of fans, and it's very important that they see that we got a team that goes out there whether that we win, lose or draw, that's leaving every drop of sweat on the field. And I think in fairness to our team and our players, the commitment has been first class. And that's been highlighted by—if you look at the number of goals that we've scored late in games, we've been chasing games and keep going and keep going and keep going, that is an indication that this team is really focused and wants to do well and do well for our supporters.
The Pride will play their second of three games in the span of seven days on Wednesday when they travel to face Sky Blue FC at 7 p.m.
As a player, the more you play, the better. You prefer having games than you prefer just coming and training… To go from Saturday, Wednesday, Saturday, to me, that's a good thing as a player to know that I've got another game coming up, and they don't know need to listen to my voice on the training field.
Sky Blue is 6-7-4 with 22 points this season.
Every game in this league is tough and difficult. What Christy [Holly], their coach, has done really well is he's really got the group very tight. So they're not necessarily a team of star names. We just played Houston who have got Morgan Brian, Carli Lloyd, several international players. I think Sky Blue are much more of a team effort, so they've got some real-quality, experienced leadership in Christie Rampone and Kelley O'Hara, but, in general, they're very much a team that works hard for each other.
In the NWSL, only one team currently has double-digit wins, and only two teams have double-digit losses. Every team has also drawn at least one game except Orlando.
I think you see that [parity] doesn't often happen in men's soccer, but that very thing happened with Leicester City last year in English Premier League, and that happens in this league, and particularly with teams now that have been in the fourth year. They've managed to submit a culture and a team ethic and a team spirit that even if they don't have the star players, they've got players that can perform week in and week out.
(Featured photo by Daniel Castrillon / New Day Review)