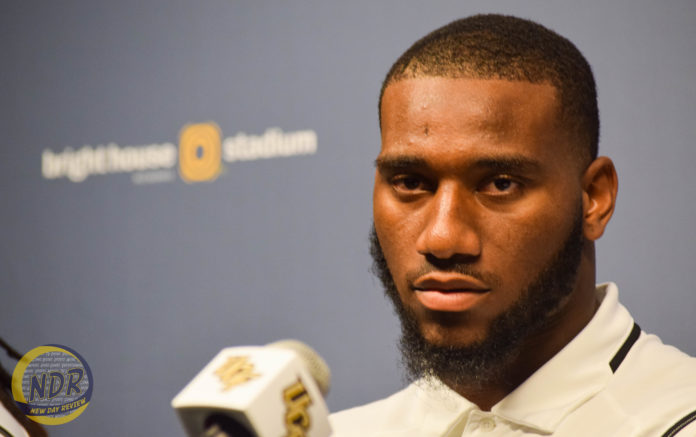 Sept. 7, 2016 at Wayne Densch Sports Center
Availability: CB Jeremy Boykins
CB Jeremy Boykins
In the College Football AP Top 25 poll released Tuesday afternoon, Michigan jumped up two spots to No. 5 in the nation.
I think success for us will be to come together. Everybody has to lock hands and lock arms and go to war with our brothers. We don't really get into numbers. That's just something they come out with every other week after a game. That doesn't really affect us. We're just going to go out there and play for each other, but we're coming in there to win. We want to win. We want to knock out this powerhouse school.
With a maximum capacity of 107,601 seats, the Big House generates around 110 decibels of crowd noise, which ranks among the highest in college football. The University of Central Florida is preparing to use hand signals and sideline cards to non-verbally communicate when necessary.
Michigan, they snap the ball between eight and 12 seconds, so we can basically line up with everyone looking around and make sure everyone has the right signal for each other. They line up, and they kind of stop a little, so it'll be easy for us to get the signals.
The Knights currently have two true freshmen starting and seven others as second-string players.
It's going to be a good experience for them; I mean who wouldn't want to play in the Big House. This is actually one of the best experiences you'll have in your life that you can tell people. They'll probably love it. They'll love the atmosphere.
UCF head coach Scott Frost said he doesn't give out many "rah-rah" speeches.
Compete, play hard, focus and win. [Frost's] more focused on what we're doing at practice right now. So when he likes something, we'll have good results.
UCF has won two of the last three American Athletic Conference championships since entering the conference in 2013.
I feel like we have a really good chance. We have a lot of people coming back from defense and offense, and we're just getting better each day. I'm noticing Cam [Stewart] getting better on blocking, Tristan Payton [is] getting better at blocking. Everybody is getting better each day. It might be a little thing, but it takes the little things to be great.
Sept. 5, 2016 at Bright House Networks Stadium
Availability: HC Scott Frost, DB Shaquill Griffin, WR Tre'Quan Smith, LB Shaquem Griffin
HC Scott Frost
In Week 1's game-week press conference on Monday, Aug. 29, University of Central Florida head coach Scott Frost emphasized an importance on having good practices on Monday and Tuesday.
These guys do what we ask them to do. So when we made it apparent to them that Monday wasn't up to standard, they, just like everything else we've asked them to do, they fixed it. We had a lot better Monday than last week. If we can do that Tuesday, Wednesday, we should have a better Saturday.
The University of Michigan's football stadium holds a maximum capacity of 107,601. Their record attendance is 115,109 from a 41-30 win over Notre Dame in 2013.
We're just going to focus on us and focus on our process. I know that sounds like a head coach talking, but this is a long season. Key for this team is to keep improving. We've improved a lot. I think, at times, we look like a real football team. Saturday, defense played well the whole game. We got to keep getting better, and regardless of last Saturday's outcome or next Saturday's outcome, we got to keep improving. But this is big-boy ball now. We're going to play a real team. To play with a team like this, you got to execute, and you got to execute at a fast pace. You can't not block to a whistle and expect a guy to get blocked; you can't run a route without detail and expect to get open; you can't be on an edge of somebody and get them tackled. I think a lot of teams, when they've been in these environments before, understand how to find that little bit more to make a play here and there. I think some of our guys understand that, and hopefully some more figure it out Saturday.

That's one of the great parts about the way we run offense is the one thing that's verbal in our whole offense is the snap count. And if we have to go to silent snap count, we will. We've practiced that, are practicing that. Everything else can be communicated non-verbally. So, hopefully if there's crowd noise, and I hope there is, because that means it's going to be a good game, hopefully we'll be able to handle it.
In the first half of the Knights' 38-0 win over South Carolina State University, UCF scored 18 points on four field goals and one touchdown. Frost's team scored 20 points on a rushing touchdown and two passing ones.
You know, honestly we didn't adjust a lot. We figured a couple things out that we thought would work, and they did. We had our chances in the first half, offensively, and it was just one thing here or there. That was kind of our message going into the week that we needed to execute and do our job, each person do their job. There was one play where it was an offensive lineman that broke down, another play, a quarterback missed, another play, receiver didn't run the right route or didn't run it exactly how we taught him. There was a lot to be had in the first half that we left on the table, but that's the learning process. I think we're younger on offense than we are on defense. Defense has been executing really well. We're catching up on offense. But it's going to take a little bit, particularly with the young players.
No. 7 Michigan rushed for 306 yards and threw for 206 yards, combining for nine touchdowns en route to a 63-3 win over the University of Hawaii.
Well everything starts with winning up front, and we're playing a really good team. I got a lot of respect for this team. They're sound on both sides of the ball. They know what they're doing, they have an identity, and they got some future [National Football League] players. It's going to be a good experience for our guys. To play well against these guys, we got to be on it. Everything's got to happen at the right time. It's got to be full speed, 11 guys have to be doing their job. And hopefully we can get that done up there. It's going to be a lot of fun. I think it's always fun to go play a really good team, and our kids are going to get to see what a place like Michigan looks like and what those players look like. I don't think our kids are going to be intimidated or scared. They're going to go in there fighting. But we know we have a challenge in front of us.
Frost was a two-year starting quarterback at the University of Nebraska from 1995 to 1996 after transferring from Stanford University.
I've loved going into a hostile environment. It kind of made me focus even more, and I think we got a bunch of guys that are going to feel that way. I've never been to Ann Arbor myself. I don't think many of the people traveling up there have been to Ann Arbor, but I heard great things about it. Hopefully that brings out the best in our players and our team.
Frost coached the University of Oregon's offense from 2009 to 2015. Michigan head coach Jim Harbaugh was the head coach of Stanford from 2007 to 2010. The two teams met four times with Oregon winning three of the matchups.
One thing you know about a Jim Harbaugh-coached team [is] they're going to play hard. They're going to be disciplined and they're going to play hard. He's the perpetual the foot on the gas pedal. I don't think he probably lets his players get away with much other than exactly what he exactly expects, and that's an attribute of a good coach. You can already see that in his team. I got a lot of respect for Don Brown, their defensive coordinator, and what he's done at other places. It's a good ball club and a good unit, and I think it'll be a lot of fun for us to go up there and give them a challenge.
On Saturday against the Bulldogs, UCF ran 91 plays.
I think the offensive line has made a world of improvement. Now there were a few breakdowns Saturday, a few things we can fix and improve. And they kind of happened in places where we were a second away from having the quarterback have time to throw a touchdown or one block away from getting a shoe-string tackle and break in a big run. But just looking at how they competed, how they communicated, it's a lot better than it has been, and I expect it to keep improving.
UCF won its first game since Dec. 4, 2014.
Well I don't think you can take [Football Championship Subdivision] opponents lightly anymore. There're some good players on that football team… There's teams around the country in bigger conferences than ours that got taken to the wire or got beat by FCS programs. So we don't take those games lightly. A win is a win. But it's going to be a whole different level of speed now, a whole different level of size on the other side, and, again, I'm not as worried outcome last Saturday, this Saturday, next Saturday as I am in seeing steady improvement from our team. And if we can do that, we'll be on the right side of the scoreboard plenty of times this year if we can keep on the trajectory we're on.
Senior quarterback Justin Holman scored three total touchdowns in Saturday's game. His two throwing touchdowns were scored in the second half.
I thought Justin had a great second half. The quarterback needs to be the most confident guy on the field, probably the most relaxed guy on the field. I think he was so excited for that game, he was a little over-amped. I don't think that'll happen again. But he was excited as a lot of guys to get out there for the first time. There was other breakdowns in the first half. We have a tendency to put everything on a quarterback or a head coach when things go right or wrong, either way… But, in general, I want our guys to be confident, relaxed and believe that they can go out and make plays. And I think that kind of demeanor will help everybody on the team.
Of the 12 teams in the American Athletic Conference, only two lost. The biggest victory came when No. 15 University of Houston defeated No. 3 Oklahoma University 33-23.
This is a good football conference. There's a lot of good football teams in this conference, and I think there's a lot of teams that can rise up and compete for [a] conference championship every year. Our goal, here, is to be that team year in and year out, and I've said this a hundred times, I firmly believe we have advantages here, and we're going to get to a point where we can be dominant in this league. But right now, it's a very strong league, top to bottom. We're certainly not going to take any teams lightly, and it's fun to see teams in our conference do well out of conference.
The Wolverines held Hawaii to only three points in Saturday's game.
I think it's execution. I don't think we're going to be able to line up and come off the ball and knock them back five yards every play. They press their corners a lot and just play man-to-man all over the field. So you can't run an average route and expect to get open. Execution has to be perfect to move a ball against a team like this. Defensively, with all the things they give you, you have to be perfect on your assignment. Eleven guys out of 11 to get a stop. We need a game like that because we need to understand how crisp the execution needs to be on both sides to be a great team, and I think we'll take a big step toward doing that if we keep practicing the way we did today, and we'll learn how to do that come Saturday.
The last time the Knights played a Big Ten team was in a 26-24 loss to Pennsylvania State University in 2014.
Well, if you asked me if I'd rather play Michigan or some other team in Michigan that might not be ranked in the Top 10 in the country, I might not give you an honest answer on that. Listen, this game's on the schedule. I don't want our kids afraid to play anybody. I think our guys are excited to go up there and look that challenge in the face and take swings at them. You know, we're a young team in certain places, and some of these kids are going to have to grow up fast. And we'll throwing them into the fire a little bit here. But I want our guys to be confident, and regardless of the score at the end of the game, we're going to come out of this game a better team.
DB Shaquill Griffin
Defensive back Shaquill Griffin recorded an interception in Saturday's 38-0 win over SCSU.
So far, we're still breaking down film. We've seen a couple things, but it's not enough to kind of identify exactly what we're going to see. So, we're going each day, we're gonna' take it one day at a time. We're just still breaking down film, trying to figure them out. Obviously, they're good team, but it's definitely something we're trying to figure out before [Saturday].
UCF secured its first shutout against SCSU since defeating the University of South Florida in 2014.
Our plan is to just start fast, end fast. [We're not planning] on trying to get scored on, but you've got to play the game and [know] mistakes are going to happen. But it's how you react to it, and we're pretty good and glad we got the zero points against [SCSU]. Now we're on to Michigan and we're trying to do the same thing…all I want is for my teammates is to give me 110 percent each play, one play at a time. That's what we're going to do.
Frost has emphasized his team must prepare for game day by having a strong Monday and Tuesday practice.
Today, the execution and levels were just perfect. That's something we need going to a game like this. Right now, I think the team understands the type of opponent we're going up against and they're taking it very seriously. That's something we need going into this game…Like I said before, we're going to face each team like it's a national championship. That's how we're going to play, we're going to play fast. We're going to start fast. It's definitely something everybody can look forward to watching this game this Saturday.
WR Tre'Quan Smith
Saturday's game will be nationally televised on ABC/ESPN.
I'm looking forward to it a lot. It's going to be a big crowd, but I know what [my teammates and I] can do. We stick together; brotherhood. I'm looking forward to showing big things this Saturday.
Smith finished with four catches for 65 yards and a touchdown in the Knights' season-, home-opener against South Carolina State.
There's always room for improvement. There's always room to get a little better. We got the win, that's what we really wanted, but we can do better. We got to get back to practice and watch film and see what we can improve on.
The Knights combined for 197 yards rushing on 55 rushing attempts (3.6 yards per carry) against the Bulldogs.
That's what the offense is about. We're handling with the run game, run game, run game, then play action over the top. Short gain, pass, pass, then big throw over the top. That's how [Coach Frost] wants the offense to go. Anything to get the chains moving, anything to get the defense offside or on the line. That's what you want.
LB Shaquem Griffin
Saturday's game against the Wolverines will be the Knights' first road game.
The only way we're getting prepared is just staying together. We're not too focused on how big the crowd is. We're used to going to practice and listening to the music being loud. We're just telling the [young guys] communication is going to be real big for us. You know hand signals… They pretty much already know it from [preseason] camp, now it's just more about emphasizing on the point of, 'Okay, you're getting this hand signal, and you pass it on to the next guy.' The young guys are picking up pretty fast, so that's the main point.
The Wolverines are currently a 34.5-point favorite against UCF, according to Odds Shark.
I love away games. Going into someone else's house; coming in and be the underdogs. Now it's stuff that people want to see that's unexpected, so every little play that we make is going to be different. I want to do things that are going to silence their crowd. That's why I like playing away games. Coming into a big game like this—on national TV, a huge crowd—there's nothing better. That's stuff you want to ask for [when you] play on Saturday's. That's what you live for…We want to give someone a big surprise. Our main thing is coming and giving 100 percent. We're not going to give up no matter what the score is. We don't listen to the critics saying what we're going to lose by or what the [point spread] is, we're gonna give it our best and that's all that matters.
(Featured photo by Victor Tan / New Day Review)