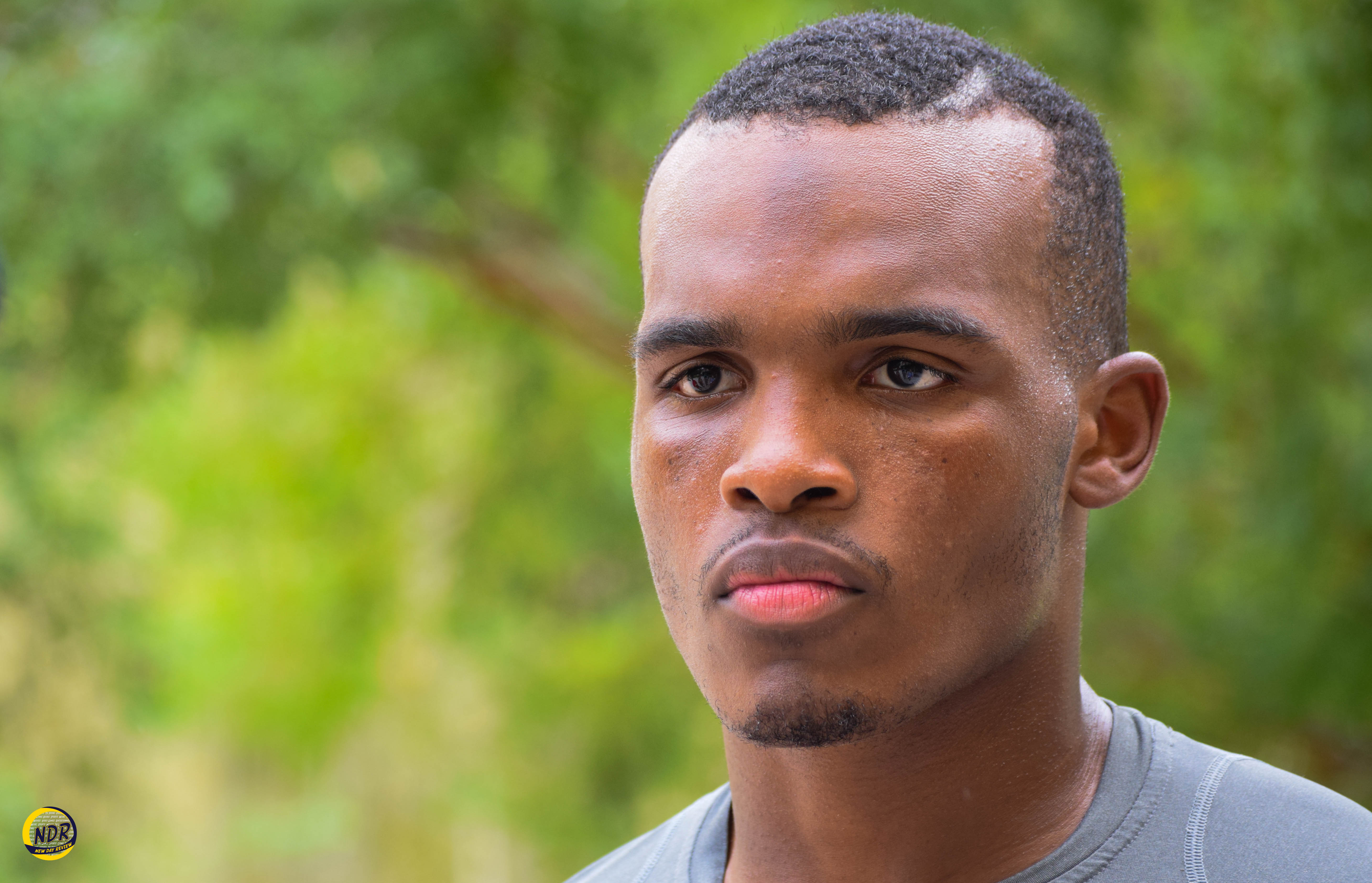 Aug. 31, 2016 at Wayne Densch Sports Center
Availability: QB Justin Holman, OC/WR coach Troy Walters, DC Erik Chinander
QB Justin Holman
At the team's weekly game-week press conference on Monday, University of Central Florida head coach Scott Frost said Justin Holman got a lot faster during the offseason.
It was just all in the weight room. Those guys in the strength and conditioning program really got me right. Got my legs stronger, got my core stronger and did a lot of speed training. That's what got me faster.
On Friday, Aug. 26, the Knights' depth chart was released for the 2016 season. Holman was listed as the starting quarterback.
It feels good, but, at the same time, you always got to do your job, no matter if you're first string or fifth string.
UCF finished 0-12 last season.
Yeah, you definitely got a chip on your shoulder, but you don't want to play like it because then you start forcing things, try to make things happen. We'll just go out there and do our job. We'll execute.
Frost coached the University of Oregon offense prior to taking the head-coaching job at UCF. There, he coached former Heisman Trophy winner Marcus Mariota in a fast-paced, spread offense.
I feel good about it. We've been doing it all spring, all summer and now even in fall camp. So I'm pretty confident in it.
South Carolina State University led all Football Championship Subdivision (FCS) teams in sacks last season with 46.
We're just preparing as best as we can. We know we're going to get a competitive group of guys coming out to play us, and we're going to go out there and execute to our highest ability.
OC/WR Coach Troy Walters
On Monday, Frost emphasized having great practices on Monday, Tuesday and Wednesday in order for the team to have a successful game day.
They had a sense of excitement actually going against an opponent, knowing that Saturday's game day. So they had a lot of energy. Practiced well, and now the next two or three days is all about mental reps and recovery and getting their body right so that we can go out Saturday night and do what we know we're capable of doing.

As an offensive staff, we're pleased with where we are. Camp, we threw a lot at them, and now we've kind of scaled back and narrowed down exactly what we're going to do on Saturday, game-plan specifics. So I think the guys were kind of relieved knowing that we don't have a hundred different plays like we did in camp. We have a certain number, and they can master those concepts. And the big thing is if they know what they're doing, they can play fast, and if we're playing fast, we're going to be pretty good.
Holman has thrown for 4,401 yards, 31 touchdowns and 29 interceptions on 359-for-656 passing in 25 games at UCF.
He's a senior. So he's tried and true, he's been through the fire. So we're very confident with what he can do. He's got a great grasp of this offense. He's the team leader on offense, so he's going to rally everybody. So we're excited for what he's going to do. I'm excited about the offensive line, excited about the receivers, the tight ends—I'm excited about the whole offense. Really excited to go out on the field Saturday night and kind of do what they've been doing in practice, and if we do that, we're going to be really successful.
Before joining the Knights' staff, offensive coordinator and wide-receivers coach Troy Walters was the wide-receivers coach at the University of Colorado for three seasons.
I've been blessed to be around some great offenses through my playing days and even as a coach. The biggest thing I want to do is put my playmakers in position to make plays, and in this offense, we're going to spread guys out; we're going to try to outnumber the defense to one side or the other; we're going to try to create matchups. And any time you do that, you allow your playmakers to make plays, and you get the ball in their hands.It's not the Xs and Os, it's the Jimmys and the Joes.
The last time the Knights didn't win a game was in the 2004 season, former head coach George O'Leary's inaugural season.
Any time that a team goes 0-12, you come in, you feel like the cupboard's bare. But we feel like we've got talent enough to go out and win a conference championship, to compete with the best. The guys have bought in. They've grasped what we're trying to do. They've bought in to Coach Frost's philosophy, and so we're pleased and happy with the guys that we have. We still have to recruit; we still have to go out and get the best players around to come play for us, but we're happy with what we have, and we're excited about Saturday.
Redshirt senior wide receiver Hayden Jones was primarily used as a kick-returner
He's probably the fastest guy we have on the team. And so he brings an explosive speed, down-the-field element that other guys really don't have. We're counting on him. We're counting on a lot of receivers. Kind of going to be a receiver by committee. A lot of receivers are going to play, the young guys are going to play, and I'm confident in all of them that when their number is called, they'll make plays because they have in practice.
DC Erik Chinander
Last year, the Knights were the 114th-best defense out of 128 schools. They allowed 464.1 yards per game and 37.7 points per game.
I think some days we're happy; some days we're really happy; some days we think that we can go out there and be a dominant defense and do whatever we want to do. And some days we're not there. They just need to learn to fight through it every day, to do it every day, in practice every day. The great ones, the great teams can go out there—it doesn't matter if you roll the ball out, and we play a local high-school team, or if we play the Green Bay Packers—we're ready to rock. Sometimes, right now, I don't know if that's the case. Other days, they come out, and I think, "Oh, man. We got something here." So we just need to get a little more mentally tough and learn how to fight through some things.

I want them to attack. Play 1, attack; Play 2, attack; Play 100, attack. Whatever emotion takes. Now, obviously, you got to attack like you've been there before, and, obviously, these guys weren't there last year. So we can't have bad emotion, but I want them to feel free and play.
The Knights recorded 16 sacks last season. They were led by then-sophomore Jamiyus Pittman, who had 4.5 sacks.
I think the d-line is better than people gave them credit for before we got here. I think Shaquem Griffin kind of solidified his spot as a starter, and he's done a great job. But for the most part, I thought we had some good players, and we do.
True freshman defensive lineman Trysten Hill earned a starting job on the d-line for the upcoming campaign. Hill recently turned 17 years old.
Kid's 17 years old. He's a monster. Now he's a freshman, he's not there yet, but he's got the tools, he's got what it takes. He's going to make some mistakes, there's going to be some bumps in the road, I know that, and we're going to be there with him. But he's really going to help this football team, and he's taking everything. He's taking coaching, he's learned how to play defense. It's a little different when you come from a smaller school. He lined up and went forward. Now he's doing a lot different jobs, but he's done an awesome job.

Well, I was surprised when I found out he was 17. I found out that like a week ago. They're like, "Coach, he's 17." I'm like, "What?" I thought maybe he was an older guy for his grade, like a 19-year-old. But he's physically mature, mentally mature. Like I said, I know there's going to be some ups and downs with him, but, man, he's—for a 17-year-old, he's got it.
On defense, the Knights allowed 31 touchdowns and recorded only four interceptions last season.
I didn't know what we had. Like I said before, I went and watched the film just to kind of see the demeanor of the guys and maybe what positions were best to put them in, but I tried to come in with a clean slate, start from scratch. Say what you want, they were 0-12; I'm 0-12 now. I signed up for it. We're all 0-12 together, and we got to get better. I don't care who's on the team, I don't care who suits up for us; we got to play.
The Knights will host the Bulldogs on Saturday at Bright House Networks Stadium at 7 p.m.
Just watching these guys go out. They put so much work from spring and winter and summer and now fall camp and game week practice; just watching them respond. It's their time now. Monday through Friday, that's my time. Saturday is their time. I just want them to go out, and let's have fun. I think my job is to create an environment where they can be successful, and then Saturday get out of the way. I'm just looking forward to getting out of their way and watching them go.
Aug. 29, 2016 at Bright House Networks Stadium
Availability: HC Scott Frost, LB Mark Rucker, WR Tre'Quan Smith
HC Scott Frost
The University of Central Florida football team finished its 2015 campaign 0-12, not winning a game for the first time in a single season since former Knights head coach George O'Leary's first season in 2004 when his team went 0-11.
I don't think I'm smart enough to figure how a season's going to go based off camp. One message we wanted to relay to our guys today is you can pretty accurately tell how Saturday's going to go based off Monday and Tuesday. I've seen it 100 times: Great Monday, great Tuesday, awesome Saturday, where if you have a bad Monday and bad Tuesday, you struggle on Saturday. Our guys have learned that we don't rise to the occasion, we sink to the level of our training. And our training needs to be really good on Monday and Tuesday.
Senior quarterback Justin Holman has started for the Knights in the school's previous two seasons. He suffered a hand injury in the second game of the season against Stanford University in 2015. On Friday, UCF released its depth chart with Holman in the No. 1 quarterback spot for the third-straight season.
His body of work was the best. I think he went to work on learning the system the best in the offseason, so it started then. I think all the guys did a pretty good job, but I think of all the reps they took, it was pretty clear Justin was in front.

It's been a gradual process and improvement, I think, that just went along with him becoming familiar with the system.
Knights head coach Scott Frost coached wide receivers at the University of Oregon from 2009 to 2012 and was the offensive coordinator and quarterbacks coach for the Ducks from 2013 to 2015. In that time, he coached Heisman Trophy winner and No. 2-overall NFL draft pick Marcus Mariota and Canadian Football League quarterback Vernon Adams.
Justin's got what we want in a quarterback. I would love to have him for two or three years. I think we could really do something special with him. I'm looking forward to seeing what he can do this year. He's got a big arm, runs it plenty well. He got a lot faster in the offseason. I think the biggest attribute that's unique about our system is being able to process things really quickly. Guys that are unable to do that struggle in this system a little bit. Justin processes really fast, and he's getting even better as he's getting more familiar. So that's a good attribute to have.

I don't want to compare [him] to anybody else. That's not fair. And most of those guys that we had had been in the system two or three years by the time you see them. This is Justin's senior year. He's familiar with football and Xs and Os, but he still has to learn our scheme. But he's gone to work and done a really good job doing that.
Redshirt senior quarterback Nick Patti is listed as the No. 2 quarterback on the team's depth chart.
Justin's our quarterback. We're going to go forward with him. If anything were to happen, or if a game is lopsided one way or another, we'll get some other guys in there. But Justin's our guy to start with going forward.
The Knights host the South Carolina State Bulldogs on Saturday, Sept. 3 at 7 p.m. Last season, the Bulldogs posted a 7-4 record.
I think they got some talented players. They seem to be fairly sound in what they do. It's hard to really tell on defense for us as offensive coach[es]. They have a new coordinator this year. So any time you're facing a team like that, you can guess, but you've got to be able to make adjustments and be ready to make adjustments when you see what they're doing. We're going to give our guys a bunch of different looks so they're ready for anything they might throw at us.
Last season's Knights averaged only 13.7 points per game while allowing 37.7 points per game.
I don't want our guys looking anywhere else other than this week, and if they want to win Saturday, tomorrow morning's practice is key. I think it's really important for us to get off on a good foot, get our guys familiar with what it feels like to win again. I don't think there's anyone in our program that's looking ahead of this one, and hopefully nobody's looking ahead of tomorrow morning's practice. We need to have a good one.
UCF held hosted a record-setting crowd of 23,147 fans in Bright House Networks Stadium for the team's annual spring game.
One of the things we're really going to have to focus on is consistency. I was surprised by how far the team came in fall camp. And there was days I came off the field, and I was just thrilled with where we were. Then we've had two or three little setbacks. Great teams are consistent. They're the same all the time. Great teams don't have letdowns, and we're trying to get there. We need to be mature enough as a team to be able to handle success when things are going well and be able to handle challenges when things aren't going well. I think we're still in the process of going there.
Frost joins the Knights as a first-time head coach after coaching offense with the Ducks for the past seven seasons.
We're not going to hold much back. There's so many different things you can do in this scheme that when you game-plan for somebody, typically it's different than the week before, different than the next week. So we're going to run what we think is the best against these guys, and we'll do the same thing the week after and the week after. The key is just practicing well and executing your game plan every week really well. If we can execute on Saturday offensively and defensively, everybody does their job, and we play hard within the system, things are going to really well. But our execution has to be really good.
UCF accrued 541 penalty yards on 64 penalties last season with an average of 5.3 penalties per game.
We talk about [discipline] all the time. You know, that's why we practice the way we do. We try to create kind of organized chaos on the field in practice. It simulates the chaotic atmosphere of a game. You don't know what to expect. The defense might not be lined up. They might be giving you something you haven't seen. You might be running a play you haven't seen. There might be a sudden change. I want our guys used to playing with something that makes them uncomfortable or something they're not used to. We got to be consistent, and we've been harping execution to them. And if the guys just play within the system on both sides and do their J. O. B.—do your job—we're going to have a really good week, and I think it'll lead to good things this season.
It was announced that Frost was hired by UCF as the school's next head coach on Dec. 1, 2015.
Well I think I see a world of change in this team from what I saw in December, but that still has to play itself out. And that's up to us as a team. These guys have worked their butts off. I see market improvement. But in order for them to realize all the gains that they've made, they got to go out and focus and execute on Saturday.
South Carolina State led all Football Championship Subdivision (FCS) teams with 46 sacks last season.
We're going to treat every challenge the same. I didn't know these guys led the country in sacks. That's good for me to tell my offensive linemen. We're going to treat every challenge the same. It doesn't matter if it's a I-AA team or a Super Bowl team. We got to have great Mondays, great Tuesdays, good Wednesdays and let our preparation prepare us for Saturdays.
Frost became a first-time head coach on Dec. 1, 2015 when he took over the Knights program.
I don't really take time to think about that. This isn't about me. This is about this university and this football team. I see myself as a servant of the players that they hired me to coach, and it's my job to do whatever I can to help them be successful. This isn't about a head coach. This is about a football team, and I want our football team to be successful. That's why I was hired.
True freshman running back Jawon Hamilton is listed as a co-starting running back with senior running back Dontravious Wilson.
Jawon had a great camp. Usually the biggest factor in determining whether a freshman is ready to play or not is their maturity level. And Jawon worked his tail off to learn it. He went out there and wasn't ever afraid. He didn't dip his toe in the water; he dove in head-first and handled everything like a pro, like a veteran. Usually kids that do that, if they're talented enough, they find their way onto the field.
Defensive end Trysten Hill, another true freshman, is also listed as a co-starter with redshirt sophomore Joey Connors.
Trysten's very similar. He came in and handled business. He wasn't tentative coming in. He came in like a bull in a china shop, and [defensive line coach Mike Dawson] did a great job training him. He turned 17, I think, in March, so he's really young. But he's got a really bright future ahead of him.
The Knights were outscored 452-167 last season.
We're not going to be one of the teams that talks about season goals. I don't think we're there as a program yet to talk about what we want to accomplish over the 2016 season. We still need to focus on today. And our kids need to finish today on campus, making sure they're taking care of academics, then they come back from meetings, and they need to do well in that. And then they need to get up and rise and conquer practice tomorrow. I can't emphasize enough, if we want to have a good Saturday, Monday, Tuesday, Wednesday are what win you the game on Saturday.
True freshman offensive lineman Jordan Johnson is listed as the No. 2 right guard for the Knights.
Jordan's gotten consistently better. Really athletic kid, smart and has picked up. Still waiting on some of the freshmen to just completely cut it loose and to play with their hair on fire. Jordan's done that at times; other times, he's been a little tentative. Starting to see it come out of him, and that's all it's going to take for Jordan is to just let it rip.
Throughout the preseason and the 2016 spring-football session, Frost has emphasized an eight-second rule for his offensive team, dictating a quicker pace than players from last year's team are not used to playing.
I think we'll have to rotate. You know, we got quite a few guards that I think we can get away with playing. Got a couple centers and definitely need to spell our two tackles, as well. So, our main unit will be out there most of the time, but there'll be some rotation, and I think [offensive line coach Greg Austin] has done a good job of developing guys to be ready to play.
In 2008, the Knights opened the season against the the Bulldogs with a 17-0 victory in the only matchup between the two teams.
Ideally, we'd like to play a lot of guys, yeah, but we'll see what the game dictates. We're not taking these guys lightly. They had a great year last year, and this university lost to a I-AA program last year, so if there's any football player on our team that isn't taking this seriously, then we're going to address that. If it takes our starters being in there for 60 minutes, that's what we'll do. Anything we can to win the game.
Frost emphasized the importance of having good practices at the beginning of each game week.
Our guys are still learning what that's all about and what our process is going to be. This is really their first game week. This game week's a little difference because we had a bonus day on Saturday, with our practice on Saturday. Saturday's practice was awesome. Our guys came out with energy. If we practice like that all week, I feel like we're prepared for Saturday. This morning wasn't as good. So our guys need to figure it out. Monday needs to be good practice, Tuesday, good practice, and Wednesday's really our last hard day. So at 11 o'clock on Wednesday morning, these guys are done with the hard work. We'll teach them to know how important Monday morning, Tuesday morning, Wednesday morning are.
The starting place-kicker position is still up for grabs, as redshirt sophomore Matthew Wright, who started in the 2015 season, and sophomore Donald De La Haye battle for the spot.
I have to talk to [linebackers, special-teams coach Jovan Dewitt] about that. I've been around teams that don't have a kicker; we have two really good kickers. That's a good problem to have. I trust both those guys to play any role we ask them to. So we'll see how it plays out.
Like the Knights under O'Leary a season ago, Frost will name captains on a weekly basis.
We'll have team captains by week. We probably won't designate them for the season, but we got a lot of team leaders. Our team knows who they are, and our players know who they are.
LB Mark Rucker
Saturday marked the first time the Knights have entered game-week practices under Frost.
Practice was good. High-tempo. We're studying what plays they run, the things that they do, their tendencies, and I think we're catching along pretty quickly. So, Saturday will be an exciting game.

I can't [tell how a season will go based off of camp] because, last camp, I felt like we were doing pretty well, and things just went haywire last year. But I feel like this camp, if we just take one game at a time, one practice at a time and attack the day like Coach Frost said, everything will be okay.
Last season, UCF had the 114th-best defense out of 128 schools, allowing 464.1 yards per game.
It feels amazing, the energy that these coaches brought in for us. Coach Frost brought in a new system, and we just bought in quickly. And I feel that was a part of that season last year, it feels like we're going to give so much effort towards Coach Frost and those coaches because they gave us a system that [says], 'Do not be afraid to mess up.' And last year, we were afraid to mess up. Playing this game, you can't be afraid to make any mistakes, and he teaches that to us every day. So I feel like our team is going to be okay for that.
Redshirt junior Shaquem Griffin is listed as a starting outside linebacker this season after playing defensive back in 2015.
I told people, I think, this last year. I said, 'That kid is probably one of the best players on that team.' And by him having one hand, that doesn't mean anything. He attacks the ball, he's fast. He's a freakish athlete, so he's one of my favorite players, by far, on this team, and I just love the way he plays, and I can't wait to play with him on Saturday.
WR Tre'Quan Smith
Smith recorded 724 yards and four touchdowns on 52 receptions in 12 games last season for the Knights.
The whole team is very excited. We're tired of hitting each other, you know. We want to show our fans our talent. Doing practice in the offseason is very hard, wanting to compete against everybody and show everybody what the team has done and what the team has accomplished.
In 2015, the Knights fell to FCS opponent Furman University 16-15 on Sept. 9, 2015.
Our biggest thing would be to never underestimate our opponent. Always go hard against anybody, any opponent no matter what. You got to love to compete no matter who you're going against.
UCF was ranked 128th out of 128 schools in total offense, averaging 268.4 yards per game and being the only team to not rush for 1,000 yards or more.
I feel very confident in the offense. We came a long way since the spring. Now that everybody's buying into the system, buying into the process, everything's rolling; everything's going the way we want it. So as long as everyone keeps, I feel like we're going to be okay.
Holman threw for 1,379 yards, seven touchdowns and 14 interceptions on 127-for-250 passing in nine games last season.
Justin, by far, is one of the biggest leaders on the team. He's always willing to work with anybody on the team just to make the whole team better. He corrects us a lot on mistakes. He's there whenever you need him. Anything you want to talk about—on or off the field, the classroom—he's there to help the team.
UCF's Gold team defeated its Black team 21-10 in the 2016 spring game.
I look for the stadium to be sold out. The fans are ready to see us play. We're ready to play for our fans, you know. We're ready for everything to come together, [and] everybody to be happy with the outcome.
Before being injured for most of last season, redshirt sophomore Jordan Akins started at wide receiver. This season, the 6-foot-3, 237-pounder moves to tight end.
With the receiving corps and the tight ends, a lot of our tight ends have played receivers. So we got a lot of guys that can go. We got a lot of guys who know what to do. As long  as everybody buys into the system, we should be very, very well-rounded at receiver and tight end.
True freshmen wide receivers Jaquarius Bargnare and Dredrick Snelson look to see some playing time at the position this season. Smith, who earned American Athletic Conference Rookie of the Year honors in 2015, led the team in receiving yards (724), receptions (52) and touchdowns (four) last season.
Me, as a person I am, I never underestimate a freshman because I was a freshman. When i was a freshman, you got to look to come in and start. You got to look to do your job and look to get playing time on the field. The way I see it, that's the way they came in. They looked as if they were going to help the team out this season. So be it, they're on the depth chart looking to play Saturday.
The Knights look to get their first win since a 32-30 Hail-Mary victory over East Carolina University on Dec. 4, 2014.
I say the biggest thing is to have fun [on Saturday], to have love for the game because a lot of that wasn't there last year. That's a big thing that Coach Frost said. You got to love what you do, you got to have fun with it.
(Featured image by Victor Tan / New Day Review)
(All statistics via CFBStats.com)