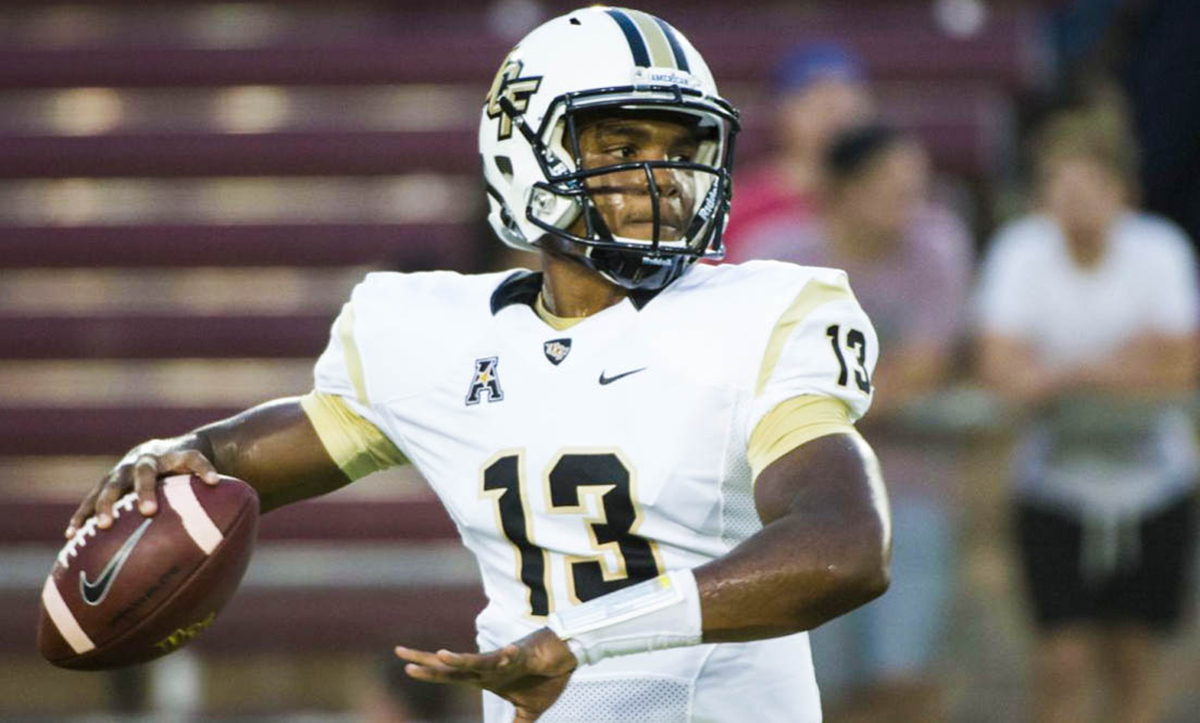 Senior Justin Holman has been named the University of Central Florida's starting quarterback for their season- and home-opener against the South Carolina State Bulldogs on Sept. 3 at 7 p.m.
Holman, who had been running with the first-team offense through spring and preseason camp, will lead the Knights offense for a third-straight season. He beat out redshirt senior Nick Patti, who is listed as the backup quarterback.
Last season, Holman finished 127-for-250 passes for a 50.8 completion percentage, recording seven touchdowns and 1,379 passing yards despite sustaining an injury on his throwing hand against Stanford University in the second week of the season, sidelining him for multiple games.
"I thank God because when that injury first happened, I thought I wasn't going to be able to throw again, so I'm appreciative of everything," said Holman at last week's media day.
First-year head coach Scott Frost said during media day that he has no intentions of using a multiple-quarterback system and that he expects his starter to be able to run his eight-second offense effortlessly.
"We want to go as fast as we possibly can, but we want to be able to be efficient," Holman said. "We don't want to go out there and look sloppy at the same time while we're moving fast."
It's uncertain who will be the No. 3 between UCF's stable of quarterbacks that includes redshirt sophomore Tyler Harris, redshirt junior Pete DiNovo, sophomore Garrett Kruczek and true freshman McKenzie Milton.
Additionally, freshman Jawon Hamilton was listed as a co-starting running back along with senior Dontravious Wilson; sophomore Taj McGowan and freshman Adrian Killins were listed as co-backups.
The top four wide receivers are redshirt sophomore Tre'Quan Smith, redshirt senior Taylor Oldham, sophomore Cam Stewart and sophomore Tristan Payton. Junior Jordan Franks and redshirt sophomore Jordan Akins, who were wide receivers last season, will share duties at tight end.
On defense, freshman Trysten Hill is listed as a co-starter alongside redshirt sophomore Joey Connors at defensive end; junior defensive linemen Jamiyus Pittman and redshirt junior Tony Guerad are also listed as starters. Five linebackers will split four starting spots: redshirt junior Shaquem Griffin, redshirt senior Demeitre Brim, redshirt junior Chequan Burkett, redshirt senior Mark Rucker and redshirt senior Errol Clarke. The secondary and offensive line have remained the same since the first day of preseason camp.
UCF's first game-week practice is scheduled for Saturday, and Frost's first weekly press conference is set for Monday.
(Featured photo by Kyle Terada / USA TODAY Sports)